It's January, and we've all resolved to set off on a healthy 2017, right? We're veggie prepping, cutting back on the cheese and sweets, and upping our plant and protein intake. That all sounds great, but we're also in the coldest months and can't a girl just have some comfort food? Enter these copycat madras lentils and one of my all-time favorites: the Winter Vegan Goddess Bowl. <– I know how obnoxious that sounds, but try it and tell me you don't feel like a vegan goddess (or god because I can't leave the guys out).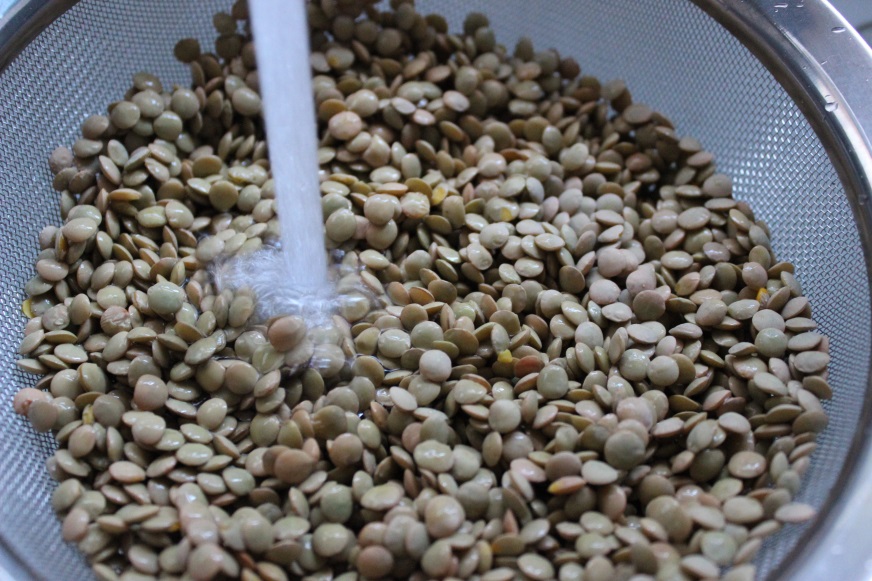 It wasn't until we were about half way through the first Winter Vegan Goddess bowl that I realized I was eating vegan. This meal is so unassumingly vegan, that you literally do not miss the meat. How awesome is that? In a world where too many things are veggified (looking at you cauliflower "crust"), this is just great ingredients put together in a way that is so humble, yet so satisfying, and you just feel great after eating it.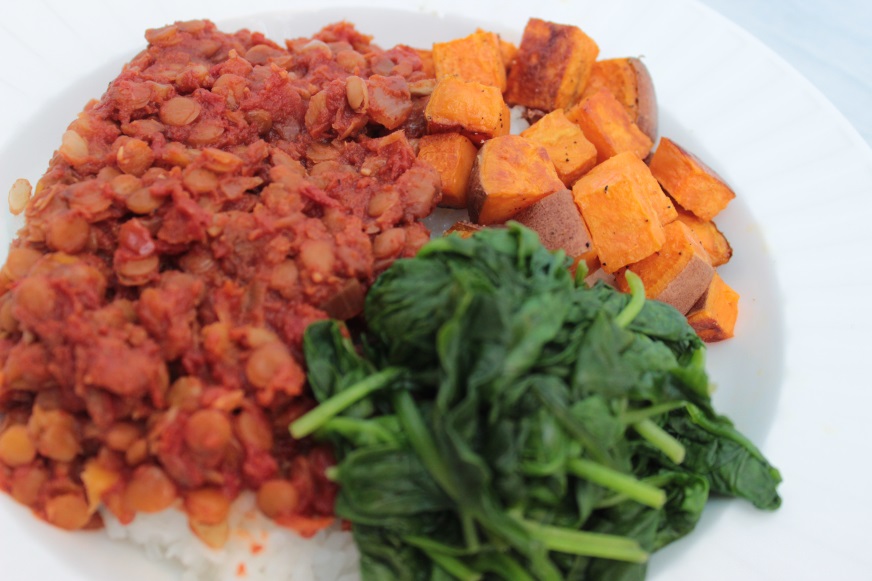 You may be wondering about the "copycat madras lentils" part. Let me paint a picture for you. You're walking through Costco, having had some delicious samples and getting towards the end and they're dwindling. You see a sample for some sort of granola mix, and assume that's the last of it. Then – oh hai – here's one last hot station. It's madras lentils and they are Y-U-M-M-Y. The microwave packs are perfect to have on hand for nights when there is no time to cook. 90 seconds for the lentils + 90 seconds for a bag of precooked rice, and dinner is done in less than five minutes. You really can't beat it in a pinch.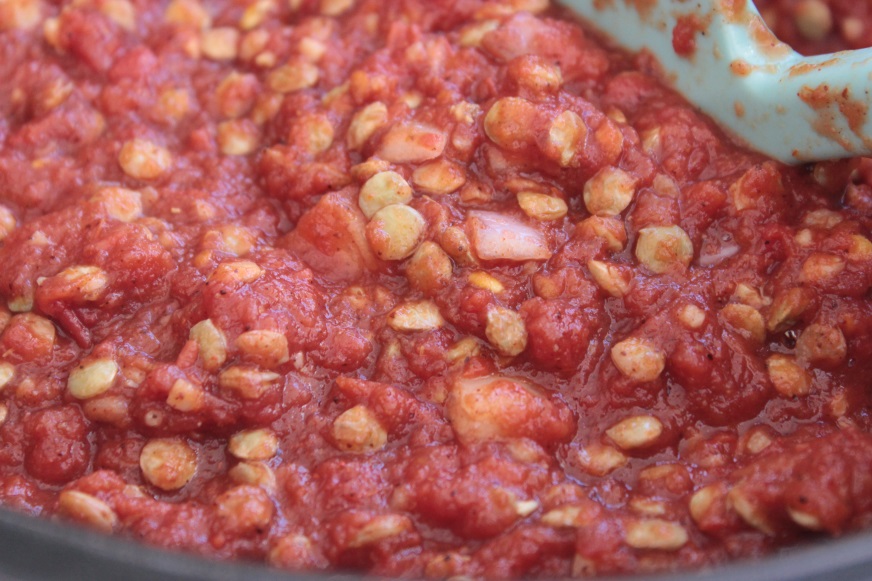 Well, I decided to make a copycat version. It took several attempts to get just the right blend that we were going for, but I'm really happy with the outcome. There are several reasons I love these lentils:
Everything dumps in the crockpot and you're done.
The leftovers freeze really really well.
You can use them for Winter Vegan Goddess Bowls (as shown here), enchiladas, quesadillas, naanwiches or just over plain ol' white rice.
They're accidentally vegan.
I generally have all of the ingredients on hand.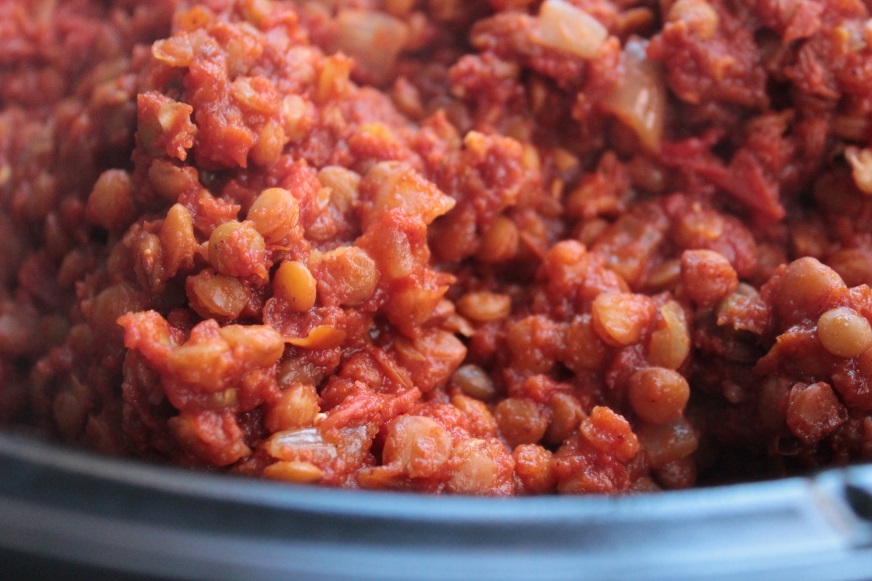 As you can assume, the madras lentils are the star of my Winter Vegan Goddess Bowl. The flavor is so warm and comforting, and the bulkiness of lentils really leaves you satisfied without feeling overly stuffed. The beauty of this type of bowl is that there are really no rules…rather guidelines.
Start with a base – this can be rice, quinoa, salad greens – you name it (we prefer using a bag of the precooked rice because (duh) less time and clean-up)
Add the lentils
Add veggies you've roasted before. Suggestions include, but are not limited to: sweet potatoes, butternut squash, cauliflower, carrots, tomatoes, broccoli. (Pictured here with sweet potatoes.)
Add sautéed greens. We use spinach, but kale has made many an appearance.
For my meatatarian frands: chicken, pork or shrimp would make great additions.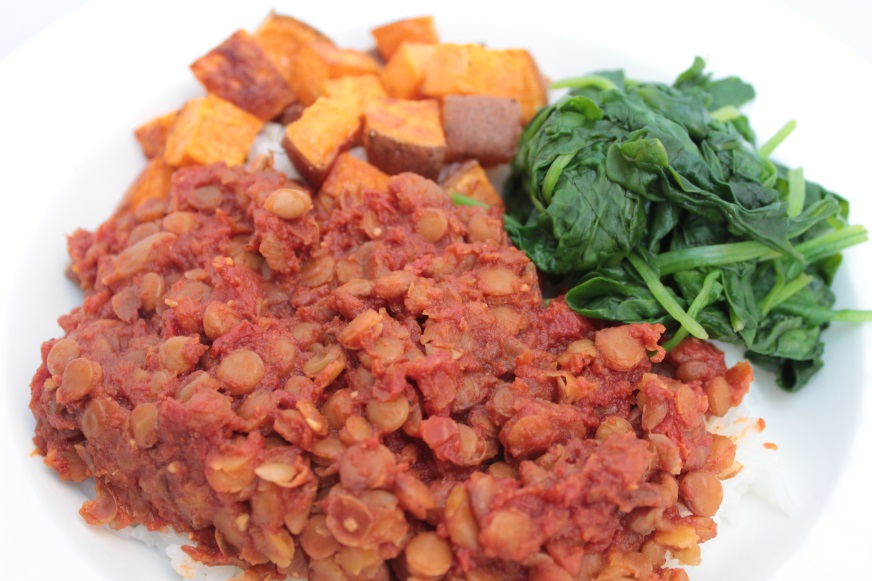 I see all of you thinking about all of these components, and imagining a major clean-up fest after dinner. I see you and I am you. This is not the case. Here's the game plan – cook the lentils with a crockpot liner, have your veggies pre-roasted from the day(s) before, use a bag of pre-cooked rice. All that's left is the pan to sauté the greens. That makes these Winter Vegan Goddess Bowls a one-dish dinner. You're welcome.
Madras Lentils
Ingredients:
1 lb dry lentils
28 oz can crushed tomatoes
1 shallot – small dice
4 cloves garlic – minced
4 cups vegetable broth (chicken broth also works, but then you'd lose the vegan label)
1.5 tbsp EACH – cumin, chili powder
2 tsp salt
Directions:
Spray the inside of your crockpot with cooking spray (or for easier clean-up, line your crockpot with a cooking liner).
Add all ingredients and stir to combine.
Cook on low heat for 5-6 hours.
Enjoy!
If you're making a Winter Vegan Goddess Bowl, start with a grain base, then add the lentils, any roasted veggies you have and sautéed greens. A squirt of sriracha doesn't hurt either!