Happy New Year!
After what feels like an eternity, I'm finally back to the blog. As it is that I'm still recovering from such a long break, let's get the year off by reviving one of the top/healthiest recipes that came out of Miss Foodie Two Shoes in 2016: the Veggie Power Bowl.
You may be wondering about the poached egg on top. Want to learn something? THEY SELL PASTEURIZED EGGS AT THE GROCERY STORE!!! I can deal with the food restrictions that come with pregnancy, but the hardest is not being able to eat runny eggs. I actually googled "is it okay to eat poached eggs while pregnant?" and found a forum that talked about pasteurized eggs. You guys – YOU GUYS!!! – they ARE a thing. They're expensive, but if you're in my boat then it's worth it. I still don't eat runny eggs more than a time or two a week, but having the option is giving me life as I'm nearing the end of the second trimester.
Original Post below, and I will be back starting next week with all new recipes for 2017!
It's like this: I heart veggies. Period. The end. Byeeee.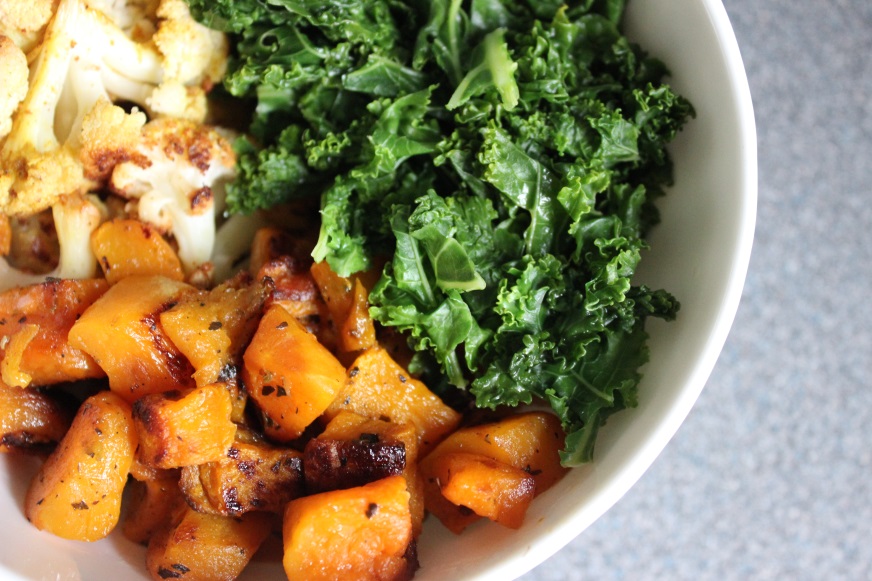 If you've been following my little blog since it first started just a few months ago (wheee!), then you know I'm 1) obsessed with cramming in as many veggies as I can, and 2) obsessed with prepping veggies over the weekend for super easy meals during the week.  Exhibits A and B:
These veggie power bowls are my absolute perfect idea of a quick breakfast, lunch or dinner (yes I really do eat this for breakfast). Remember how I roast butternut squash and cauliflower every Sunday? I do that 10% for us to have veggies ready for the week, and 90% so I can make this delicious meal while I'm working from home on Mondays.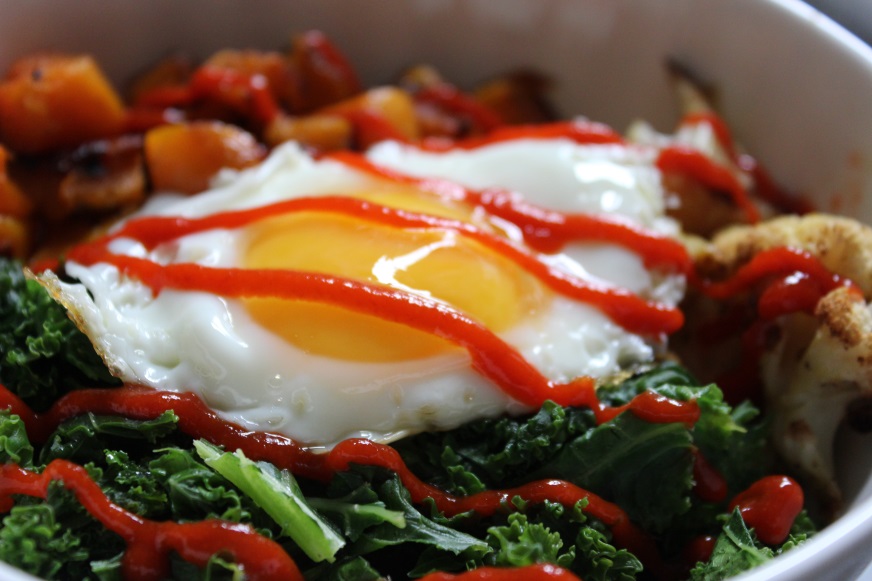 Any other work from homers out there? I L-O-V-E the days I work from home. Instead of taking breaks to meet friends at the coffee bar, I take breaks to transfer loads of laundry. Instead of chatting for 10 minutes after a meeting, I Swiffer mop the bathrooms and kitchen. I get so much done, and I feel like I'm dominating the whole work-life balance thing. I definitely couldn't do it full-time because I prefer seeing people in person most of the time, but a day every week or two really helps to take a load off of my night and weekend to-do list. Working from home also means I get to eat these ↓ veggie power bowls, and get an easy four servings of veggies in before I even have to change out of my pajamas. Winning!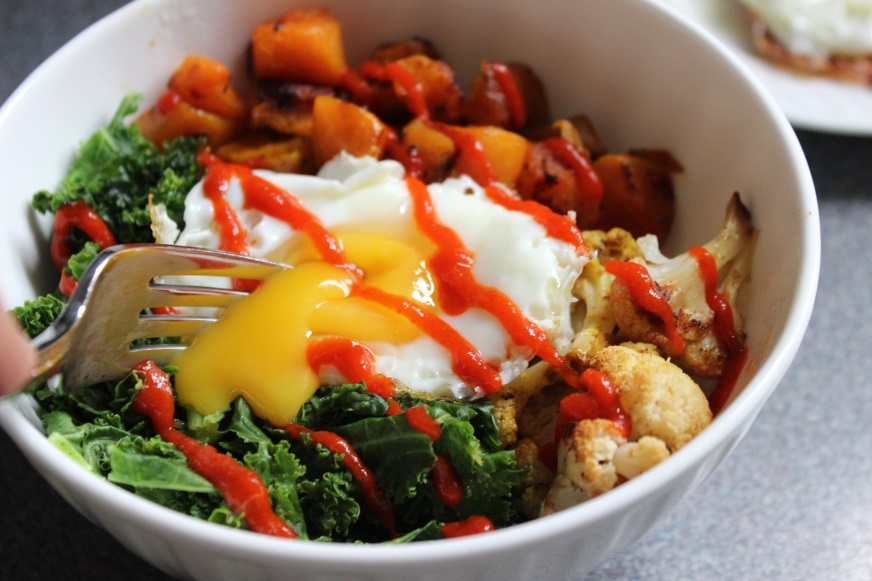 Let's break down these veggie power bowls. First up are the veggies that you've pre-roasted the weekend before. Don't have veggies pre-roasted? No problem, just sauté them together in a frying pan until done. Don't have butternut squash and/or cauliflower? Also not a problem. The beauty of these bowls is that you can really use any veggies you have on hand (see notes below). Next, you have the leafy greens. In my case it's generally kale, but spinach works well, too. Last, we have a glorious fried egg on top. Any type of egg works, but I alllllways go for the fried option here. The whites are perfectly set and the yolk is golden and luxuriously runny. The runny yolk coats the veggies as it drips down into the bowl, and bumps up comfort food status to the max. You feel like you're eating something totally decadent, but it's really just veggies and protein. Veggie power! Finish off the bowl with a little Sriracha (or a lot – you're the boss here), and dig in. The easiest and healthiest power meal is ready for your face in less than 10 minutes. Does it get any better?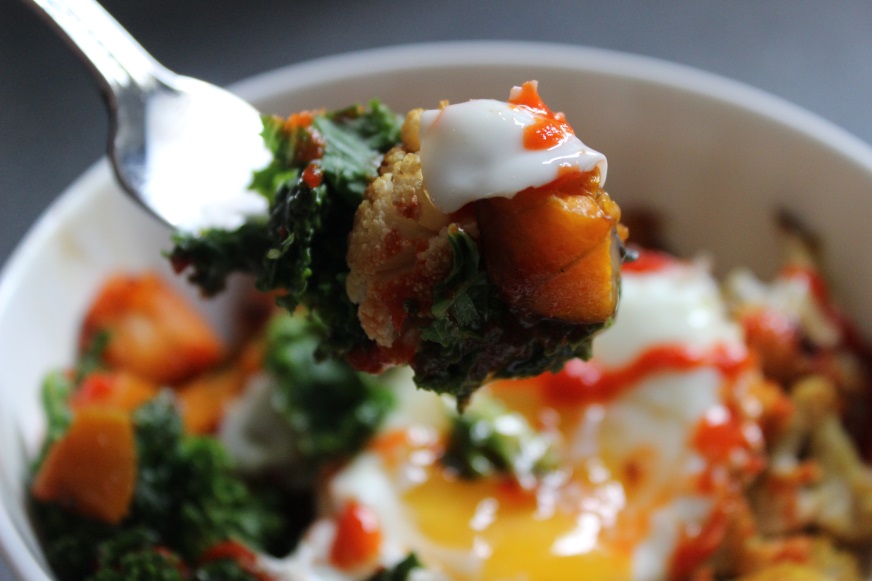 Recipe is for one bowl.  306 calories (using olive oil)
Ingredients:
¾ cup roasted butternut squash
¾ cup roasted cauliflower
1 (packed) cup kale – leaves torn or chopped
1 tsp olive oil or butter
1 egg
Sriracha (optional)
Directions:
In a small non-stick skillet, reheat the butternut squash and cauliflower. Move to a bowl.
In same pan add kale and a couple tablespoons of water. Season with salt, pepper and (a little) garlic powder, and sauté until desired doneness. (I generally let it go 3-4 minutes so that it's soft but not totally wilted.) Add kale to the bowl with the squash and cauliflower.
Wipe out skillet with a paper towel, heat the pan over a nice low heat, then add butter or olive oil and swirl to coat the pan.
Crack the egg into the skillet and let sit for 1-2 minutes, then cover for another 2-3 minutes to help the whites on top to cook through. Allow to cook as long as you prefer to reach your desired consistency for the yolk. Once done, transfer to your veggie bowl, top with sriracha and enjoy!
Notes: other good veggie options include carrots, zucchini, yellow squash, sweet potatoes, mushrooms, onion, bell pepper, black beans. If you want carbs, feel free to add rice, quinoa or a slice of crusty bread to sop up the egg yolk.