Sorry, I can't talk.  I can't stop stuffing my face with anything butternut squashy.  As promised last week I said I would give you my go-to roasted butternut squash recipe this week.  Well you're getting that, PLUS a recipe I've been crushing on for a while that uses half of it… Roasted Butternut Squash and Red Bell Pepper Sauce.  Forgive me.  I've tried coming up with something better than <- THAT mouthful of a name, but nothing seems right.  Please don't be scared away by such a long name.  If anything just remember that roasting = hands off, so yay for easy!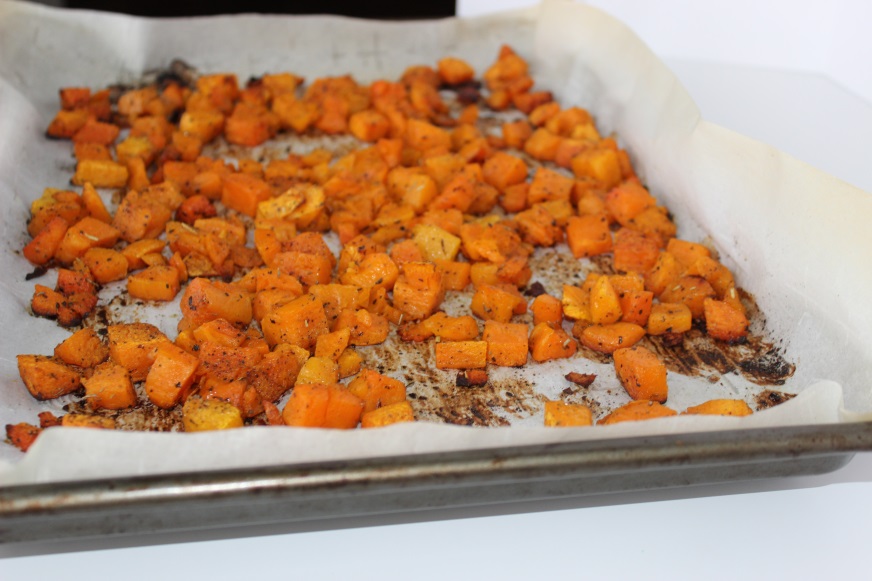 As you may have realized last week, I'm obsessed with roasting veggies.  Roasted veggies are just better than pretty much any other means of preparation IMO.  Okay, sautéed is also great, but mainly for stir fries.  I just can't get past the mushiness that comes from boiling and steaming – bleh, so roasting it is!  My favorite right now is roasted butternut squash.  My grocery store sells 2 lb containers of it peeled, seeded and diced, which makes my life 1,000x easier (read: the amount of time I save by not peeling/seeding/dicing is worth the extra $.20/lb I would save buying it whole).  Almost every Sunday I roast the entire 2 lbs and use it throughout the week.  We'll throw it into frittatas, have it by itself as a side or use it in a burrito for a meatless night during the week.  There are so many other things I do, and you'll be getting some of those ideas later on.  Lately, though, I've been using half of it right away for this sauce.  Y'all, this sauce is ALL veggies with a little olive oil and seasoning thrown in.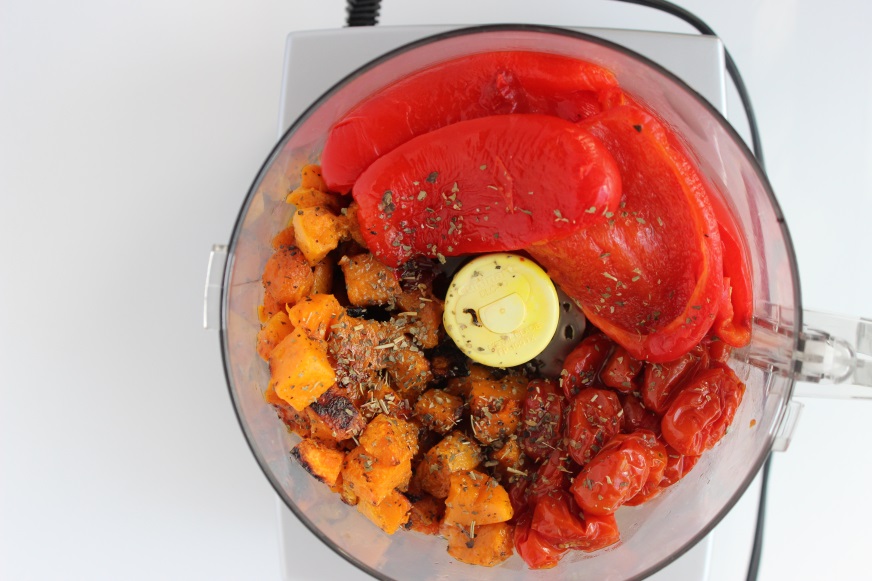 Let me count the ways I love this sauce:
Everything roasts in the oven at the same time – you only need to give yourself about 5-10 minutes of prep, and then go relax while the oven does its roasting magic.
Once roasted and cooled, you throw everything into a food processor or blender and give it a whir, and that's it – dunzo bunzo.
Very little clean-up! Roast the veggies on parchment paper, so you only have the food processor to clean.
I said it before, and I'll say it again – ALL VEGGIES…healthy…healthy glow…goddess glow…you get it.
It is SO versatile. It should be obvious by now, but I love lists, so here are the ways I've already used it:

As a dip for raw veggies (or nuggets for kids – just mix with a little ketchup)
As a spread for sandwiches and wraps (esp on grilled cheese)
Thin it out with a little cooking liquid and use it as a pasta sauce
Roasted Butternut Squash and Red Bell Pepper Hummus (recipe coming later)
I haven't tried this yet, but it just came to me and now I'm super excited…use as pizza sauce

It freezes really well, though we generally don't have any trouble finishing it during the week.
The entire batch has just over 850 calories – 861 to be exact. It's hard to give calories per serving because the number of servings will vary depending on how you use it.
It's gluten free and vegan.
I'll stop, so you can decide for yourself.  Seriously, you need to get this into your life right now – you can thank me later.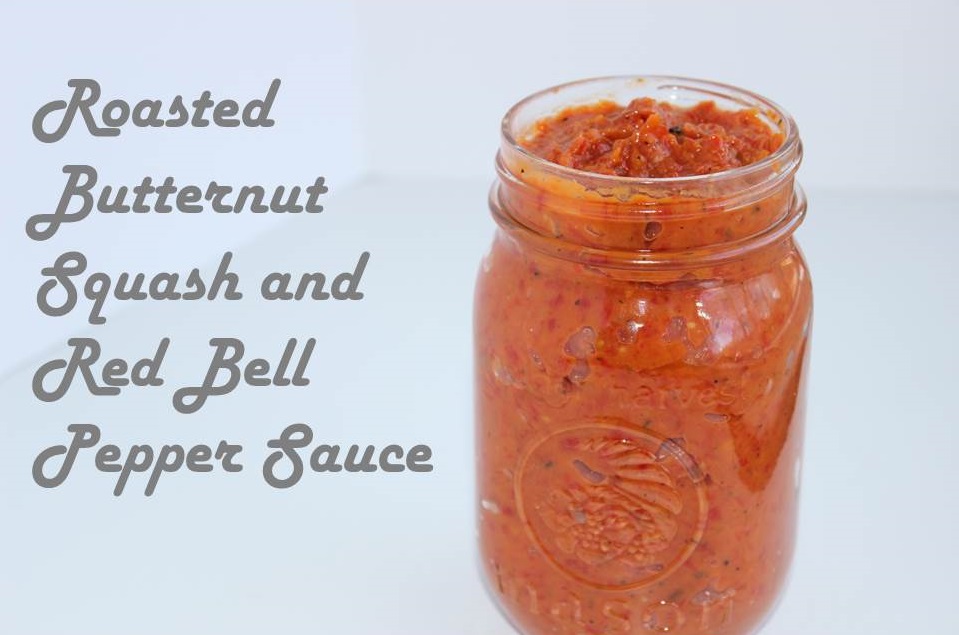 Ingredients:
2 lbs diced butternut squash*
1 tsp Italian Seasoning
3 red bell peppers halved and seeded
2 small shallots
1 cup cherry tomatoes
3-4 tbsp olive oil for roasting the veggies
2 tbsp olive oil for the sauce
1/4 tsp salt (or more to taste)
1/8 tsp pepper
Directions:
Preheat oven to 400 degrees
Prepare veggies for roasting: (Start with the shallots because they need more roasting time.)

Peel shallots, drizzle with a little olive oil and wrap in aluminum foil. Place foil pack in oven (make sure to position it so oil doesn't drip out and down).
Toss** butternut squash with 2 tablespoons of olive oil and 1 teaspoon Italian seasoning. Spread onto a rimmed cookie sheet lined with parchment paper.  Sprinkle with salt and pepper to taste.
Place bell pepper halves skin side up on another lined baking sheet.
Toss** tomatoes with a little olive oil and put on baking sheet with peppers. Sprinkle with salt and pepper.
Once the shallots have been roasting for about 15-20 minutes, add the squash to the oven. After 20 more minutes, stir the squash and add the peppers and tomatoes to the oven.  Allow everything to roast for another 30 minutes or until soft.

Place bell peppers in a bowl and cover with plastic wrap. Allow all of the veggies to cool.  Once cooled, peel the skin from the peppers, and place all of the veggies in a food processor or blender (remember to only add half of the butternut squash).
To the food processor add olive oil, salt and pepper (feel free to add some red pepper flakes if you want this spicy). Turn it on, and let everything come together as a thick sauce.
Keep in the fridge for up to a week or freeze for up to 3 months.
*I recommend roasting the entire amount, so you'll have half ready for other uses during the week.
**Tip: Use a gallon-size zipper bag to toss the veggies with the oil because it saves having to clean a big bowl, and I've found it's the best way to evenly coat the ingredients.  Use the same bag for both the squash and tomatoes.