Tater tots + turkey chili + eggs + cheese = Turkey Chili Southern Scramble. You're welcome.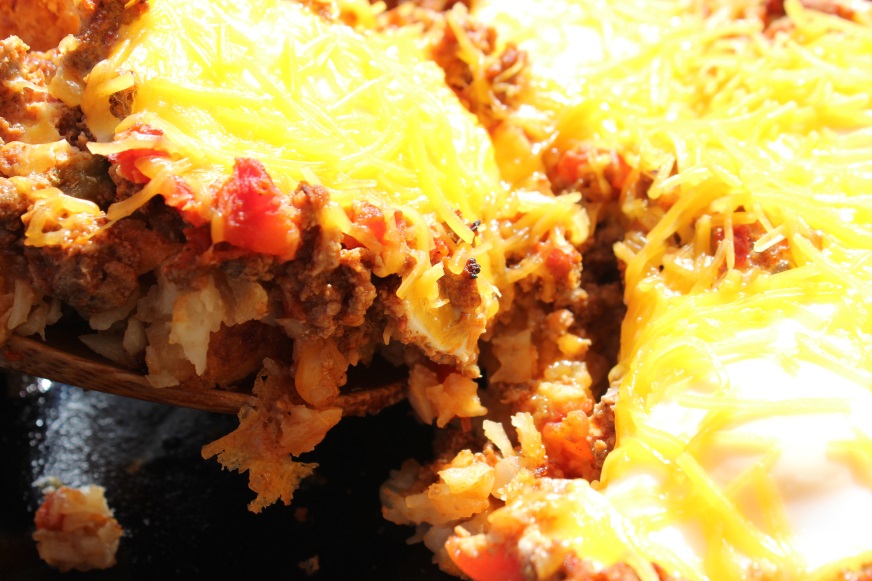 This one goes out to all of my savory breakfast lovers. I don't have much time because I'm writing this on Super Bowl Sunday and we have ten adults and seven kiddos coming to our house in just a few hours. Since our team didn't make it all the way this year, the food is the real event of our party. I'm serving up last week's turkey chili over cheese grits, and everyone else is bringing other appetizers. It's going to be so amazing.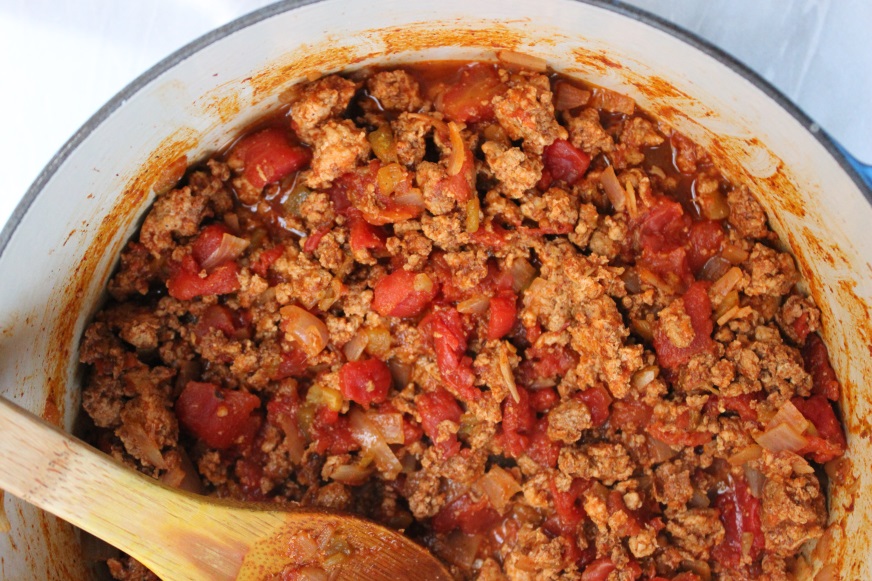 In order to save myself some time, I made the turkey chili yesterday and will just reheat it while I make the grits. However, since it was already there, we decided to try something relatively new to us for breakfast: a turkey chili southern scramble.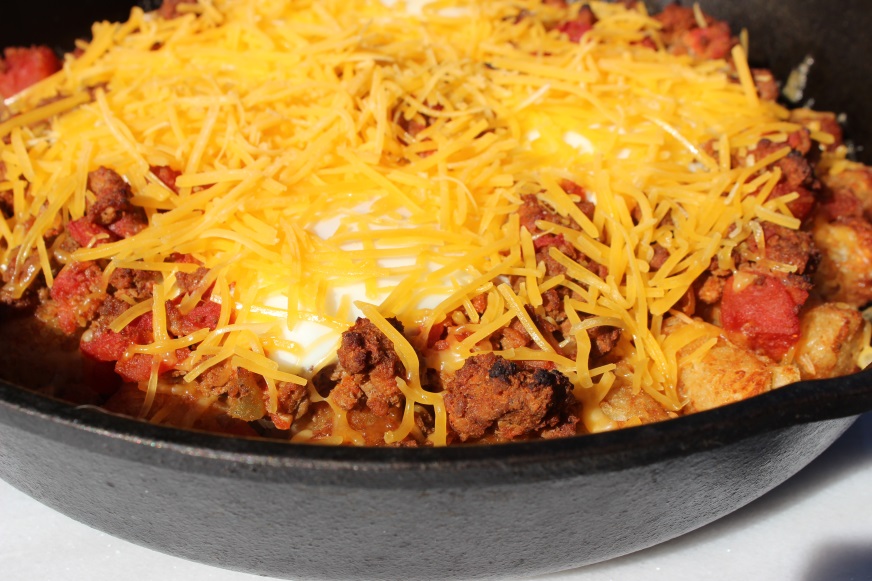 If you live in Greensboro, you've probably heard of a newish restaurant called Scrambled. I think Andy and I may have been the last ones to try it, but we finally got the chance to do so a few days before Christmas. You guyzzzzzzzzzz. We both went with one of the "scrambles" and found a new love for breakfast. <– And we already held a deep deep appreciation for the best meal of the day, sooo if that tells you anything. Generally when we go out to eat, we're all about the experience, and Scrambled brought it. The scrambles at Scrambled all come in (uuuge) individual cast iron skillets and are out of this world delicious. The skillet presentation was so fun, and it meant the base of hash browns was crispy on the bottom and melt-in-your-mouth yummy on the top.
Well, after making the turkey chili and eating it over cheese grits (an option for your scramble at Scrambled), I thought "why not make that at home?" So off we went. Instead of hash browns, which I'm sure would work perfectly, we went with a fun base of tater tots (mainly because that's what we had in our freezer). You just cook the hash browns in the skillet, then load them with cheese and turkey chili, and then crack several eggs over the entire situation. Since I love a good food evolution photo sequence, here's how the assembly goes – in 3…2……..
Tots, cheese, chili, eggs, cheese. Easy peasy. Dunzo bunzo.
Turkey Chili Southern Scramble
Ingredients:
1 tbsp canola or corn oil
Frozen tater tots (enough to have an even layer in your skillet)
2 cups turkey chili (heated but not too hot) recipe here
1 cup shredded cheddar cheese
4-6 eggs (as many as you want)
Directions:
Heat your oven to 450 degrees.
While your oven heats, wipe your cast iron skillet with the oil and arrange the tater tots in a single layer.
Cook the tater tots in the oven for 8-10 minutes. Remove from the oven and turn. Cook for another 10 minutes.
Sprinkle half of the cheese over the tater tots, and spread the turkey chili over the cheese.
Using the back of a spoon, make 4-6 wells in the turkey chili (depending on the number of eggs using).
Gently crack one egg into each well.
Return the skillet to the oven and cook for 13-16 minutes or until the whites are set and the yolk is to your desired doneness*.
Remove from the oven and sprinkle with the remaining half cup of cheese. Enjoy!
*We're currently out of pasteurized eggs, so we let ours go for the full 16 minutes so the yolks weren't runny. Generally we would lean closer to the 13 minute mark. When you cut into the runny yolk and it seeps down into the dish it continues cooking a little (so good!).