The lack of pictures in this post should be the best indicator of life lately: busy. Too busy, in fact, to remember to pause to take a picture documenting some of the fun things we've been up to.
Pregnancy update
As of today, I'm 30 weeks with baby Pea #2. This pregnancy is so different from my last because we're hardly doing anything to prepare, and that feels weird to me. We basically have everything we need and I'm leaving the nursery as is, so there's really not much else to do. I guess the only thing we're doing differently this time is that we're going in with an actual birth/after birth plan. Yes, we took the class last time, but really we had no idea what we were walking into. There are a lot of things that will be out of our control (which – if you've read this blog at all – you know makes my type-A self very uncomfortable), so I'm focusing on the things we can control: care for Anna Ruth and Bailey, pain management after birth, breastfeeding/pumping/supplementing/combo after birth. To put it lightly, we had a rough two days in the hospital last time, and we're going to be prepared for a much better experience this time.
Duck Donuts in Greensboro(!!)
As you could probably tell from last week's post, we are savory breakfast people. We might make waffles for a weekend breakfast once every six months, but we just don't generally do sweets. Well the new Duck Donuts recently opened in Greensboro, and we had a gift card from one of Andy's students, so we decided to give it a try. You guys. If you've never been to a Duck Donuts, now is your time. The experience is unlike any other we've had. You go in, select the toppings you want on however many donuts you want, and they create them right in front of you. No "hot now" sign needed for this because they are always served nice and toasty warm. We had three main "stars" of our show: maple glaze/bacon crumbles, peanut butter glaze/oreos/fudge drizzle and just plain cinnamon sugar. The first two were good but just a little too indulgent and over the top for me. Anna Ruth's and my favorite was the cinnamon sugar. I could easily see myself slipping over to the sweets for breakfast side of the aisle if these were part of the deal. AR and I shared a cinnamon sugar, and we took the leftovers home for our Super Bowl party. It's sad that I can't say for sure that AR has had a donut before now – I mean, she's almost three, she HAS to have had one, right? I just honestly can't think of a time when she has, but home girl loved it.
Babysit Swapping
We had another first this past weekend. We traded babysitting nights with some of our good friends. Rosie has made several appearances on the blog already, so you'll recognize her sweet face. The "babysit swap" is exactly what it sounds like: the Logans babysat AR on Friday, and we babysat Rosie on Saturday. It was a win-win. We each got to go on a date, and the girls got to have two play dates in the same weekend (and no $$$ for a babysitter). Also, forgive the messy den. #reallife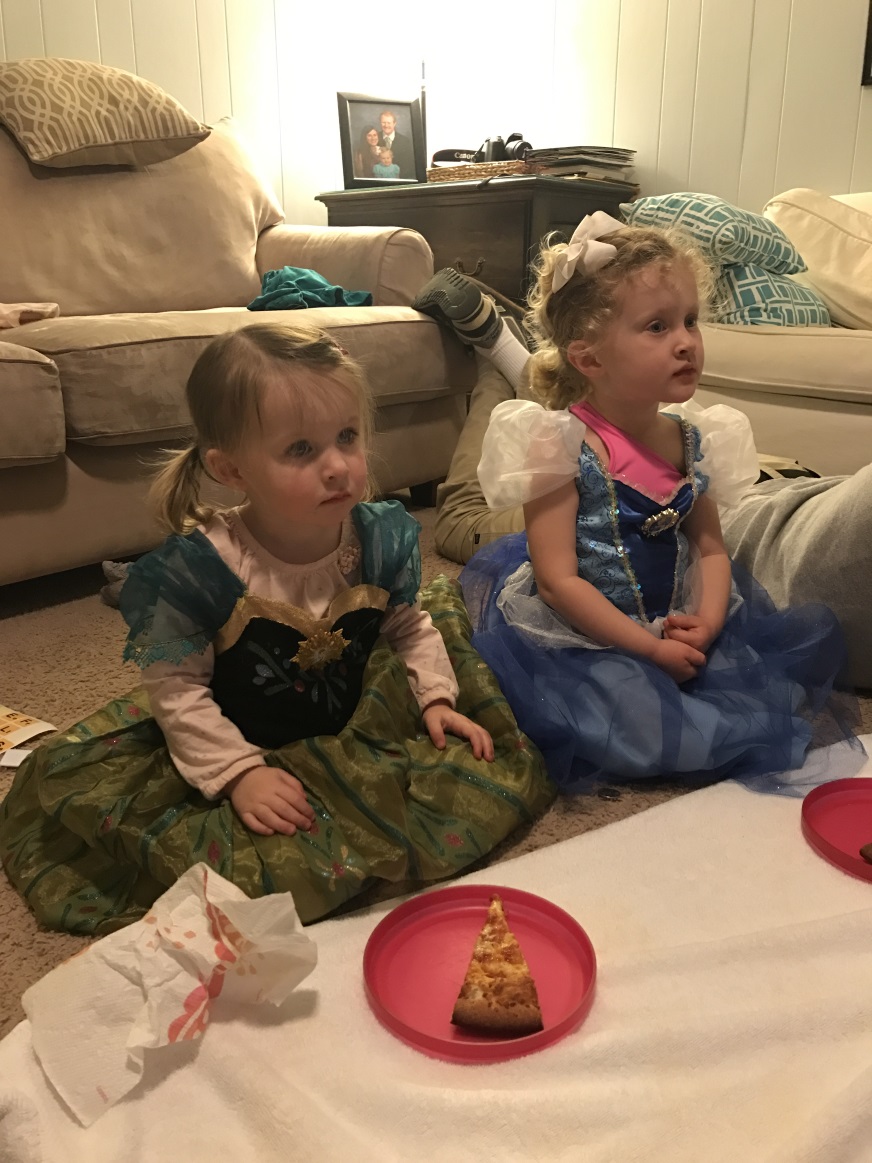 Date Night
Y'all. This was big for us. We've had plenty of "dates" over the last three years, but none that didn't involve grandparents babysitting. I was nervous that AR would be a terror, but she actually did really well. For our date, Andy and I went to a newish restaurant called Don Ishiyaki & Ramen. We both got the ishiyaki bowls, which are basically rice dishes served in hot stone bowls. The stone kind of crisps up the rice, and it is so so good. I got the teriyaki chicken don, which was good, but the teriyaki was a bit sweeter than I prefer. Andy, however, got the bibimbap, which I will definitely get the next time.
After dinner we did something totally new to us. We went to the Cline Observatory on GTCC's campus, and got a turn on the giant telescope. Apparently this is something they do most weekends. They open up the observatory to the public, fix the telescopes on different planets or constellations and let you have a look. We were only there for about 20 minutes, but it was a really neat (and free!) thing to do. I tried to take a selfie of us with the big 'scope, but was very quickly told to put my phone away – oops! I would definitely recommend this as an activity for your kids for a special night surprise. I think they have a Facebook page that details what they'll be looking at each weekend, so you can always check it out to see if they're focusing on something you'd like to see.
Before getting AR, we finished the evening with a little dessert at Maxie B's. The night was so simple, yet just what we needed. We will definitely be swapping babysitting services again!
Valentine's Party
We got together with some friends for a little Valentine's party over the weekend. You remember these kiddos from the beach, Christmas in July and our birthday party for Jesus. Simon was there, but already asleep, so he missed the picture. Calvin – the oldest boy – met the girls at the door with flowers, and could not have been cuter. The kids played outside and exchanged Valentines, and it was just easy fun.
Birthday Party at Tumblebees
I normally wouldn't include this because we go to too many birthday parties to feature them all on the blog. However, this was for one of AR's favorite school friends, but also a big step for her. If you're not familiar with Tumblebees, it's a gymnastics center that has classes but also does birthday parties. Typically, she has always been very timid – and even a little scared – around this type of equipment/trampolines/etc. She has no problem with the observer role, and would hang out on the balance beam (low to the ground, of course) in these types of situations. Not this time! She did the foam pit and bounce house! For some parents this probably doesn't seem like a big deal, but I was so proud of her. The first time we did something like this, she was not having it, and I decided I wouldn't push her. When it comes to these types of activities if she doesn't like something, or something scares her then I won't force it. The fact that I have no pictures to share from this party should show how much fun she had because I couldn't get her still.
Valentines!!
Can we all just say a collective "thank you, Lord, for Pinterest"?? I am definitely not the mom that will make my kid's lunches to look like animals (but just know that any of you moms that do that I just think you're super-moms), but I will come out strong for holidays and events. While I love the thought of doing cute Valentines, I am just not crafty or creative enough to come up with the ideas on my own. So for the last two years I have relied on Pinterest to help me find the perfect thing. Last year, I made cute play doh Valentines for AR's friends, and this year I went with the cuties theme.  These things look like so much more work went into them than actually went into them. Trust me. If you have time to buy and fill in Valentines, then you have time to download/print Valentines. You can find so many free printables through Pinterest, and you pretty much just have to make sure you remember what you've done in the past so you don't repeat. You can find the printables for this year's Valentines here.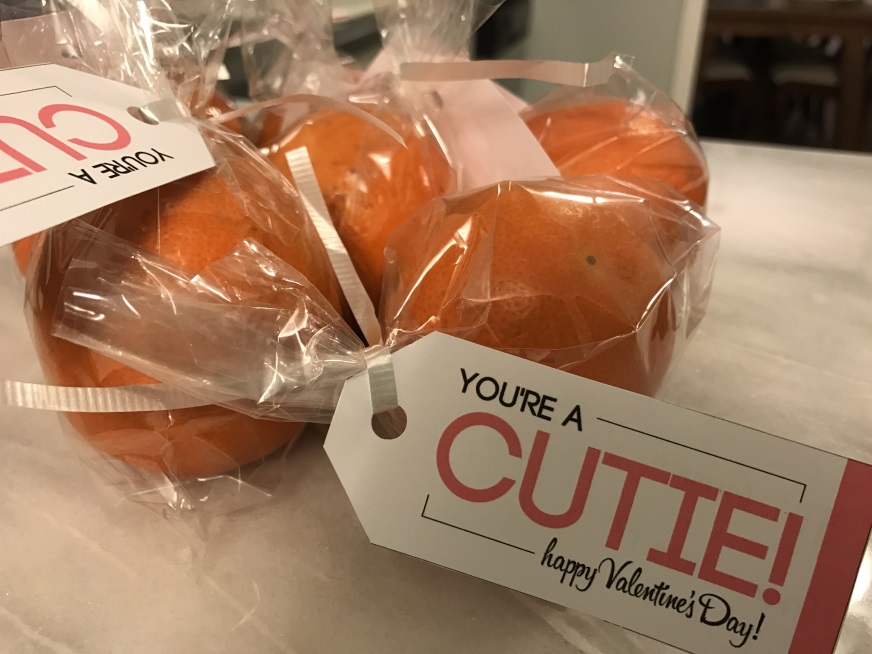 I didn't intend for this post to be so long, and I'm sure I'm missing things, but thank you for reading and sticking it out with me! One of my favorite things about having a blog is that I can document anything I want and will have it to look back on in the future. Thank you for stopping by!