Pepperoni pull-apart bread, meet readers. Readers, meet pepperoni pull-apart bread. AKA gooey, cheesy, bready deliciousness. AKA my lifeline for weeks 6-15 of this pregnancy.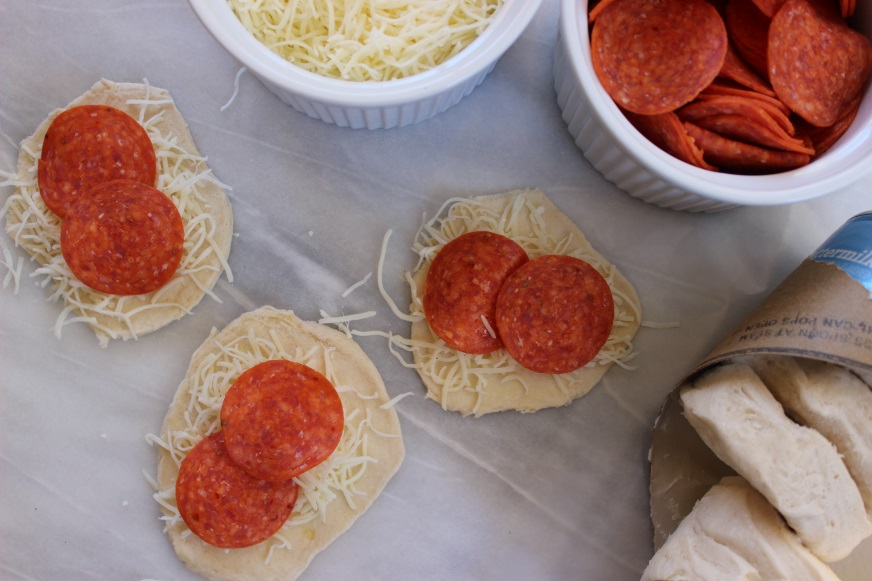 In last week's announcement post I shared how my stomach rejected the idea of anything resembling healthy food and could only be satisfied with all the things bready, pasta-y, cheesy, saucy or meaty. This pepperoni pull-apart bread checks off four of those five boxes, so guess who has two thumbs and discovered an untapped love for pull-apart bread – this girl. I've seen several recipes for sweet pull-apart breads, but knew I wanted a savory option, and I'm so glad this turned out the way it did.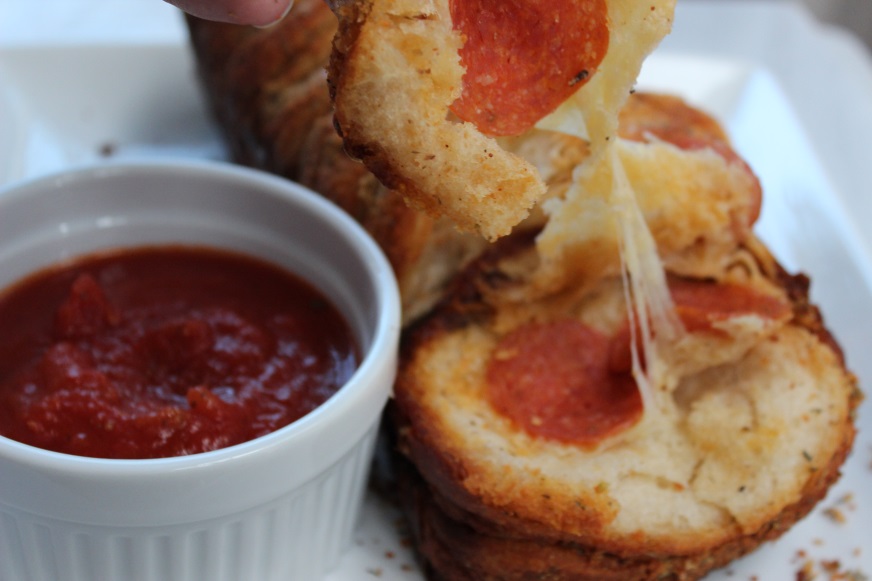 Pregnant or not, this is just really good Fall food. Like so many others, our Saturday and Sunday afternoons often revolve around Carolina football (Heels and Panthers). Our weekend mornings are generally lazy and involve a late breakfast, so a big lunch usually just doesn't happen. Enter the afternoon football-watching snack.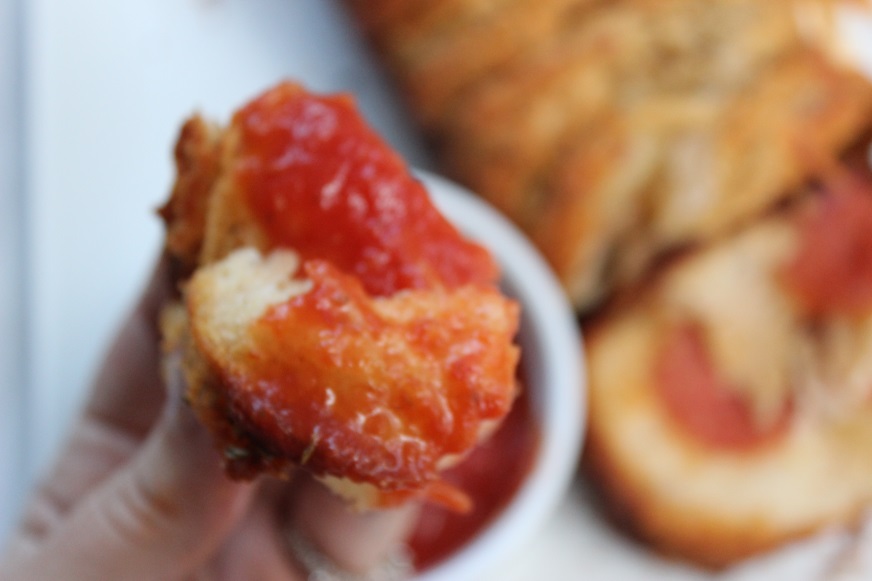 Bonus is that Anna Ruth has a blast helping make it. She's becoming really interested in helping us in the kitchen, so I'm always looking for ways to get her involved. This is definitely not the healthiest snack for her, but getting her comfortable in the kitchen is something I find important.
The measurements here aren't approximate. I generally use between 1.5-2 cups of cheese just depending on how heavy-handed I'm feeling that day. Also, you'll see AR using a rolling pin on the dough. Totally optional/not necessary, but if you've got a kid wanting to help in the kitchen it'll give them good practice for Christmas cookie baking 🙂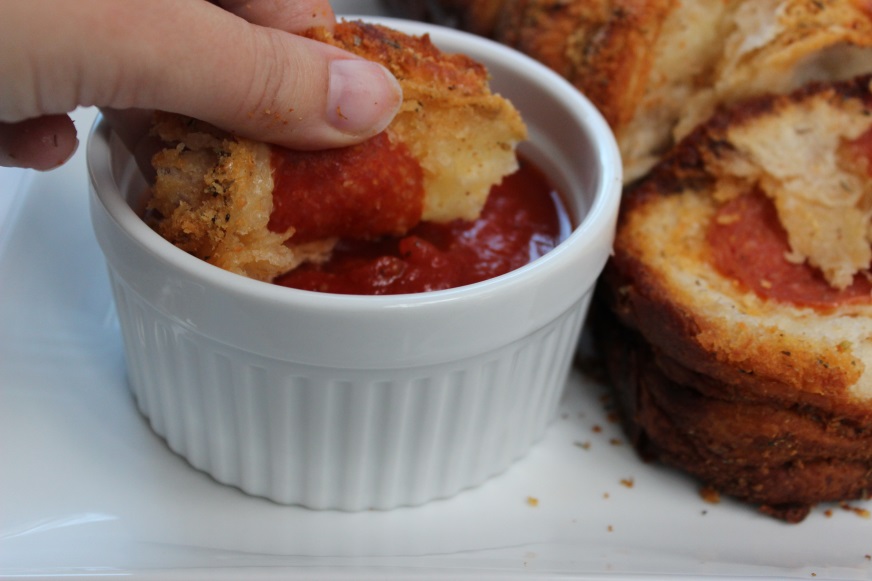 P.S. Thank you so much to everyone for the kind words and shared excitement of our news last week. The comments, messages, calls and texts mean the world to us!
Pepperoni Pull-apart bread
Ingredients:
1 tube biscuits with pull-apart layers (8-count)
Pepperoni slices
1.5-2 cups shredded mozzarella cheese
2 tbsp butter – melted
2 tbsp grated parmesan
1 tsp dried oregano
½ tsp garlic powder
Marinara sauce for dipping
Directions:
Preheat oven to 350 degrees and spray a loaf pan with cooking spray.
Separate each biscuit into three pull-apart layers. (You may have 1-2 that only give you two layers, which is fine.)
Set the loaf pan on one end so it is standing vertical.
On each biscuit layer, place a large pinch of cheese and 2-3 pepperonis.
Stack each biscuit layer in the loaf pan, and then work as needed to make sure they are evenly spaced in the pan.
Melt the butter and combine with the parmesan, oregano and garlic powder. Spread evenly over the top of the biscuits.
Place foil on top (not tightly covered – this is just to prevent the top from getting too brown), and bake for 45 minutes, removing the foil during the last few minutes of cook time.
Check to make sure the dough in the middle is done, and continue cooking at 5-minute increments until totally done (mine usually takes just the 45).
Let sit in the pan for a few minutes before lifting out of the pan and onto a platter.
Pull-apart and dip into the marinara – enjoy!