This past weekend we celebrated Anna Ruth's second birthday with a Tea for Two party. The original plan did not involve a theme, but then I saw the idea on Pinterest and knew I wanted to run with it. Being a small child's birthday there wasn't much emphasis on actual tea, but we made up for it with proper tea party food…mainly tea sandwiches and chocolate chip oatmeal scones, but more on the food later.
Décor was easy. We started with a few banners and garlands, and decorated the food table with white doilies and flowers in gold tea pots and cups. I found the invitations and other personalized printables on Etsy, and printed them out myself on cardstock. I'm generally not into everything being so matchy matchy, but when spread out throughout the party, it really just made it feel cohesive and not over the top. We had little children's tables scattered in the living room for eating and coloring, and covered those with white cloth. My favorite part of the décor, however, was a window frame with painted wood letters spelling "Tea for Two." My mother-in-law made it, and it was exactly what I had in mind. If you ever need anything crafty, call her. She loves doing it and is really good at it.

The only "activity" we had was coloring. My friend Katie from The Blissful Willow drew these pages for me, and they were perfect! We went with a tea pot, tea cup and bow tie. Check out her website – I love the custom family illustrations, but really everything she draws is beautiful.
Now onto the best part – the food! Our menu was as follows:
Sandwiches
Ham and Swiss on Puff Pastry
Chicken Salad on Croissant
Cucumber with Lemon Dill Spread
Savory
Crackers and Cheese (sharp cheddar, Colby jack, pepper jack)
Mini Quiche
Sweet
Berry Cups (strawberries, blueberries, raspberries)
Chocolate Chip Oatmeal Scones
Cupcakes (vanilla, chocolate)
Birthday Cake (chocolate)
Drinks
Citrus Infused Water
Sweet Iced Tea
Sweet Tea Sangria
It seems like a lot of food, but it was just a bunch of small bite type things, and it was really easy to pull together. My favorite part, hands down, were the scones. I had never made scones before because I'm really not much of a baker. I always thought they would be really involved, but these were super easy. My friend Catherine came over two nights before the party, and we made three batches in just over an hour. The recipe below is based on an oatmeal raisin scone recipe by Nick Malgieri, but I tweaked it by adding cinnamon, vanilla and heavy cream, and swapping raisins for mini chocolate chips. (I can't find a link to his recipe because it was from his cookbook, "How to Bake".) Don't get used to this. I don't plan to do much in the way of creating recipes for baked goods. It's too daunting to think that an extra tablespoon of an ingredient can totally throw the whole thing off. I prefer eyeballing too much for that 😉
I've said this about other parts of the party, but another favorite thing was the favors. I originally planned on not having favors, but then saw this cute idea on Pinterest, and I love how they turned out!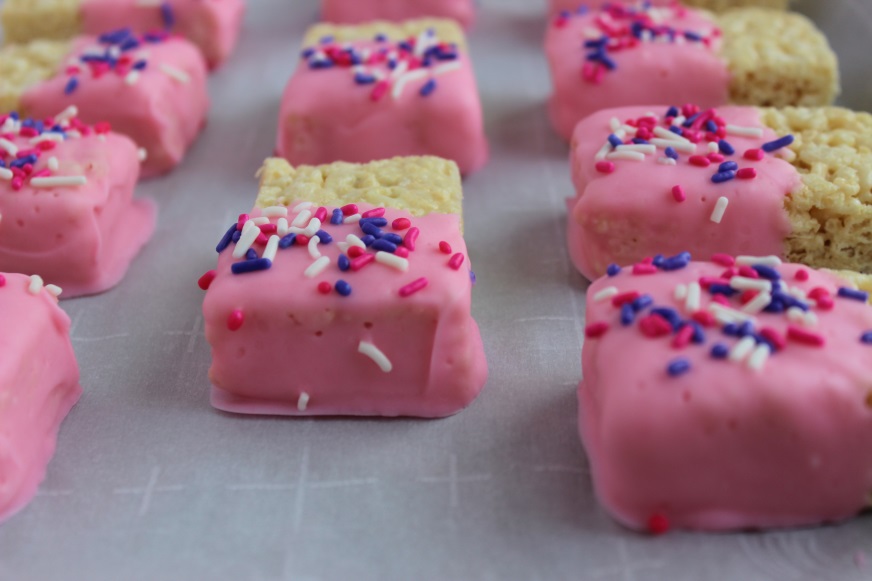 I can't believe my baby is already a two-year-old. The time has truly gone by in the blink of an eye…and now I need to go cry. I'll leave you with the recipe for my Chocolate Chip Oatmeal Scones, but let me know if you have questions about anything else (food or décor).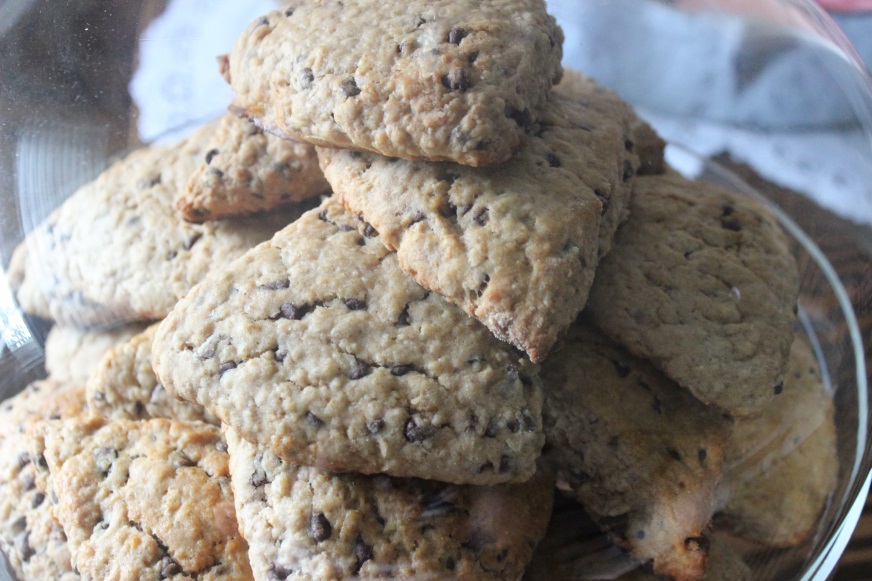 Ingredients:
1 ½ cup all purpose flour
1 ½ cup rolled oats
1/3 cup dark brown sugar
1 tbsp baking powder
1 tsp cinnamon
1 tsp salt
8 tbsp (1 stick) cold unsalted butter
1 cup mini chocolate chips
1/2 cup milk (I use 1%)
1/2 cup heavy cream
1 tsp vanilla extract
Directions:
Preheat oven to 400 degrees, and set rack to middle position. Line a baking sheet with parchment paper.
Combine dry ingredients (flour through salt) in the bowl of a food processor and pulse at 1-second intervals until combined (make sure brown sugar isn't in big clumps).
Cut the stick of butter in half lengthwise, then into smaller chunks (about 16 total). Add to the food processor and pulse 12 times, until the mixture resembles a fine meal.
Combine milk, heavy cream and vanilla in a small bowl. Add mixture to the food processor and pulse 3-4 times to form a soft dough.
Transfer the dough into a bowl and gently stir in the mini chocolate chips, making sure not to overwork the dough.
Generously flour your work surface, turn the dough out onto it and fold over itself 3-4 times until it is less sticky.
Divide the dough into two equal parts and press each into a disk. Using a pizza cutter, cut each disk into six wedges.
Arrange the scones on the prepared pan. Brush tops with milk and sprinkle with sugar.
Bake for 15-18 minutes until just starting to brown on top.