This past weekend was a very special one for our family. Andy and I celebrated our sixth wedding anniversary (love you, bae) and my family came together to celebrate my grandfather's 88th birthday. Papa: the man, the myth, the legend…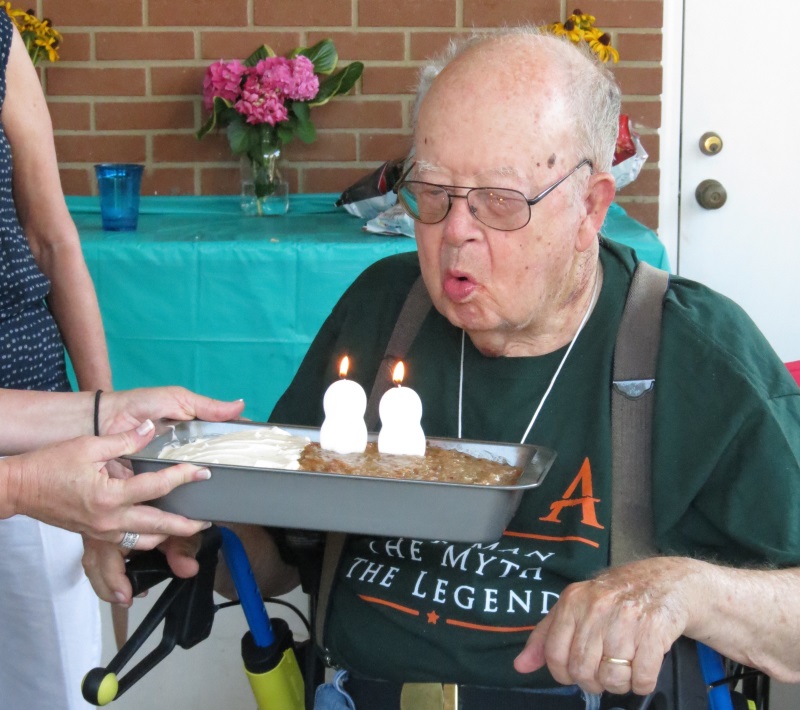 I'm sure a lot of people feel this way, but my family really is the best (I mean that for all sides, but this particular party was with my dad's side). We love getting together and we all genuinely enjoy each other. Here's what a typical gathering may look like…
It looks like hot dogs and hamburgers and brats and fixins and loaded potato salad.
It looks like cake and pie and cobbler and Yum Yum Ice Cream.
It looks like Cheerwine and Coca-Cola in glass bottles.
It looks like croquet and corn hole and bubbles in the backyard.
It looks like great grandbabies eating ice out of the drink tub while taking a break from chasing each other around the yard.
It looks like my favorite four-year-old helping make berry cobbler.
It looks like Anna Ruth eating all of the leftover blueberries.
It looks like Jack's shirt coming off because he cannot eat a popsicle without juice going everywhere.
It looks like laughter and fun.
It looks like my grandfather seeing his four kids and spouses, and his eight grandkids and three spouses (and two boyfriends that I'm preeeeetty sure are here for the long haul), and his three great grandkids – and hopefully feeling immense joy for the life he and my grandmother created.
We're all getting busier, but whenever we get together it's as if no time has passed. We play, pray, eat and laugh, and it's really the best.
My contribution to this particular shindig was the berry cobbler. The base of my recipe is from an old episode of the Pioneer Woman, but instead of using blackberries I use raspberries and blueberries. This cobbler is so easy I literally memorized the recipe while watching the show. I just remember her saying "a cup of, a cup of, a cup of," and that was it. Once you have the base down, you can sub any other berries or even peaches. Since we're so close to July 4th, I decided to be patriotic and go for the red, white and blue look, so rasp/blue berry cobbler it is!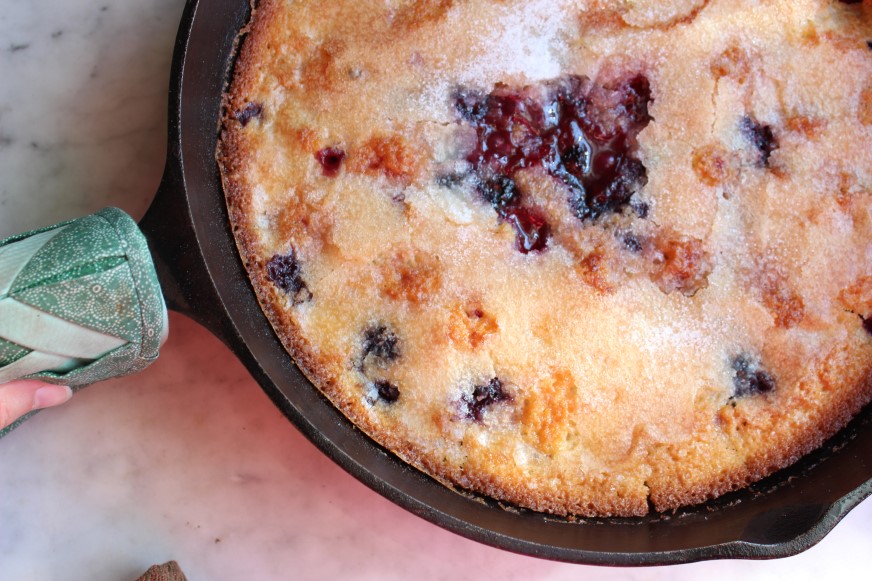 Cobbler is such a perfect summer dessert, and the red, white and blue makes for a fun 4th treat! This particular cobbler is especially great if you have a little chef that likes to help in the kitchen. Abigail helped mix the batter and added the berries – she was so proud of herself. If you've been following for a while, you may remember how I don't bake very often. It's because baking is so…precise. This does require measuring, but everything is a cup, so we won't be dirtying every measuring spoon in the house. Enjoy!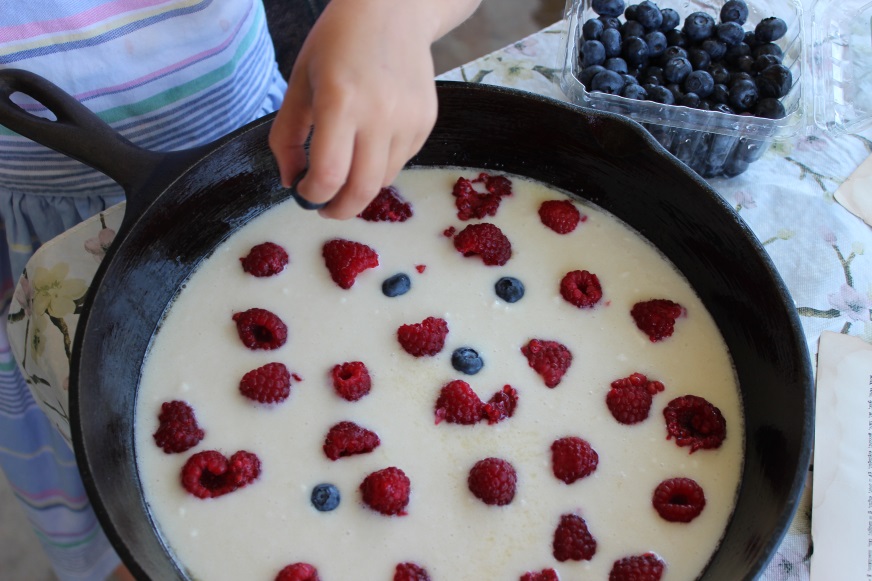 Ingredients:
1 stick butter
1 cup self-rising flour
1 cup sugar
1 cup milk
1-2 cups berries (I use a 5 oz container of raspberries and 3/4-1 cup blueberries – just eyeball it)
¼ cup sugar (for topping)
Directions:
Preheat the oven to 350 degrees and spray a cast iron skillet (or 9×13 pan) with cooking spray.
Melt the butter in a microwave safe bowl.
Combine the flour and sugar in a mixing bowl. Whisk in the milk and then the butter.
Pour the mixture into the cast iron skillet (or baking dish), then add the berries.
Sprinkle the remaining ¼ cup of sugar over the top, then bake for an hour until the top is golden and bubbly.