Here we go again, guys. This self-proclaimed "non-baker" is coming to you with yet another sweets recipe. Guys – that's TWO in less than a month. This whole bloger/blogee relationship is based on trust, and I admit I'm not bringing it lately when I say "trust me, I don't bake." However, if you have to lose trust in me then I guess this is a pretty good way to go because these two-ingredient sugar bombs from heaven are worth losing a little trust.
You heard me: two. ingredients.
Let me regain your trust here. While you can make your own chocolate chip cookie dough (and BTW you would be my hero and I would expect an invite to your house to eat chocolate chip peanut butter cups with ->homemade<- chocolate chip cookie dough), I just use the blue brand log from the store. So while – yes – I'm baking, I'm not reaaaaally getting into the nitty-gritty measuring that generally comes with baking.
Okay, can we resume our trust fall now? K, thanks.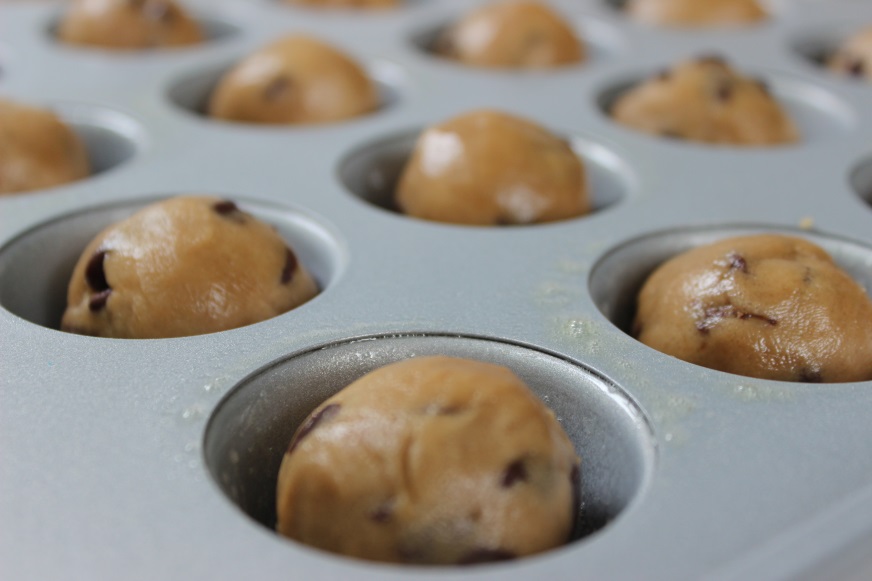 If we were friends in college, there's a pretty good chance you had these, and are now reminiscing about the good ol' days in Chapel Hill, and maybe even swaying to the tune of "Carolina in My Mind" playing in your head…ehhh, just me?
While I used to make these all the time in college, I now generally just make them around Christmastime. (Forewarning, I will do a post in the November/December timeframe with my "always ready for drop-in company" Christmas treats display.)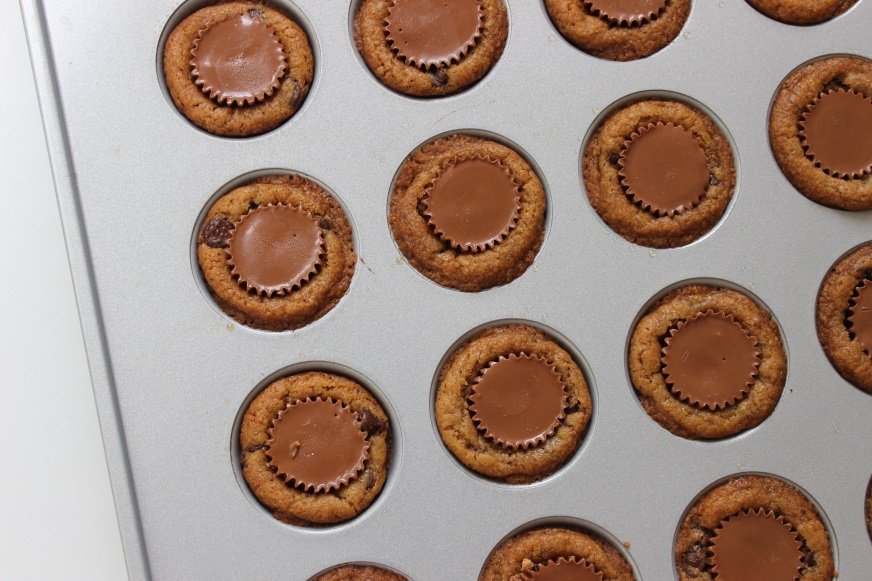 Well, this past weekend we had a little Christmas in July party with friends, so of course I had to make my chocolate chip peanut butter cups. Y'all, my friend Sarah has an 18-month-old and a THREE WEEK OLD, and she was still able to host Christmas in July. And if you're wondering – yes – there was a tree and gifts for the littles. #momgoals It was basically just sweets, homemade popcorn and Christmas movies, but we had a blast hanging out and celebrating Jesus' half birthday. I would have taken more pictures than just the dessert table, but there were more important things to do. Like drink that glass of wine and watch Anna Ruth see Christmas Eve on Sesame Street for the first time.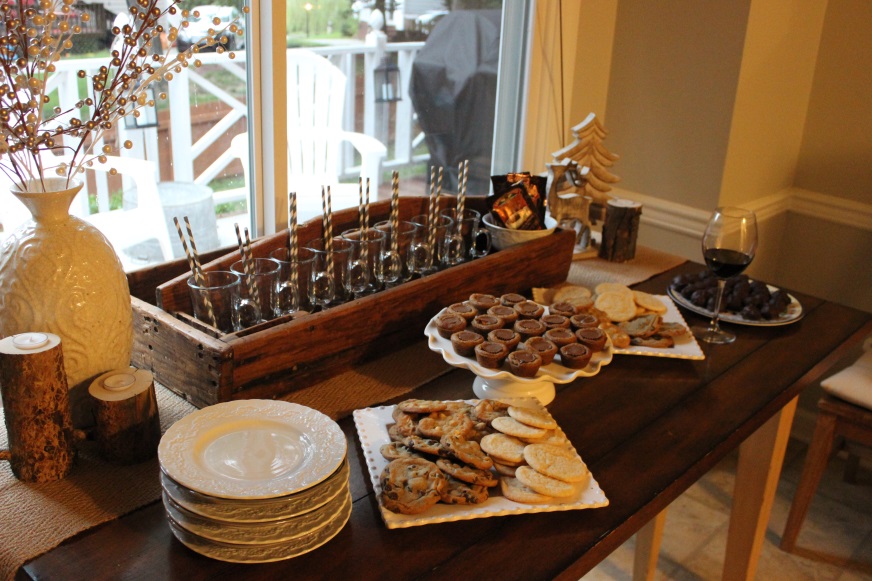 Now, back to the chocolate chip peanut butter cups. I feel a little phony sharing these because they're so easy. My mom even said "doesn't everyone already know how to make them?" Thanks, mom. Maybe, but I've never known anyone other than my sister and me to make them, so…
There is one must-have kitchen item for these – a mini muffin pan. I used to have two pans of 24, but then I found this one at BB&B, and I had to have it.
It's so big it's hysterical.
You have the opportunity to make up to 48 chocolate chip peanut butter cups at once.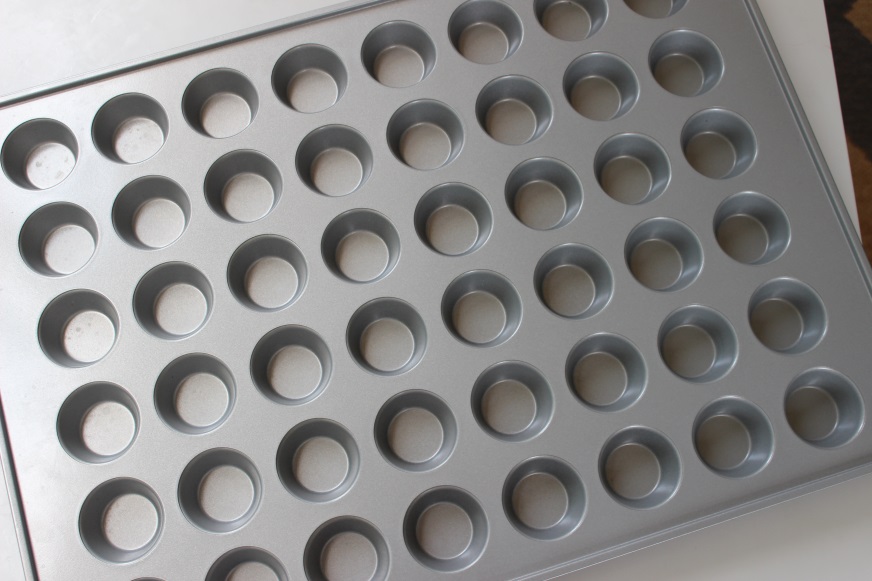 The cookie dough log I use generally yields about 20, so this pan is perfect if you want to double the recipe. It's fine not to fill the whole pan, but just add about 1-2 tbsp of water to any empty compartments before baking.
Try to roll the cookie dough balls as evenly as you can for uniformity, and have the peanut butter cups ready to go when the cookies come out of the oven. These are incredibly good while still hot, but are equally enjoyable once they've cooled completely. Enjoy!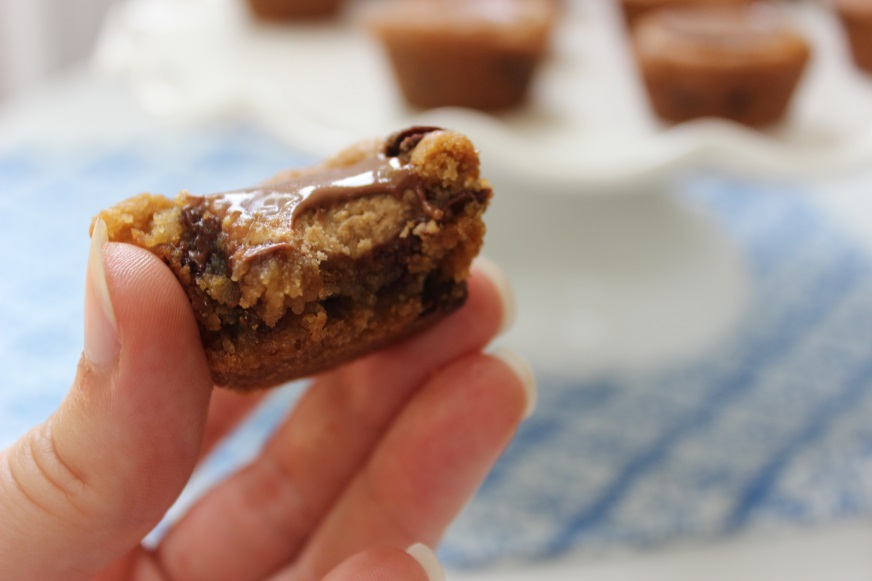 Ingredients:
Chocolate chip cookie dough (store bought or homemade)
Peanut butter cups (enough to have one per cookie)
Directions:
Preheat oven according to your cookie dough directions (mine is for 350 degrees).
Roll the cookie dough into one-inch balls and place into the individual mini muffin tin compartments. Bake according to package directions, but start checking about a minute before the lowest cooking time (mine are generally ready around the 10.5 minute mark). Remove from the oven once golden, but not too brown as they will continue cooking slightly once out of the oven.
Immediately place one peanut butter cup into the middle of each cookie and press down so the top is even with the top of the cookie.
Remove from the pan and enjoy!