I can't believe we're less than two weeks away from Christmas – how did that happen?? Today is sort of a two-part post: we're talking about hosting a cookie party and being holiday ready with a stunner of a cake plate display (including the best ever red velvet oreos).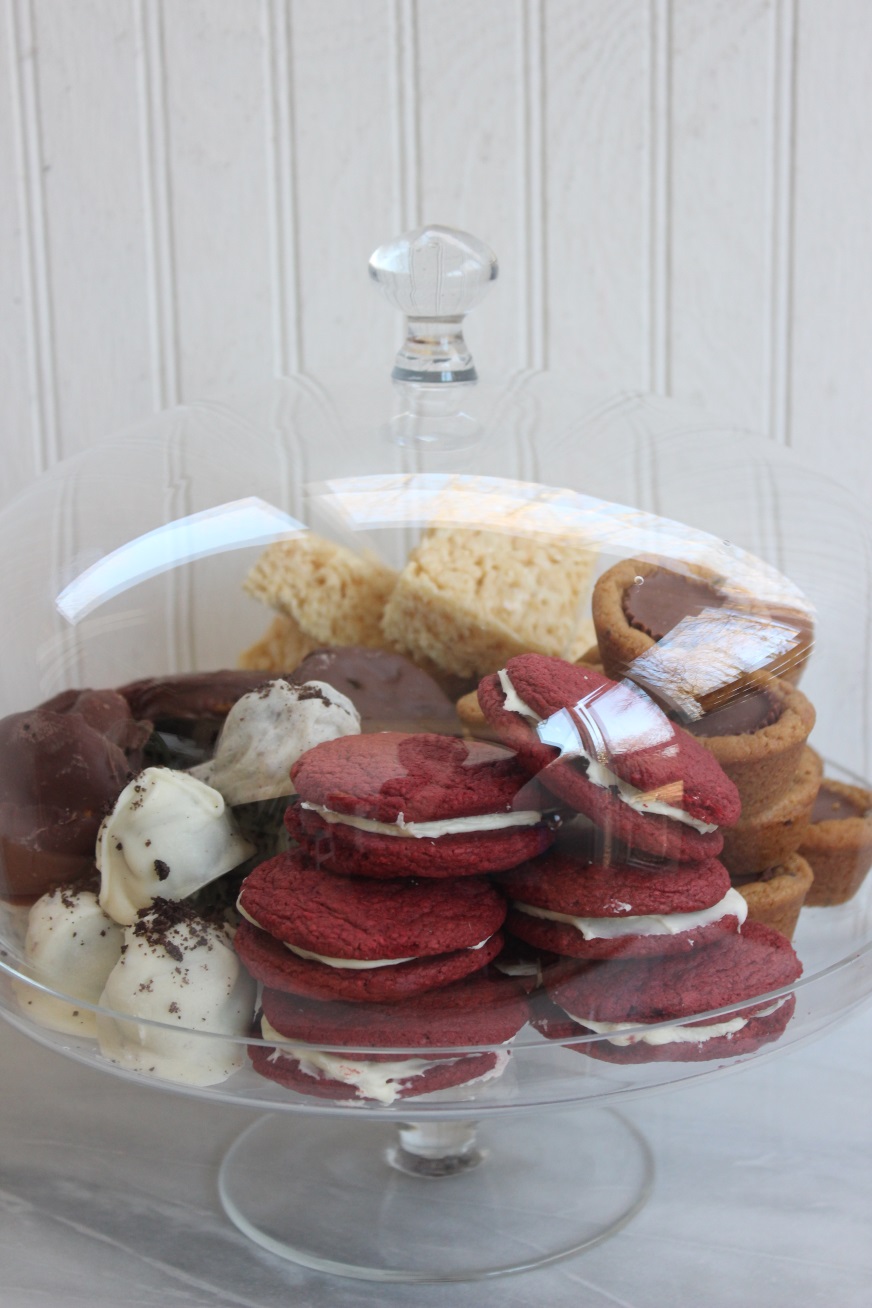 First off, I went a little crazy this year and decided it would be a good idea to invite Anna Ruth's entire play school class (plus siblings) over for a cookie party. I roped in my friends Kristy and Ginny to help me, and we lived to tell about it. We had 18 kids in our living room with icing and sprinkles, and my hardwoods somehow managed to survive (praise hands!).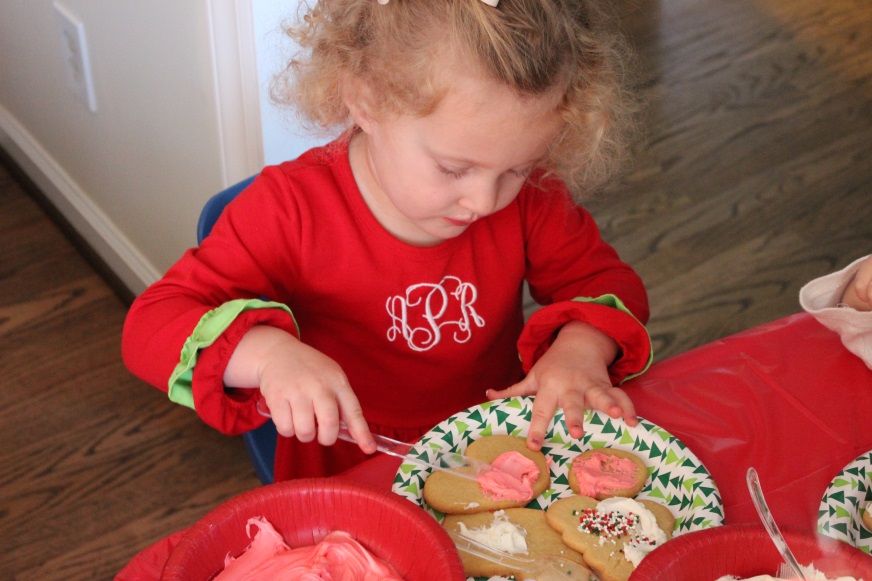 You guys, this party was a hit. We had easy snacks and cookies for decorating – we even had a bounce house for playing outside. I just pre-made the cookies, and we had sprinkles and icing set out down the length of the kid's tables.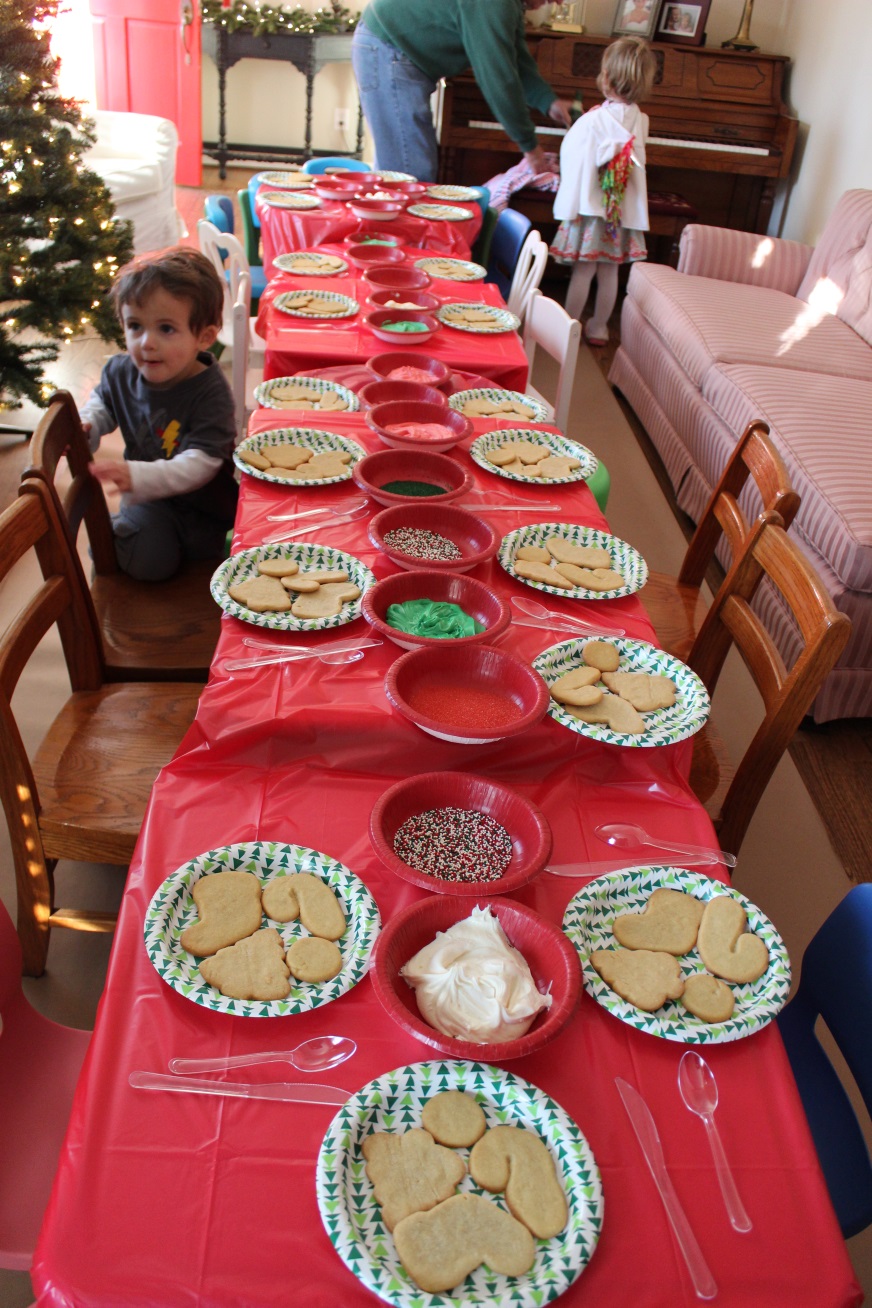 I know I'm going on and on about it, but I was just so surprised by how easy this party (and clean-up) was to pull-off. If you ever find yourself in this boat, just make it easy on yourself and plan on covering the floor with painters paper, use disposable tablecloths and all disposable containers for the icing and sprinkles. We literally just dumped everything in the trash and had minimal vacuuming afterwards.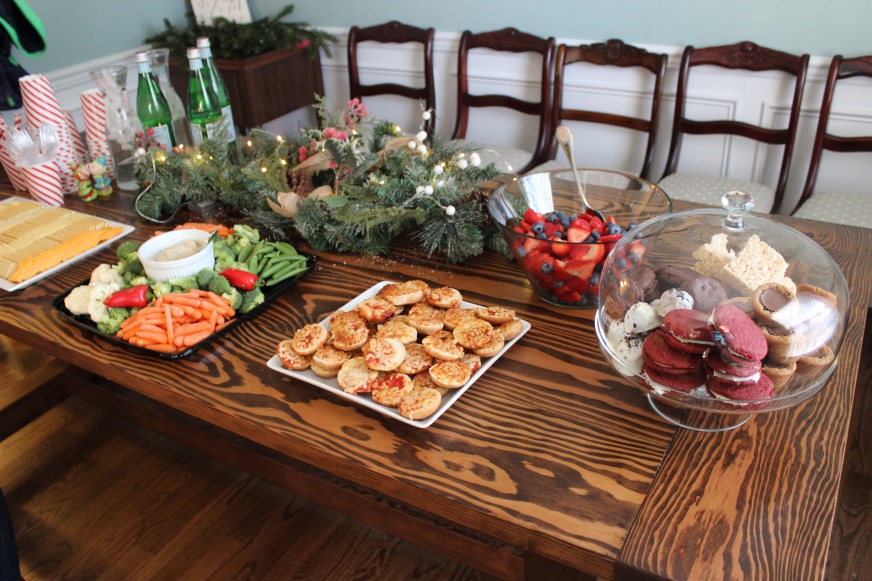 As mentioned, we just had easy party food: cheese and crackers, berries, veggies and hummus, bagel bites and my Christmas treat cake stand display. Let's talk about having a Christmas treat cake stand display for a minute. This has become one of my favorite things to do for the holidays.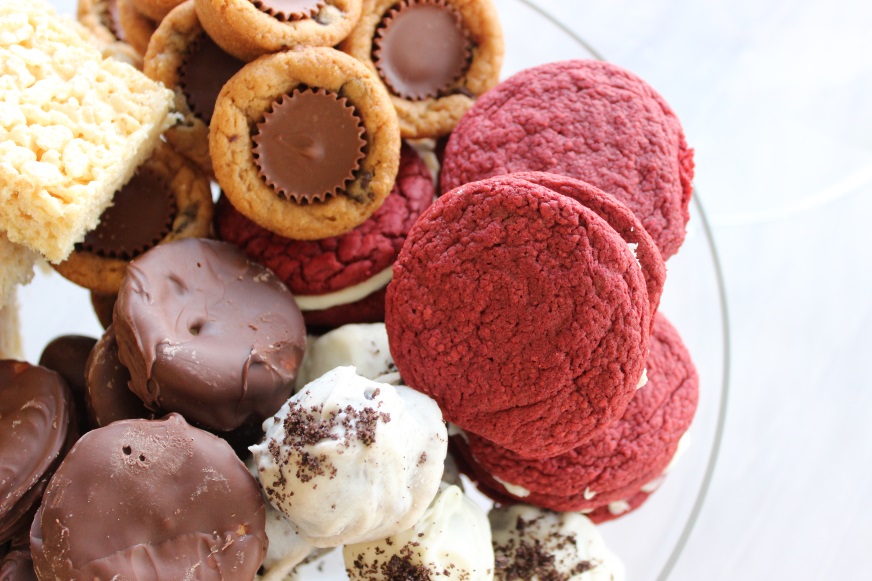 Generally speaking we don't have a lot of sweets in our house. We're not anti-sweets, we just don't usually go for them. However, during the holidays I feel like they are a must. A week or so after Thanksgiving I'll make my Christmas treats for my yearly display, and they'll last through Christmas.
The truth of it is that we don't even really eat the treats that much, but the whole point of it is to be guest ready with little to no warning. Something about having a knock-out sweets display just makes me feel a little more in control and like maybe I actually CAN EVEN during an otherwise hectic time of year. It says to your drop-in visitors, "it's no intrusion – I'm ready for you – have a treat." Plus it just looks pretty sitting on your kitchen counter.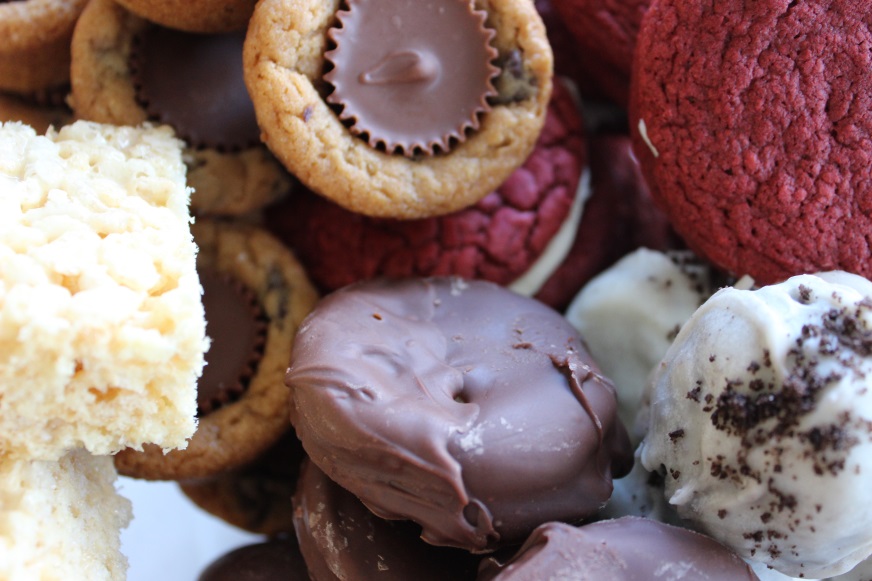 I usually change it up a bit, but this year I went with five of my favorites: red velvet oreos (recipe below), homemade peanut butter patties, Oreo truffles, rice krispie treats and chocolate chip peanut butter cups. It seems like a lot, and I generally only do four things, but with the bigger party this year I decided to go for all five. My mom came over after work one night, and we knocked out all of these in around two hours.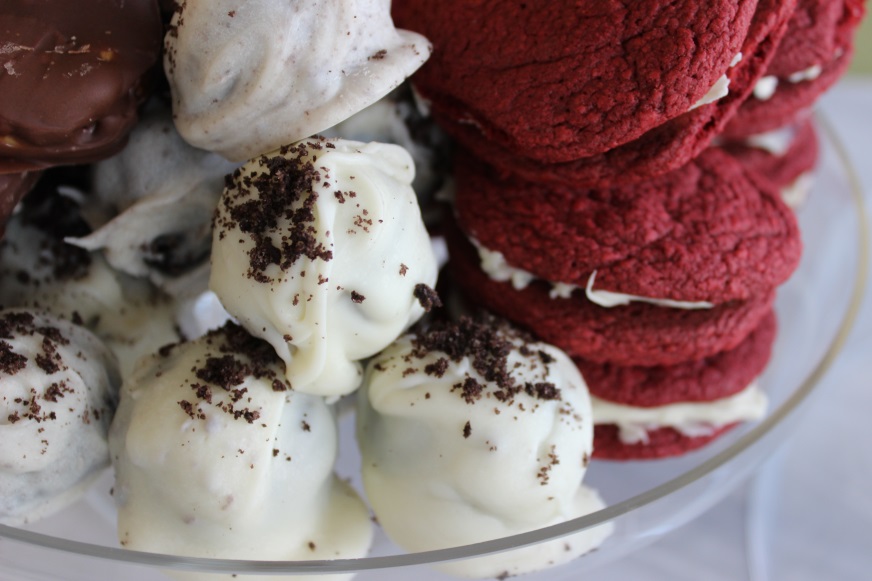 You may remember the chocolate chip peanut butter cups, and you can find the Oreo truffles recipe here (but I dip mine in white chocolate). For the peanut butter patties, simply spread a little bit of peanut butter between two butter crackers, freeze for 10-15 minutes and then dip in melted milk chocolate. You can either make traditional rice krispie treats, or you can be like me and buy the giant rice krispie treat from Target that they sell during the holidays. This thing is so great because they're so good, and ready to just cut and go.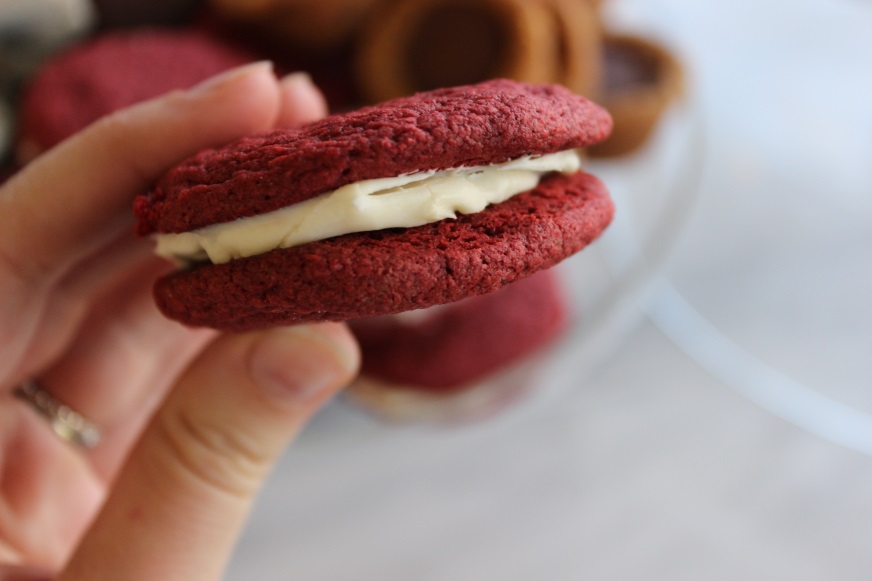 The recipe for the red velvet oreos comes from one of my life long besties, Danielle. She's been making these for as long as I can remember, and she generally does them with devil's food cake mix. Since it's Christmas, though, I went with red velvet to make them festive. No matter what the occasion, these cake-based cookies are perfect.
Red Velvet Oreos
Ingredients:
1 box red velvet cake mix
1 stick unsalted butter – melted
1 egg – slightly beaten
1 tub cream cheese frosting
Directions:
Preheat oven to 350 and line baking sheets with parchment paper.
Combine the first three ingredients until well mixed.
Form into 1-inch balls* and gently flatten onto the cookie sheet.
Bake for 8 minutes.
Remove from the oven and let sit on the cookie sheet for one minute before removing to cool completely.
Once completely cooled, use the frosting to create cookies.
Enjoy!
* I generally make them a little larger, but this is how she gave me the recipe.