Salmon with Mango Lime Salsa. Your life is about to get 10 times better. This is one of the easiest recipes I think I've ever made, yet also one of the tastiest. What we have here is five ingredients that come together in 15 minutes to create the most colorful, flavorful dinner you'll want to eat every night. Not kidding even a little bit.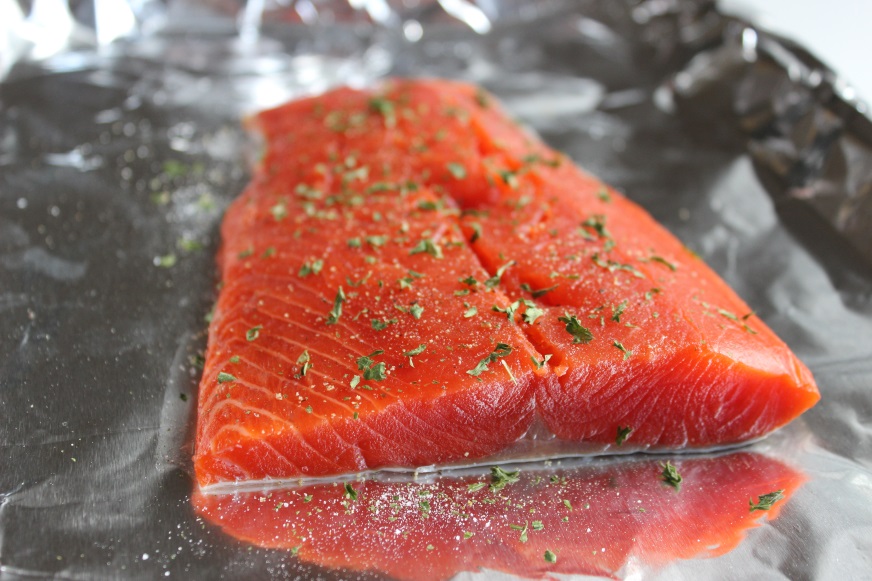 Let's break this down. First you have the salmon – fresh, wild-caught salmon. Yes, it's pricier than farm raised, but fresh is the sustainable choice and it also tastes way better. I just season it with salt, pepper and a little dried parsley and it's ready for the oven. (TBH the parsley is totally optional, but it just looks pretty.) While the salmon is cooking, you'll prep the salsa: peel and dice the mango, combine with chopped cilantro and lime juice and then wait for the salmon to finish. Once the salmon is done, place it on a platter on a bed of peppery arugula and top with sriracha and the mango lime salsa. Dinner is literally done in 15 minutes (well, 20 counting time for your oven to preheat). And doesn't it just make such a pretty dish?! The picture below is the entire cut of salmon and salsa – I just love how it looks, and have fun serving from a platter on a random weeknight. It feels fancy, but really no extra work.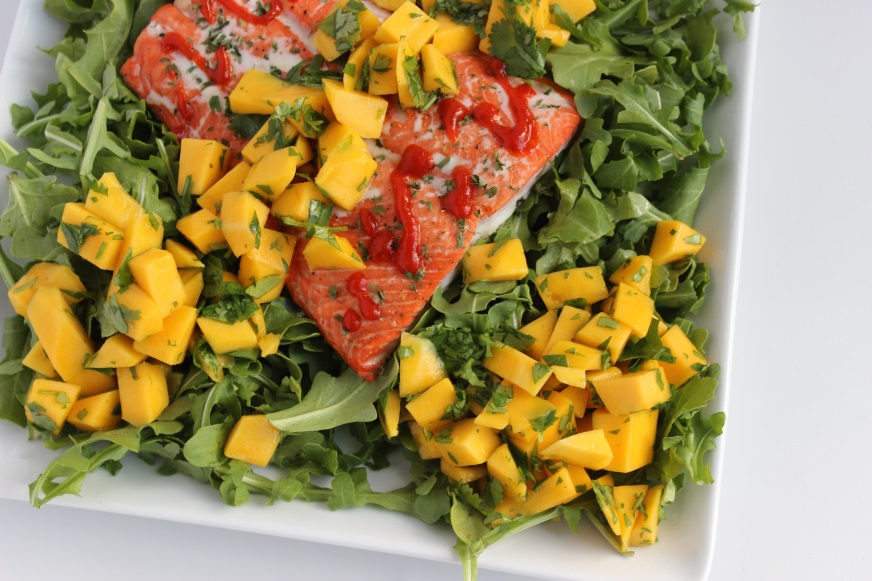 If you don't have much experience with cutting/dicing mango, here's a handy little video that can help you out. I use a combo of his second and third techniques: I use my mango splitter and then dice it right in the skin.
But wait – there's more! You guys, I'm giving you a bonus recipe within a recipe this week. I mentioned putting the salmon on arugula. This part's optional because the salmon with the salsa is great on its own and works really well with other veggies. However, the salmon with salsa on a bed of arugula with the dressing I'm about to give you is all you need in life. Simply mince (like really, really finely mince) half of a shallot, add 2-3 tablespoons each of olive oil and lime juice, season with salt and pepper to taste, then whisk (or shake in my case) until well blended. <– This dressing, friends, is so fresh and poppy that I want to eat salads all day every day just so I can have more. The BEST salad I've had lately was this dressing, arugula and oven roasted veggies – cauliflower and sweet potatoes to be exact. The hot veggies slightly wilt the arugula, which somehow brings out more of its peppery kick.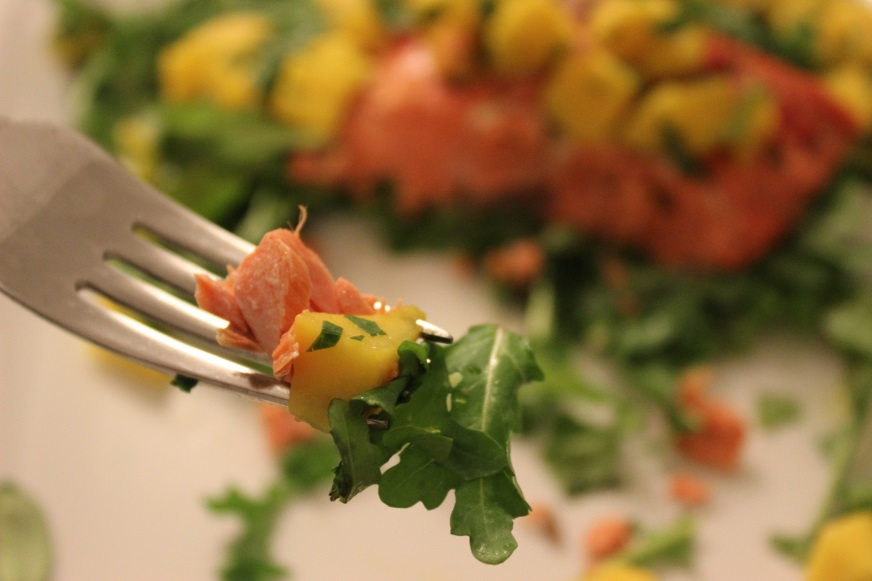 Go now and add this salmon with mango lime salsa to your meal plan for the week. At the same time, just go ahead and pencil it in for dinner every week forever and ever. The recipe below is the amount Andy, Anna Ruth and I eat (smaller portion of salmon and no sriracha for AR), so consider the number of servings to be 2-3.
Ingredients:
Wild-Caught Salmon (about 1/3 lb per person)
1 mango
1 small handful cilantro
Juice of 1 lime
Sriracha
Directions:
Preheat oven to 375 degrees. Line a baking sheet with aluminum foil and place the salmon skin side down. Season with salt, pepper and dried parsley flakes. Bake in the oven for 15 minutes, or until it flakes easily with a fork.
While the salmon bakes, peel and dice the mango. Rinse and chop the cilantro, and combine in a small bowl with the mango and lime juice.
When the salmon is done, top with sriracha to taste and serve with the mango lime salsa. Enjoy!