Happy third day of Summmmmer, y'all!! Today I'm taking you to the core of our summer eating habits that get us through 2/3 of our meals: fresh, simple, no cook, ready to throw on a plate and call it lunch/dinner.
No – we don't eat roasted garlic hummus per-se for 2/3 of our meals in the summer, but you get the gist of what I'm saying, right? This is just an example of how a summer meal might go.
Grill chicken breasts while playing in the back yard.
Buy and chop the entire produce section.
Put grilled chicken on plates with fresh hummus and crudité (crudité is fancy for chopped veggies <–someone please tell me you get that reference).
Done.
Let's get a few things out of the way…
This recipe is adapted from a recipe given to me by one of Andy's great uncles (hiiii, Jack!). His late wife was Syrian, and the base recipe was from her, so I feel pretty good about this being truly authentic. I just tweaked it by roasting the garlic, rather than using raw.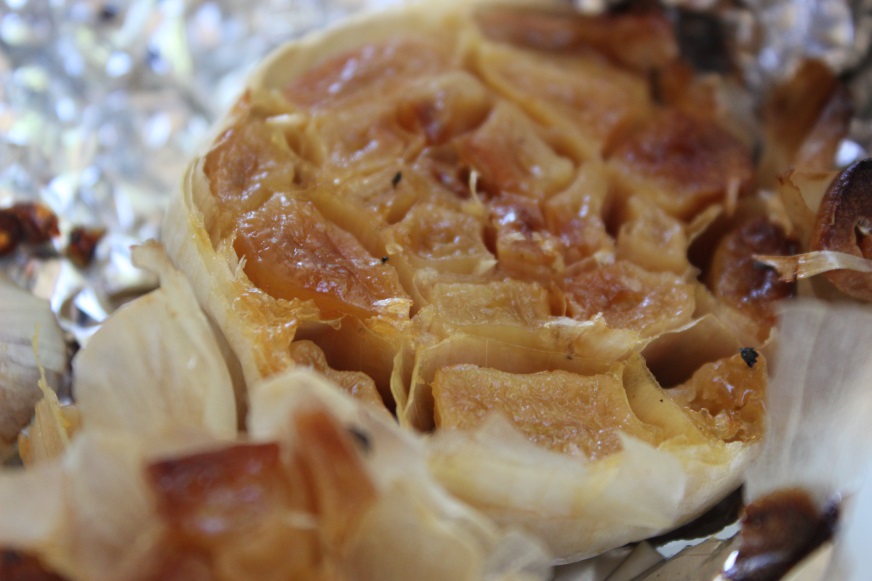 I know I said "no cook." That's mostly true, but – yes – to make this you do have to roast garlic first. If you're feeling particularly lazy you can just substitute with 3-4 cloves of raw garlic. The flavor won't be as sweet and caramelized-y as with roasted, but it is also very delicious.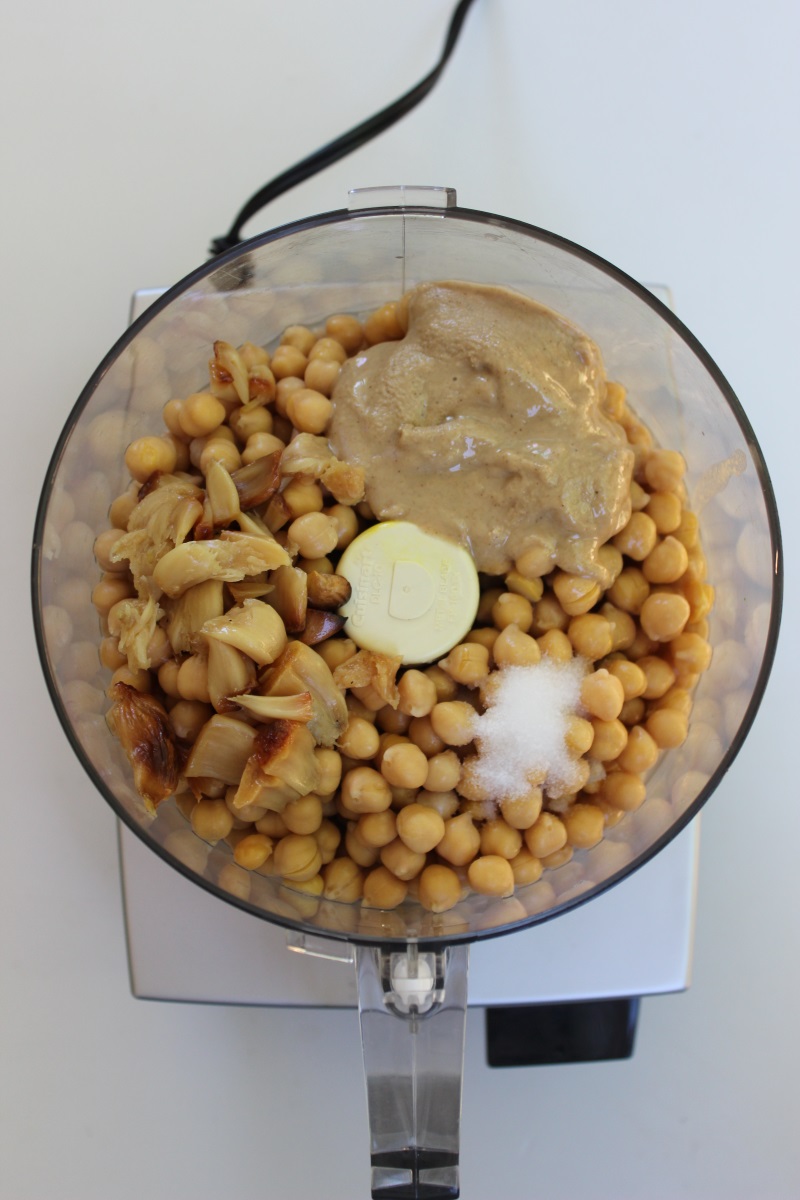 Yes, you can buy a popular brand of hummus with roasted garlic, but then you're not getting it evenly distributed like you are here, and this recipe makes about double what you would buy at the store (for about a third of what you would spend buying two tubs). Also, this fresh, homemade version skips all of the added toxic chemicals in store-bought roasted garlic hummus (<– J/K – I am SOOOOO not that mom – I am NOT seriously saying the added ingredients are toxic). We aren't above store-bought hummus, but I generally have all of the ingredients on hand to make my own, and you know I love any excuse to use my food processor. 😉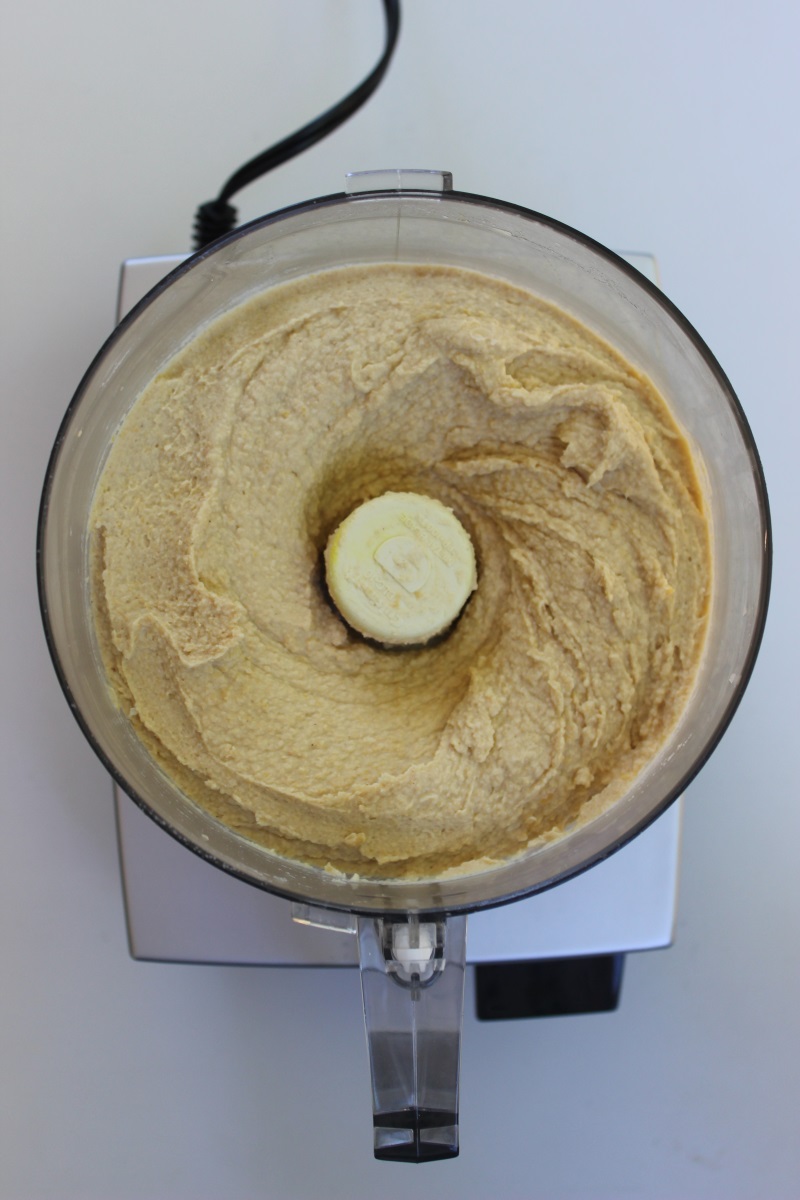 As mentioned, we're roasting our own garlic here. Don't be afraid – it's really easy! Cut the top off, drizzle with olive oil, wrap in foil, roast in oven. Easy peasy! A whole head of garlic sounds like a lot, but it really isn't that pungent once it's roasted and soft and golden. We love roasted garlic so much that I don't think I would mind even doubling the amount in the recipe.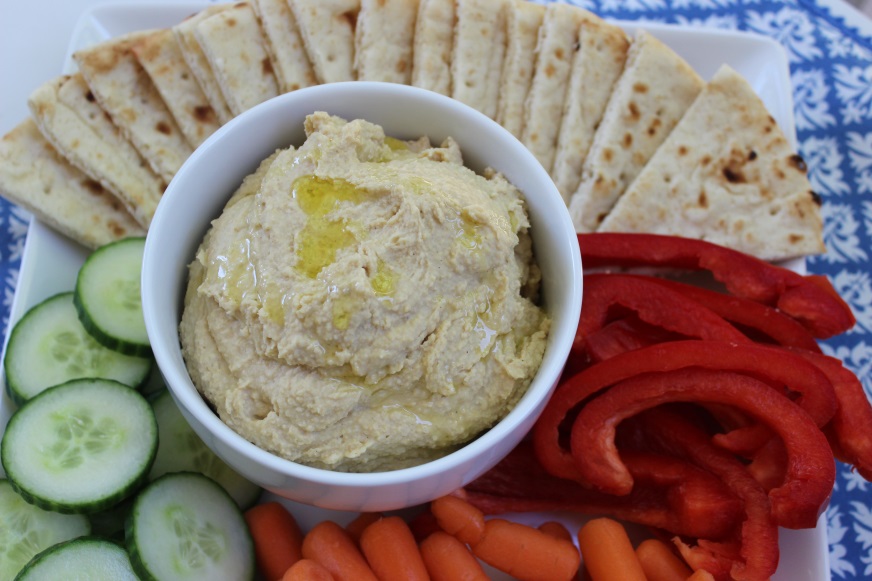 I generally keep things easy and just serve the hummus with pita wedges and crudité, but it's also great on a Greek salad, or as a sandwich spread. Let me know other ways you enjoy using hummus!
Ingredients:
1 head garlic
1/2 tsp olive oil
2 (15.5 oz) cans garbanzo beans (chickpeas)
4 tbsp tahini
1/3 cup lemon juice
1/4 cup water
1 tsp salt
Directions:
Preheat oven to 400 degrees. Cut the top off of the garlic and drizzle with the olive oil. Wrap in foil and roast in the oven for 40-50 minutes, until soft and golden. (Start checking around 40 minutes. The longer you roast the deeper golden it will become.)
Once the garlic cools, remove the cloves from the skin.
Place all ingredients in a food processor. Blend for one minute, then scrape down the sides of the food processor to ensure all ingredients are well mixed. Run the food processor for another five minutes until very smooth and well blended.
Enjoy with crudité and pita wedges!
Notes: as written this hummus is thick. You can thin out to a looser consistency by adding 1-2 tbsp of water at a time until desired consistency is reached.