Quinoa tabbouleh quinoa tabbouleh quinoa tabbouleh – yay!!
I can't believe I'm just now sharing this recipe with you. Friends, do you ever go through phases with your food? As in, you make the same thing on a weekly basis for 1235 weeks in a row, then stop for no apparent reason? Then after a little break you remake the thing you made for 1235 weeks in a row and remember that it is one of your favorite things and it is always so fresh and on point, so you resume with the never ending cycle? This is that food for me.
What we have here is essentially a salad without leafy greens. Unless you count fresh herbs as leafy greens? I don't know – whatever – it's up to you. We've got nutty quinoa mixed with bright tomatoes and cucumbers that give you that healthy veggie glow vibe, and then everyone gets cozy with a whole lotta parsley and a zippy lemon dressing. You guys, that cucumber crunch, tho. I wouldn't be the least bit mad if you replaced the tomatoes with another cucumber because while they're a really pretty pop of color (I mean, LOOK at those babies…just gorgeous) and nutrition they don't add a really necessary flavor. Someone do that and report back, please.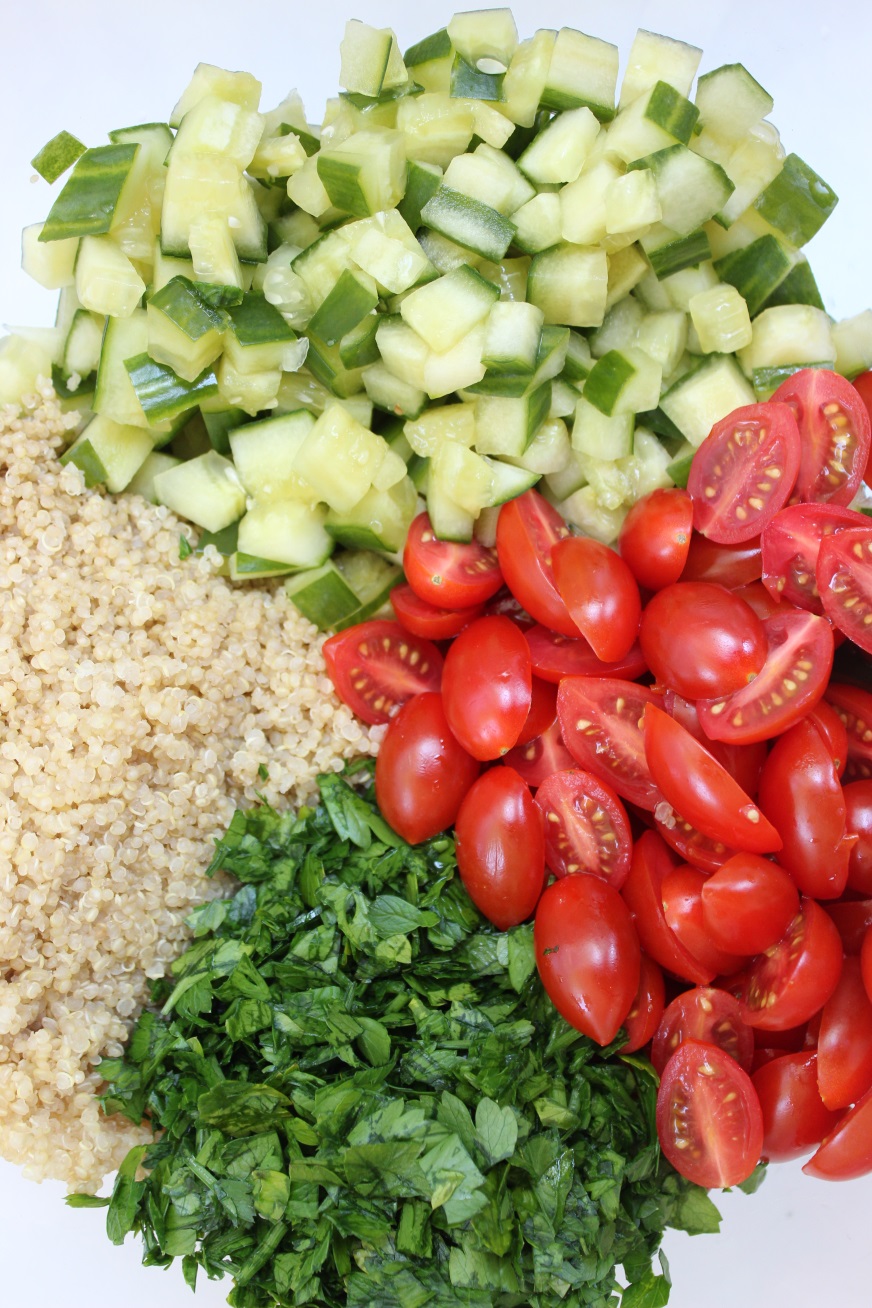 Another thing I want to mention is that we're thiiiiiis close to having this vegan. I don't know about you, but I'm in the camp that insists on cooking my quinoa in chicken broth. I've literally never ever cooked it any other way, so I guess I'm just an oldie set firmly in her comfort zone. I promise I will get on the sometimes vegan train soon because this would be the easiest swap possible (veggie broth or water for the chicken broth), but I just haven't done it yet. Someone also do that and report back, please!
I had taken a little break from making this quinoa tabbouleh, but its revival couldn't have come at a better time. I'm on a mission to do more lunches from home – remember when I talked about how awesome our cafeteria is at work? As awesome as it is, it is still much more affordable and healthy to eat from home, so brown-bagging it is. Enter this quinoa tabbouleh. I'll make it on Sunday during naptime –> shocker <– and then portion it out for us to have for lunches during the week. Paired with whatever protein we have from the night before, along with our veggie bags, we have a perfect lunch.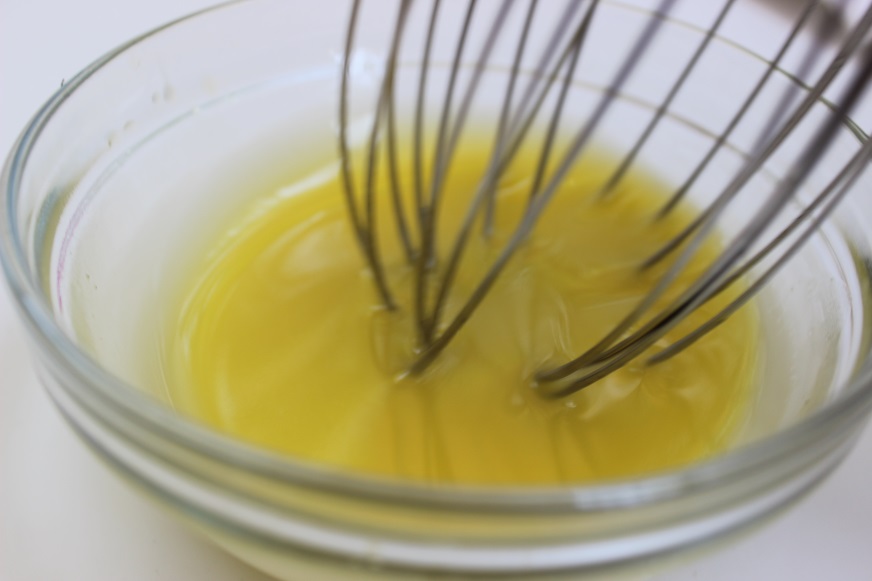 On another note, you guys, this is your new best friend when it comes to bringing sides for cookouts and parties. Some groups are more into these types of healthy sides than others, but no worry – as we've already established, any leftovers are great for days to come. Is it bad that I secretly wish that people won't eat this dish when I bring it to a function, just so that I can have more to take home? That rarely happens, though, because by now errrryone knows it is de-lish.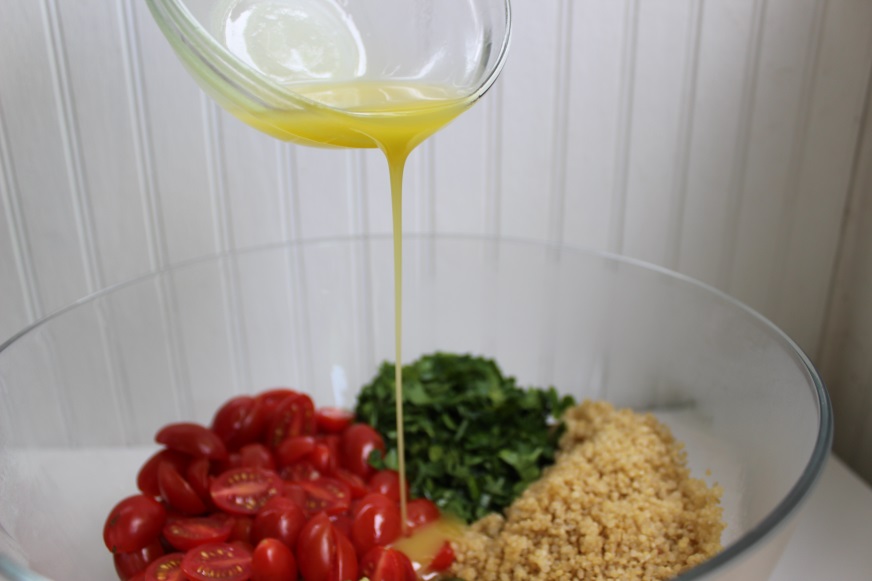 Go ahead and volunteer to bring this quinoa tabbouleh to your Memorial Day cookout (like oh my gosh how is it already almost Memorial Day), and be the star side-bringer we all know you are. And then just be prepared to make this every week forever and ever.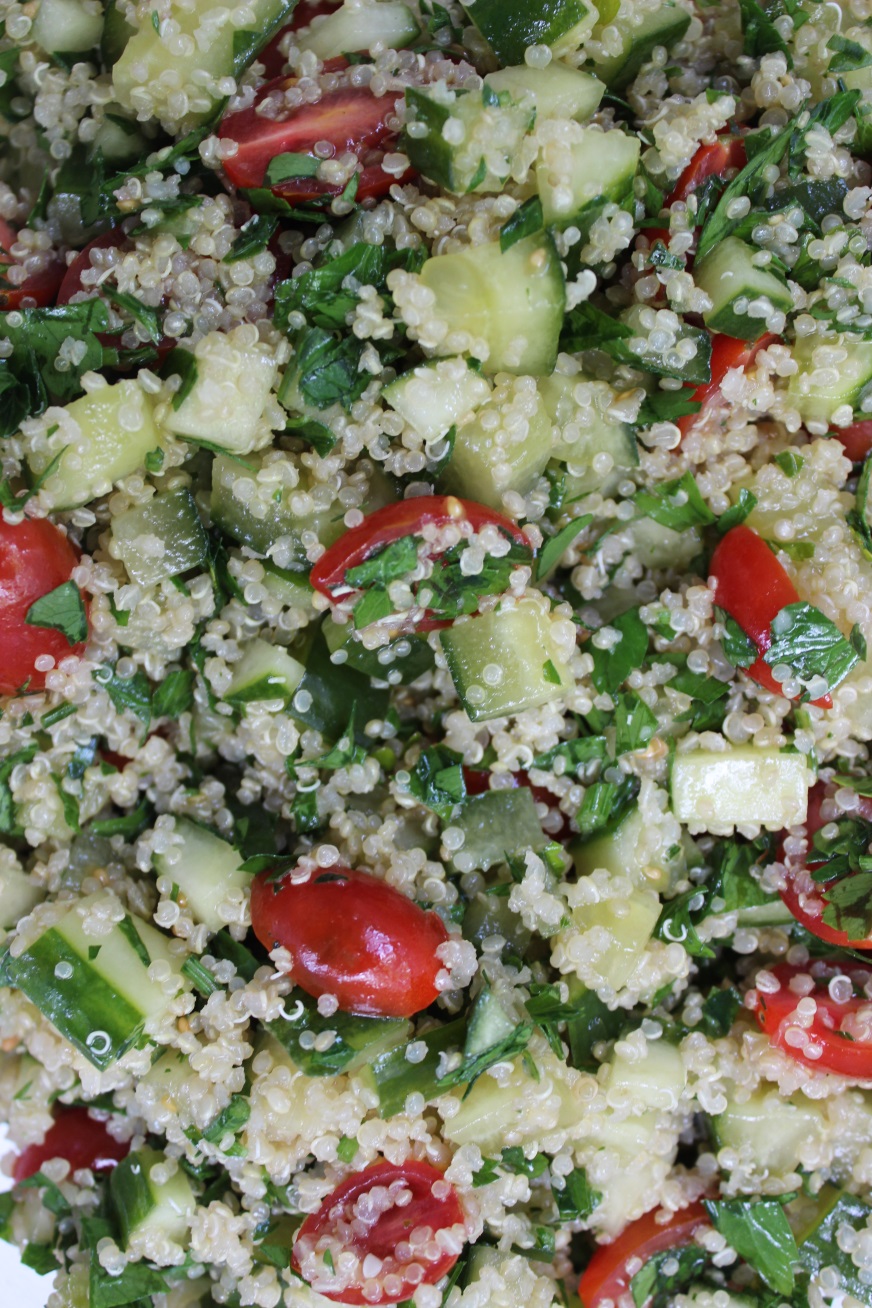 Ingredients:
1 cup dry quinoa
2 cups chicken broth (use vegetable broth to make this vegan)
2 English cucumbers (also called hothouse cucumber)
1 pint cherry tomatoes
1 bunch flat leaf parsley
½ tsp salt
3 tbsp lemon juice
¼ cup olive oil
Directions:
Cook the quinoa in the chicken broth according to the package directions. Once done move it to a large bowl and place in the refrigerator to cool.
While the quinoa cooks and cools, slice the tomatoes in half and dice the cucumbers. Remove the parsley stems and chop the leaves. Combine the salt and lemon juice in a small bowl then gradually whisk in the olive oil to emulsify.
Once the quinoa is cooled stir in cucumber, tomatoes, parsley and the lemon dressing.
Enjoy!