This year April weather = drunk weather. It was hot and Spring-like for about five minutes and then boom back to the 40s. Hellooooooo, April, you are no March. Go home. Last week it got cold again. Like bring your newly potted plants inside so the frost doesn't kill them cold. The silver lining? This lazy girl French onion soup. We've already established that I love soup with an undying passion, so when the high dipped below 60 degrees the Soupstress came back out for one last hurrah before it warms up for good.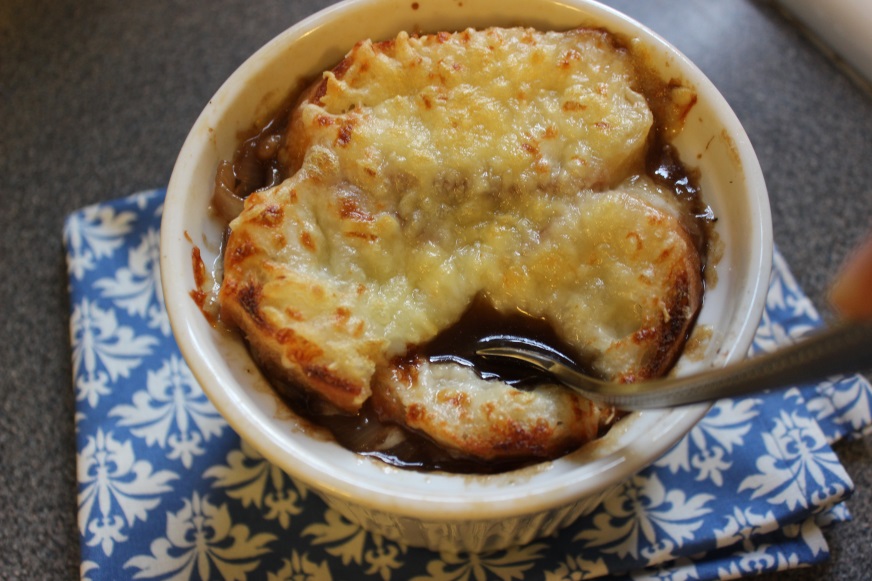 Where are my French onion lovers? Anyone get super excited when you see it on a menu? Me me me!! The bread covered with melty cheese, sitting atop the most flavorful oniony broth mixture. Pure magic. But…
Sometimes you gotta stay iiiin…
…and you know where we liiiive…
Welcome to my house. We can't even slow down. We don't like to go-o out… (thumbs up)
Did you kind of sing that as you read it? If so then – congrats! – we're bound to be besties. You know those songs that you only know about two lines? That's it for me, and I drive Andy nutso singing it over and over and over and over. I mean, it's a catchy little tune, amiright? This song basically describes our relationship with going out to eat. Why go out and spend $$$ when we can make it better and healthier at home for $? Sorry this was such an unnecessary tangent. I don't even know what's going on here. Back on track and in your face with 1-2-3 melty cheese strands…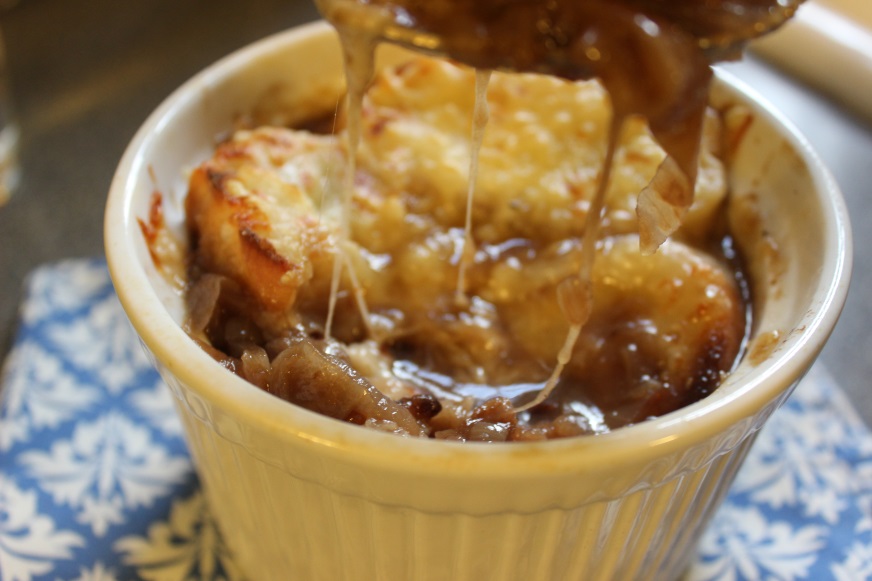 While you know I'm into recipes that take a long time, I am NOT into recipes that take a lot of hands on time. Who is? Here's what makes this "lazy" French onion soup: onions cook on the stove-top, then in the oven and, finally, it all simmers together with minimal stirring. We rarely made French onion soup before I found the method of cooking the onions in the oven. It takes out an hour of time that you would otherwise have to pretty consistently stir the onions to get them to brown. I mean – just look at that perfect golden goodness that was done completely in the oven. Genius!
There are three "active" times: slicing eight onions, stirring while the flour and wine incorporate and assembly. The only "slaving over the stove" bit is one 10-minute stretch where you need to constantly stir the onions with the flour and wine. I actually really like this part – add the wine to the pot, pour a little for yourself and just slowly stir and watch the mixture thicken before adding the remaining ingredients. It's actually really relaxing or Zen-like (?). I have no clue what constitutes "Zen" in cooking, but I imagine it's something like this.
Assembly here is also a little different than you're probably used to. My favorite part of this soup is the cheesy bread on top, but I'm always left a little unsatisfied when I run out of said goodness. My answer? Are you ready for this? We make a layer of cheesy bread on the bottom, melt it, add the soup and the final layer of bread and cheese and finish in the oven. The bottom layer of bread bumps standard French onion soup up to a whole new level. It's almost like a French onion stuffed grilled cheese when it's all said and done. Behold, the evolution of my lazy girl French onion soup in three, two…
You may not have time to do this on a week night, but you can make the soup over the weekend and just reheat it when you're ready to assemble during the week. Any leftovers (minus cheese and bread, obv) freeze really well, too. Go ahead and plan on making it this weekend, then – fine, twist my arm – I'll come over and help you eat it 🙂 One more shot for drool factor, then the recipe. Enjoy!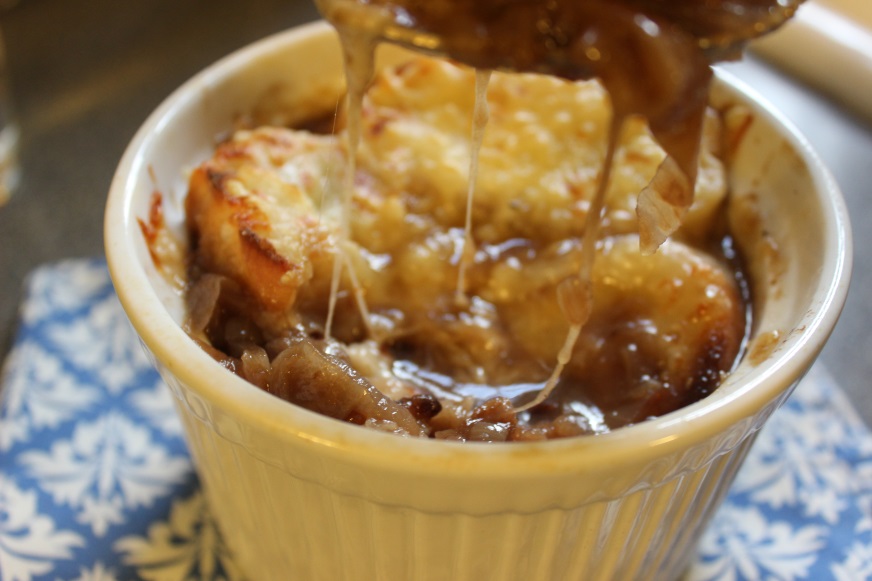 Calories are based on the soup alone because the amount of bread and cheese is totally up to you! I generally use about 2 oz bread and 4 tbsp shredded cheese per bowl, bringing the calorie count up to 434. <—Perfect dinner.
Serves 8 – 190 calories
Ingredients:
4 tbsp butter
7-8 yellow onions – sliced thin
2 tbsp all purpose flour
1 cup red wine (I use Merlot)
8 cups beef broth
2 bay leaves
1/2 tsp dried thyme
Sliced French baguette
Shredded mozzarella and/or Swiss
Directions:
Preheat oven to 350 degrees.
In a dutch oven, melt the butter over medium-low heat and add the onions. Cover and cook for 20 minutes, stirring occasionally.
Place pot in the oven with the lid ajar and cook for one hour, stirring 3-4 times.
Remove the pot from the oven and place back on the stove over medium heat. Stir in the flour and cook 2-3 minutes, stirring constantly. Add the wine and cook for another 10 minutes to reduce (it will become very thick).
Add the broth, bay leaves and thyme and simmer for 30-45 more minutes.
Set oven to broil.
Cover the bottom of oven-safe bowls with sliced baguette, and top with 2-3 tbsp shredded cheese. Place in oven just until the cheese melts.
Ladle the soup into the oven-safe bowls, top with another layer of baguette slices and shredded cheese, then broil until the cheese melts.
Enjoy!