The lack of organized photos in this post is a good indication of life right now: busy. We have six weekends between now and when baby Pea #2 is due, and four of those are booked. I'm trying to stay on top of posting, but heads up there will be some weeks I won't have a post. Please bear with me!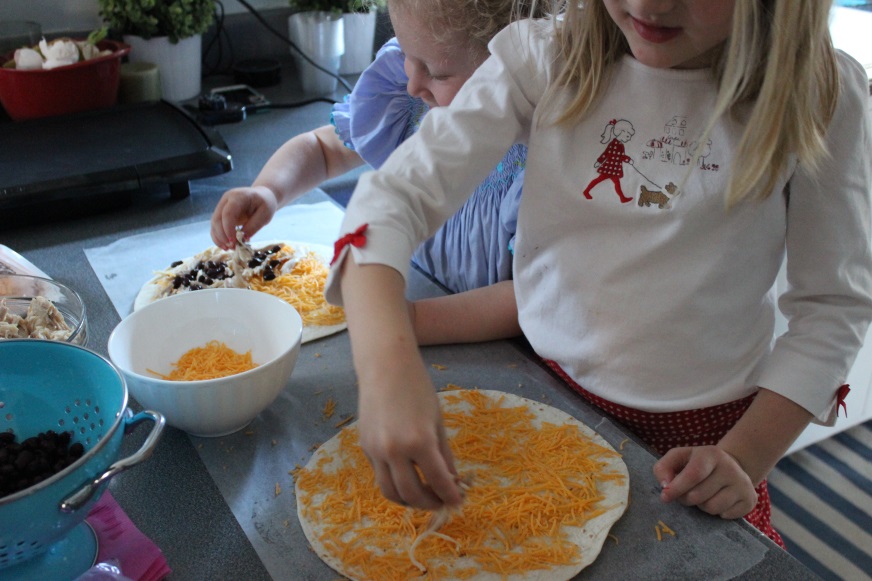 If you're my husband, mom, dad or sister, then I know I'm starting to sound like a broken record, so no need to continue reading. If you've been reading this blog for the last few weeks, I may be getting there for you, but today we're back on the meal-prepping-for-baby train. If I'm being completely transparent, these posts are almost more for me than for you. If we decide to go for #3 down the road, I want to be able to look back at how I prepared for #2.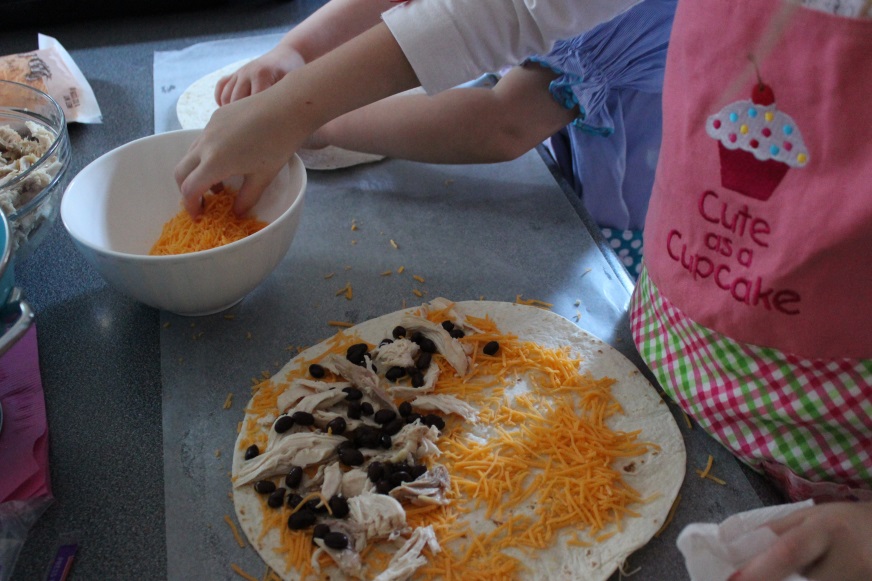 Anyone that's done the new baby thing will probably be able to relate, if not let me paint you a picture…
You have a newborn, and your husband has gone back to work, so it's just you and bebe. Bebe insists on being held during waking hours unless you're good with constant (ummm, LOUD) crying <– not an exaggeration. The clock strikes three in the afternoon and you suddenly realize you haven't eaten a single thing all day. Leftovers from last night's dinner are tonight's dinner (and it would also require you to put the baby down – see above), so you reach for a tortilla and shredded cheese and nuke it for 30 seconds. It's one of the few things you've found that only take one hand to both prepare and eat. You know you need more, but you're just too wiped out to make it happen.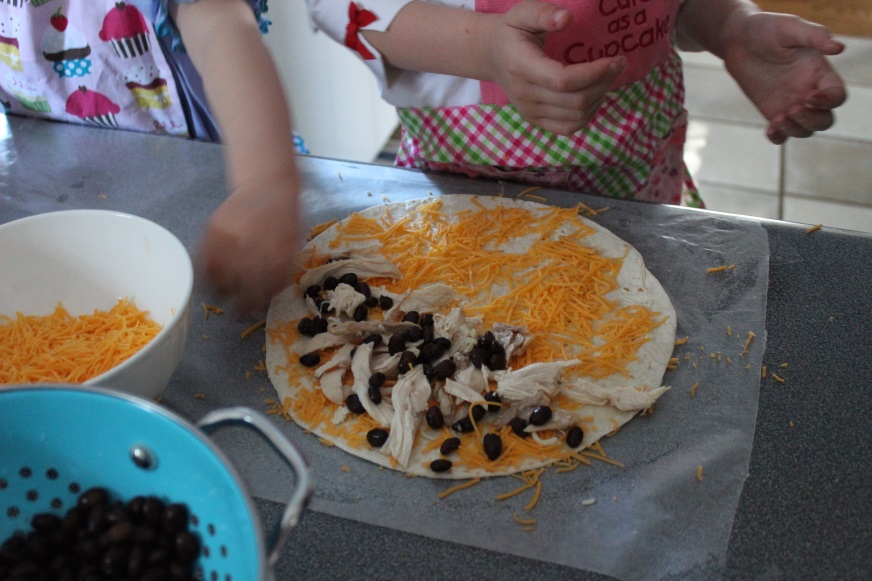 Enter these pre-made freezer quesadillas. Stuffed with protein-y chicken and black beans, and ready to eat (one-handed for the love) straight from the freezer in less than three minutes.
Now, I know these aren't exactly healthy, and my goal is to keep up with the veggie prep once baby Pea #2 arrives, but for me the first several weeks are all about survival. Last time I was totally unprepared for a baby that constantly needed holding. I mean, any moms that have babies that can happily lay in a floor gym or swing for any amount of time should take a moment right now to send up praise hands because having a baby that will not do that makes it that much more physically/mentally/emotionally hard. I loved my time at home with Anna Ruth, but I was just a mess, and I largely attribute that to trying to establish a milk supply while not keeping myself nourished. Sure the hormones played a part, but the physical parts of breastfeeding and not eating had the bigger impact. Knowing what I do now it won't matter if #2 is also a stage-five clinger. Having simple things like freezer quesadillas ready to go will mean I can better take care of myself before hitting that wall of physical exhaustion in the afternoons from forgetting to eat.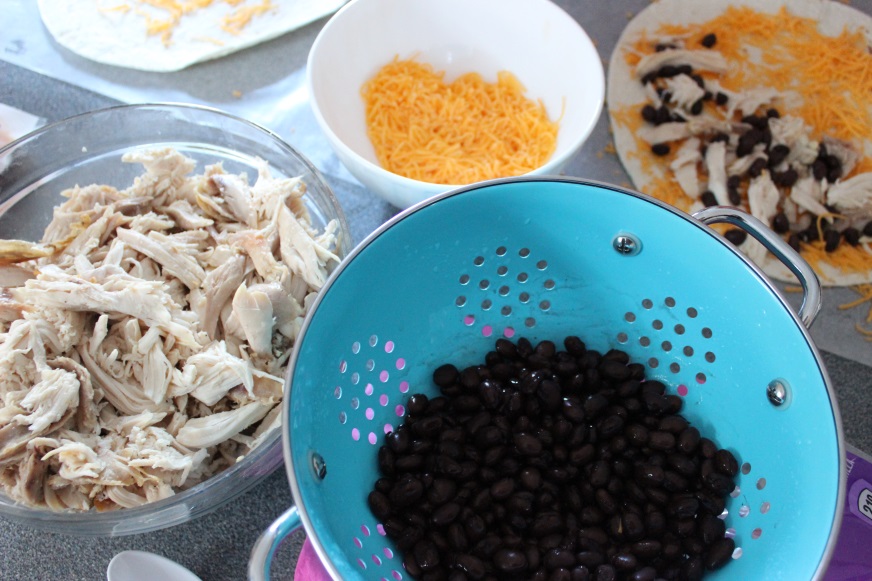 As you can tell by the pictures, I had two little helpers making these freezer quesadillas over the weekend. Anna Ruth and Abigail love helping in the kitchen, so I promote that any chance I can. These quesadillas are perfect for little helpers. There are no exact measurements, so you really just have to supervise to make sure they're not using too much or too little of any one ingredient.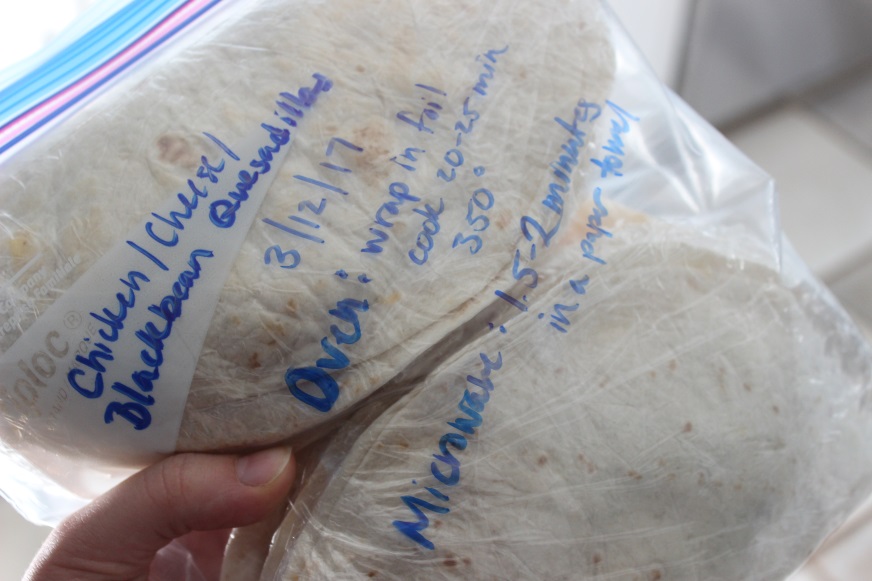 The recipe here doesn't include exact measurements because it is all to taste and preference. I used a chicken that I roasted earlier in the day, and large tortillas. You can easily use shredded rotisserie chicken, different cheese and beans and any size tortilla you prefer. This particular batch was one chicken, 2.5 bags of shredded cheese and one can of beans. We made 16 quesadillas, but ran out of black beans after about 12.
Freezer Quesadillas
Ingredients:
1 roasted chicken – shredded (rotisserie chicken works as well)
Shredded cheddar (or other cheese of choice)
Canned black beans – drained and rinsed
Tortillas – any size
Directions:
Preheat a skillet over medium heat.
Prepare tortillas with desired amount of chicken, cheese and black beans.
If freezing*: heat quesadillas on each side just until the cheese melts.
Allow the quesadillas to cool completely, then wrap individually in plastic wrap and then place into a zippered freezer bag.
To reheat

In the microwave: remove plastic wrap, wrap in a paper towel and heat for 1.5-2 minutes.
In the oven: remove plastic wrap, wrap in foil and cook at 350 degrees for 20-25 minutes, or until heated through.
On the stovetop: allow to thaw completely in the fridge, then heat in a skillet as you normally would.

Enjoy!
*If eating right away, simply cook as you normally would and serve hot.