Raise your hand if you love breakfast! Raise your hand if you find yourself with no time to make breakfast on busy weekday mornings! Keep that hand up if you are reallllly not into the whole "overnight oats" movement…well haaay there savory, hot breakfast loving friends!
Andy and I are major lovers of breakfast. More specifically –> savory breakfast. Sure we'll make waffles or French toast every now and then, but given the choice we'd take a biscuit sandwich over just about anything else ever. While we rarely eat biscuits (why oh why do they have to be loaded with all the fat and calories?!?!?), we love a good savory hash. Saturday morning at the Peascoe house is MADE for hash.
Scrambled eggs + diced potatoes, onions, peppers + black beans + spicy sausage + a liiittle cheese = perfect way to start a Saturday.
While we don't have time to make the "perfect way to start a Saturday" hash on busy weekday mornings, we can take the time to pull out one of our pre-made breakfast burritos filled with the exact same mixture and eat it on the go because that's just how we roll.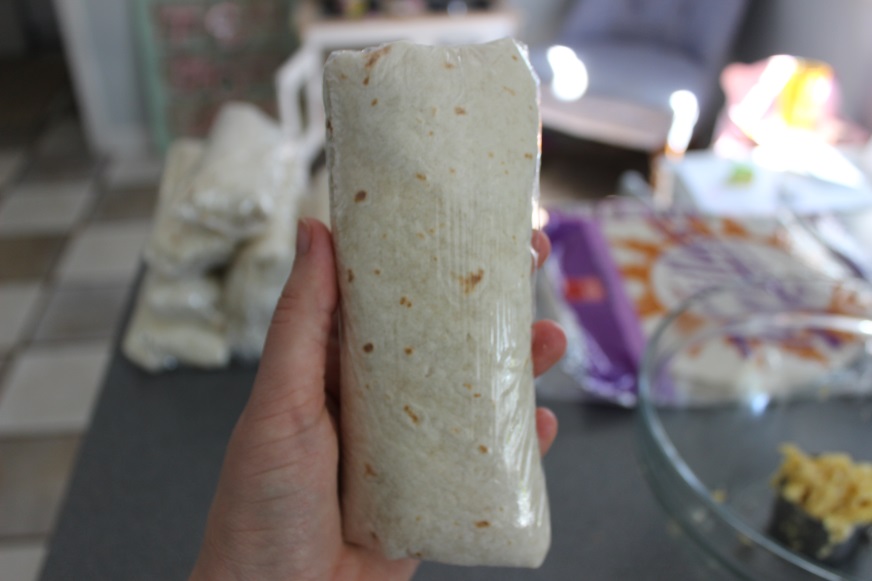 Y'all these breakfast burritos are so super simple and delicious. The best part is that once made, you have at least 12 days of breakfast ready to go when you need it. The second best part about these breakfast burritos is that they're completely customizable. Want it vegetarian? Leave out the sausage. Want greens? Wilt some spinach into the eggs as you scramble them. Want to use a whole wheat tortilla? Go for it. Not a fan of veggies in the morning? Leave them out. You do you, my friend.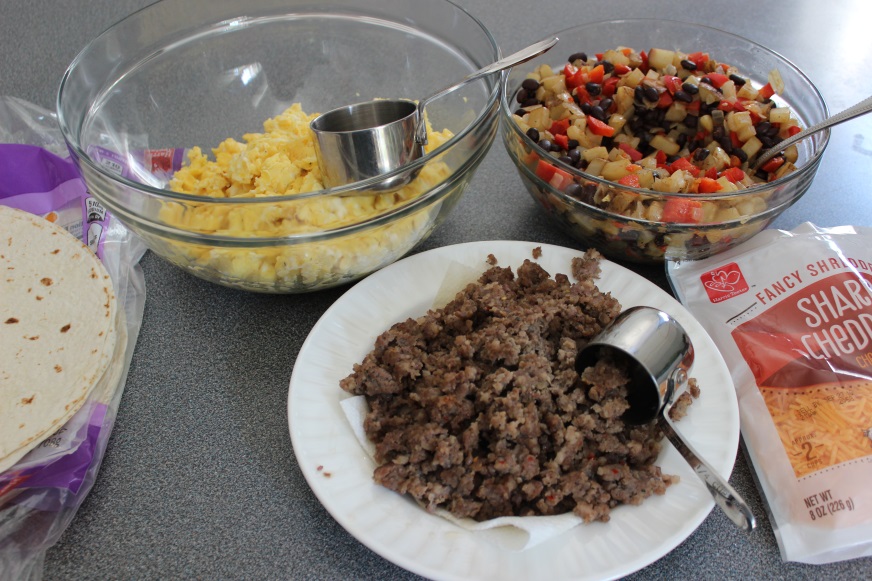 The third best part about these breakfast burritos is that they're GREAT to take to friends with new babies. I often have people ask me for ideas on what to take new parents, and these have moved to the top of that list. Dinner is always helpful and VERY appreciated, but I remember having so much dinner stuff that we ran out of fridge space. However, one thing that still sticks out and was extremely helpful was when someone would also bring muffins or some other breakfast food that could be eaten with one hand. There were so many days in those first few weeks after Andy went back to work where I would look at the clock and realize it was 2 p.m. and I hadn't had a single bite of food all day. Taking these to a new mom means she has 12 hearty breakfasts that she can heat (and reheat and reheat) and eat with one hand while holding her newborn that refuses to be put down <– not exaggerating.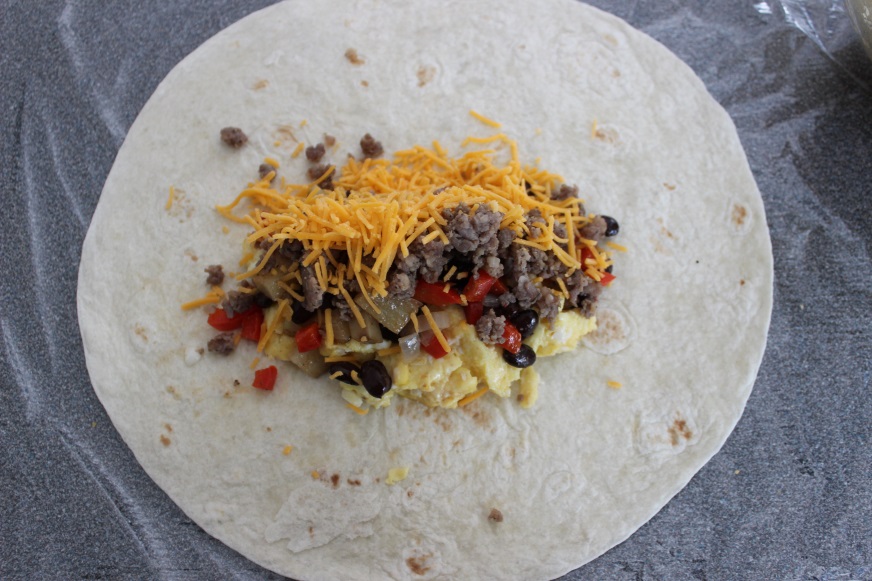 I have to be honest, though, I very rarely actually have them for my breakfast. Here's the thing. My office has a really reallllly good cafeteria. We have visitors from around the world that spend $$$$ to hang out with us, so they, therefore, expect great food to be part of that experience. Working there means I also get to eat great food…mmmmmm. With that, I prefer to save my calories and eat 1-2 servings of fruit in the morning and then have a heartier lunch. However, while I generally don't eat heavy breakfasts on weekdays, Andy still does. Bud is 6'5" and stands up to teach all day, so it's understandable he needs a little more fuel. Most mornings he'll take time to make a power packed smoothie, but sometimes he just wants the convenience and warmth that comes with popping a frozen burrito in the microwave for a couple of minutes. Basically, I make these all for him and get major points because I know he has a happy belly everyday on the way to work. Happy belly = happy husband = happy wife = happy life. It's the little things, y'all 🙂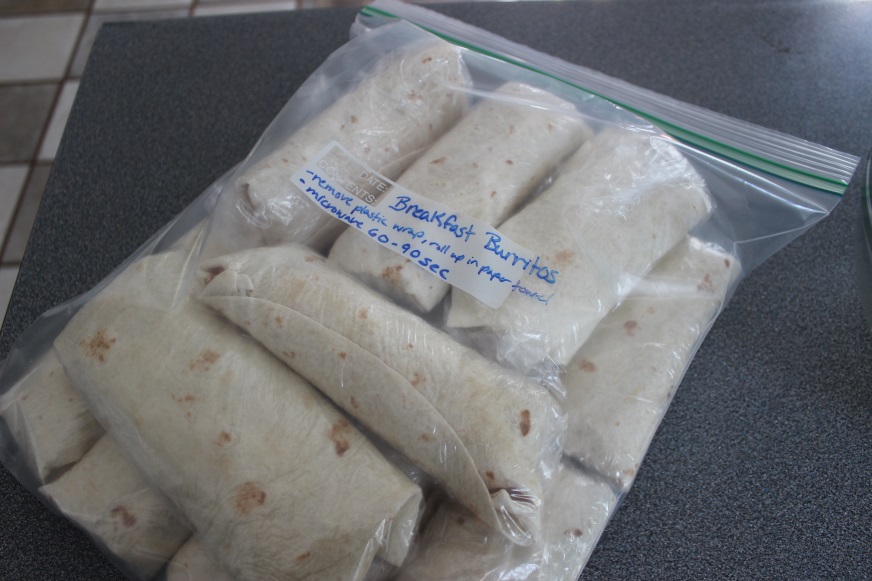 Wow – I realize this post has been all over the place. There was just so much to share about these awesome, simple, flavorful breakfast burritos that I couldn't NOT share one bit of it with you because you're like me and want to know alllll the deets and that's why we get along so well. I'll finally get to the recipe, so you too can enjoy the happiness that comes with the knowledge that you have a freezer full of delicious breakfast just waiting for you.  Enjoy!
Ingredients:
2 tbsp olive oil
2 medium potatoes (russet or Yukon gold work best) – small dice
1 red bell pepper – small dice
1 medium yellow onion – diced
1 (15 oz) can black beans – drained and rinsed
½ tsp garlic powder
1 tsp cumin
Salt and pepper
1 lb sausage
18 eggs
12-14 burrito size flour tortillas*
Sharp cheddar cheese
Directions:
Heat the olive oil in a skillet over medium heat. Add potatoes and cook until they start to soften (about 5 minutes). Add the bell pepper, onion, spices, salt and pepper (to taste), and cook until the potatoes are done. Stir in the black beans, then move the mixture to a bowl to cool.
Wipe out the skillet and return it to the heat. Cook the sausage, then move to another bowl to cool. Drain the fat, leaving 1 tsp behind.
Scramble the eggs, then cook over medium-low heat until done. Transfer to another bowl to cool.
Assembly: lay one tortilla on a piece of plastic wrap. Add a heaping 1/3 cup eggs, 1/2 cup vegetable mixture, 1/4 cup sausage and 2 tbsp cheese. Roll one side over the filling, then fold in the two ends and finish rolling the burrito. Wrap tightly in the plastic wrap. Repeat with the remaining tortillas and filling. Once assembled, place into a freezer bag and freeze up to three months.
To heat: remove from the freezer and take off plastic wrap. Wrap in a paper towel and microwave on high for 1.5-2.5 minutes depending on your microwave.
*I don't always get the same number of burritos out of this (weird, right?). It's usually in the 12-14 range, and there is generally at least one that ends up being all veggies and eggs.