Happy Fall, y'all! It's official. We made it past Labor Day, so it is perfectly acceptable to take on the Fall mentality: pumpkin spice everything, football, football snacks (<–one of my earliest posts, yet still one of the top viewed recipes – make it, you won't be sorry), mums, Fall décor and soup…oh soup, how I've missed you. This tomato coconut lime soup is our perfect transition into Fall with its bright flavors and feel good vibes. The fact that it's soup nods to the cooler weather coming, but it's also light enough that you don't feel like you're jumping into the deep end of heavy, cold-weather, stick to your ribs kind of foods.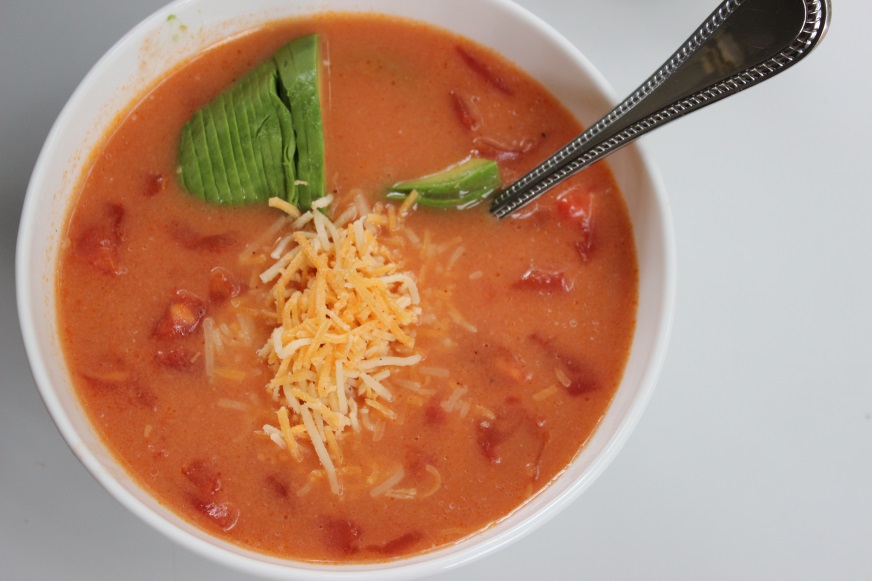 (Sorry for the crummy picture – I will figure out how to float avocado on top of soup and update ASAP once I get it right.)
Let me start by saying I am generally – like 99% of the time – NOT a coconut girl. Sure I like caramel delights, but otherwise flaky coconut is just not something I enjoy. However, over the years of becoming a spicy curry lover (4lyfe) I have found that I really do like the flavor of coconut milk in soup/brothy dishes. If you're worried about this being overly coconutty, don't – even Andy agrees it's not overpowering in this soup. What we have here is just a hint of coconut sweetness to balance out the zesty lime zing and acidic tomatoyness of the soup.
My inspiration for this soup came from my office. I've mentioned before how we have an awesome cafeteria, and tomato coconut soup is usually on the menu at least once a week. I got to thinking that it's basically just a fancied up tomato soup, and couldn't be hard to copycat. Lucky for us – dear reader friends – I was right, and now we can all enjoy this fancy tomato coconut lime soup anytime we want.
Pic of luscious coconut milk pour in 3, 2…
In my true fashion, let me list out why I love making this soup…
It comes together in less than 10 minutes (hiiiiii, 5 ingredients!!).
It makes enough for a dinner and a couple lunches.
It freezes well.
It's easily doubled or tripled for plenty of freezer meals.
You can customize it to your liking with a variety of (highly recommended) toppings.
Seriously, drop what you're doing right now and go make this soup. Serve with crusty cheese bread for dipping and dinner is on the table in 15 minutes.
Ingredients:
23.2 oz can condensed tomato soup
(2) 14-15 oz cans diced tomatoes*
32 oz chicken broth (or vegetable broth to make this vegan)
1 can coconut milk
3 tbsp lime juice
Optional toppings: avocado, shredded cheddar, tortilla chips, sour cream, cilantro
Directions:
In a large pot combine condensed soup, diced tomatoes (with liquid) and chicken broth over medium heat. Make sure to stir well so that the condensed soup really incorporates with the tomatoes and broth. Season with salt and pepper to taste.
Once at a simmer add the lime juice and coconut milk**.
Serve immediately and enjoy!
Notes: we prefer ours with fresh avocado and a little cheese, so while optional I would highly recommend this.
* If you want more tomato chunks, just add another can or two, but drain the juices.
** If you want a smoother soup, use an immersion blender to get the consistency you want.