Oh hai, sweet potato black bean enchiladas. You're super simple + super flavorful + super cheesy and help us keep our sometimes-vegetarian card…this might be love. Y'all, Andy – the meatatarian – scarfs these down and takes no issue with "meatless Monday" if these are on the menu.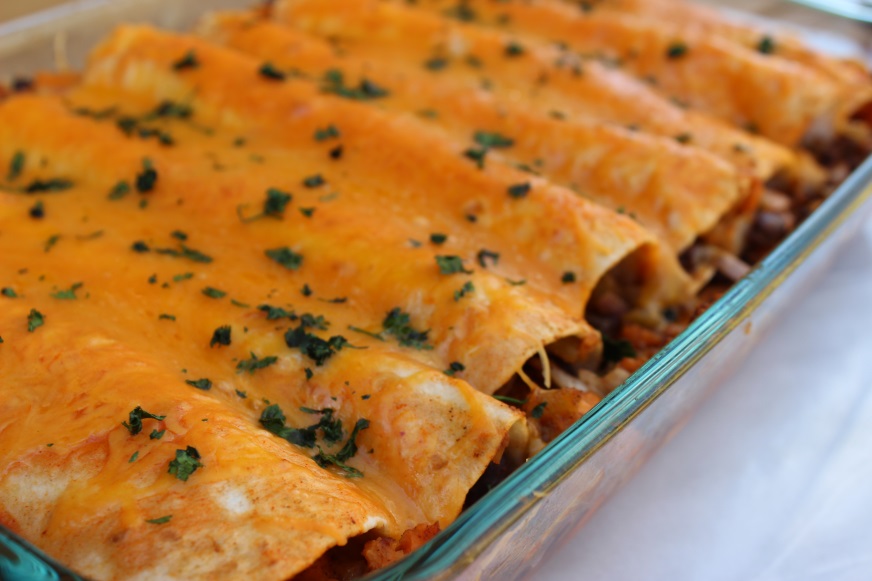 Vegetarian dishes don't generally do as well on the blog as other, more meaty dishes do, but it would be selfish of me not to share this recipe. This dish comes together quickly, and the filling can be made in advance if you really need a quickie meal on a weeknight. (I wouldn't recommend totally assembling that far in advance because the sauce will make the tortillas too soggy.)
While some of you may be less than enthused about a vegetarian dish, let me just assure you this meal doesn't leave you wanting more. The bulkiness of the potatoes and beans combined with the heat from the chilies and spices (and let us not forget that ooey gooey cheese situation on top) gives this dish a stick-to-your-ribs-comfort-food rating of 100.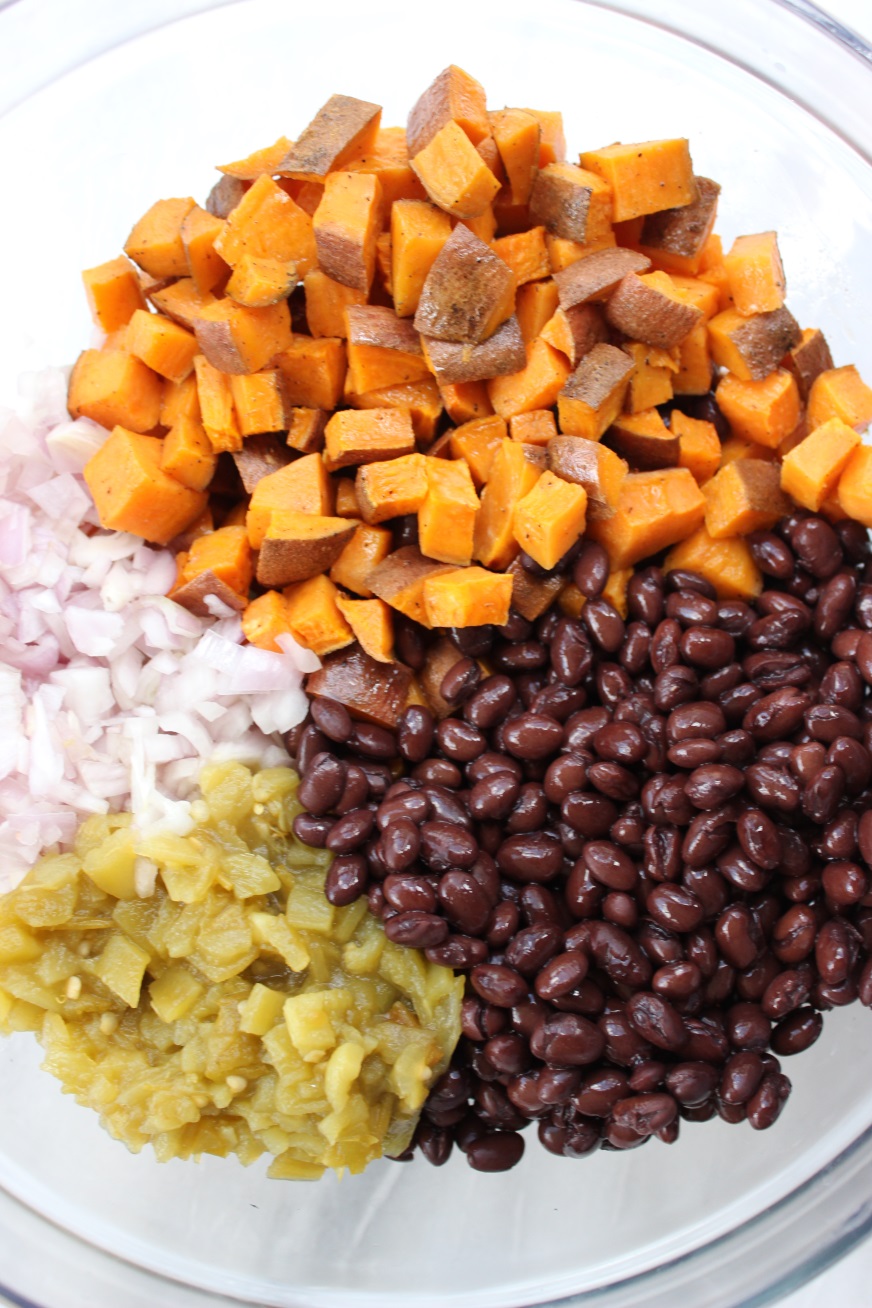 So far we haven't given Anna Ruth these sweet potato black bean enchiladas because they do have a definite kick, and I'm just not ready to experience the wrath of a threenager that just ate something too spicy. That just plays to our favor. We get dinner and two lunches out of this recipe with the following break-down:
Dinner – one for me, two for Andy
Lunch 1 – one for me, one and a half for Andy
Lunch 2 – one for me, one and a half for Andy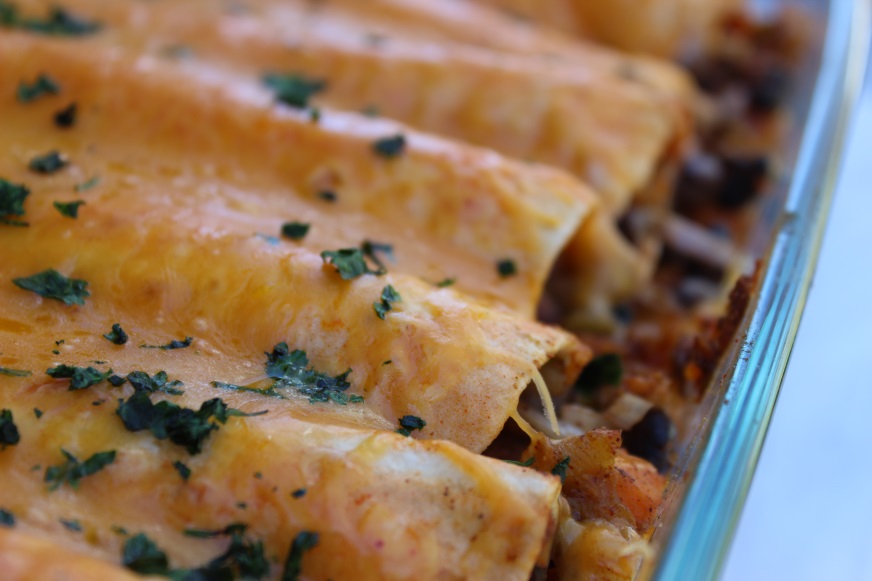 You can serve these as a stand-alone meal, or serve with roasted broccoli or some other green veggie that can roast at the same time. No matter what you choose you can't go wrong!
Sweet Potato Black Bean Enchiladas
Ingredients:
3 sweet potatoes – peeled and small cubed
1 tbsp olive oil
1 can black beans – rinsed and drained
1 shallot – small dice
1 (4oz) can mild diced green chilies
½ tsp garlic powder
2 tsp chili powder
2 tsp cumin
¼ tsp EACH – salt and pepper
8 flour tortillas
1 (14 oz) can red enchilada sauce
1 c shredded cheddar cheese
Optional toppings: avocado, sour cream, cilantro
Directions:
Prepare the sweet potatoes: preheat oven to 375 degrees while you're cubing your sweet potatoes. (You can peel them, but I like to leave the skin on.) Spread the sweet potatoes into a single layer on a baking sheet, drizzle with olive oil and season with salt/pepper. Roast in the oven for 30 minutes, while you prepare the remaining filling ingredients.
Prepare the filling: in a large bowl, combine the cooked sweet potato cubes, black beans, shallot, chilies and all spices (through S/P). Stir until everything is mixed well.
Prepare the enchiladas: change oven heat to 350 degrees. Grease a rectangular dish and pour about 1/3-1/4 cup enchilada sauce in the bottom. Fill each tortilla with the mixture, roll and place seam side down in the baking dish. Add any remaining mixture to the open spaces in the dish after you've stuffed all of the tortillas.
Pour the remaining enchilada sauce over the tortillas, making sure everyone is covered. Top with the shredded cheese, loosely tent and bake in the oven for 30 minutes or until hot.
Enjoy!