Happy Wednesday, folks! Today we're talking about one of my favorite things: Saturday Brunch.
First off, let's get right to the elephant in the room: that *obnoxious* name. The truth is I really don't know what to call this dish. The inspiration came from Andy. When he was in college he worked at a little coffee shop that would make something similar to this whenever they had leftover hardboiled eggs. The owner of the coffee shop had a different name, but my mama raised me to not be crude, so Saturday Brunch Surprise it is! (Also, I'm open to any name suggestions you think would be more fitting, please and thank you.)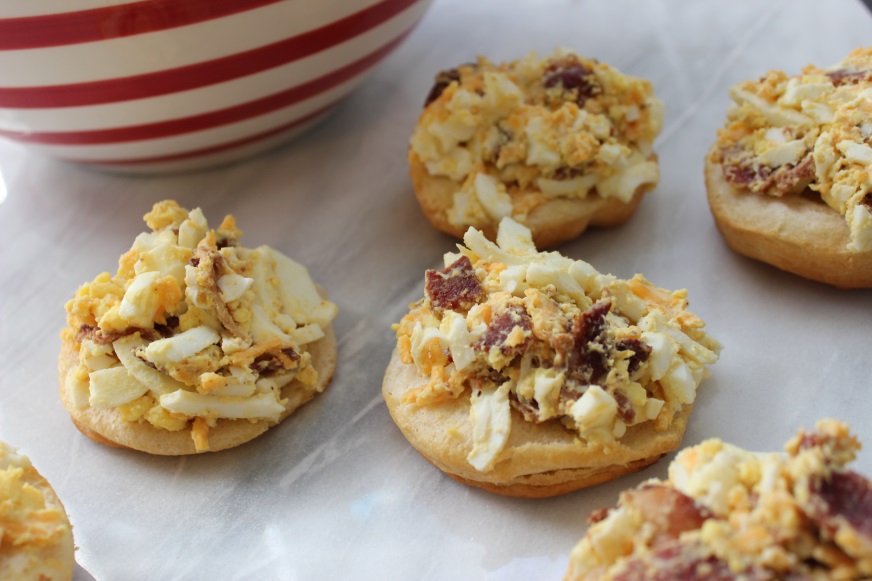 Now that that's out of the way, back to business…Fall Saturdays (and really any Saturday if we're being totally honest with ourselves) are made for a good brunch. Wake up, put on your warm slippers because Fall temps are starting to settle in, pour yourself a cup of coffee and have a leisurely morning topped off with a delicious meal. Have your people over or don't – you, bae and the kid(s) can enjoy brunch before getting on with whatever Fall activity you have planned that day, and it'll tide you over into the football-watching-snack-eating afternoon.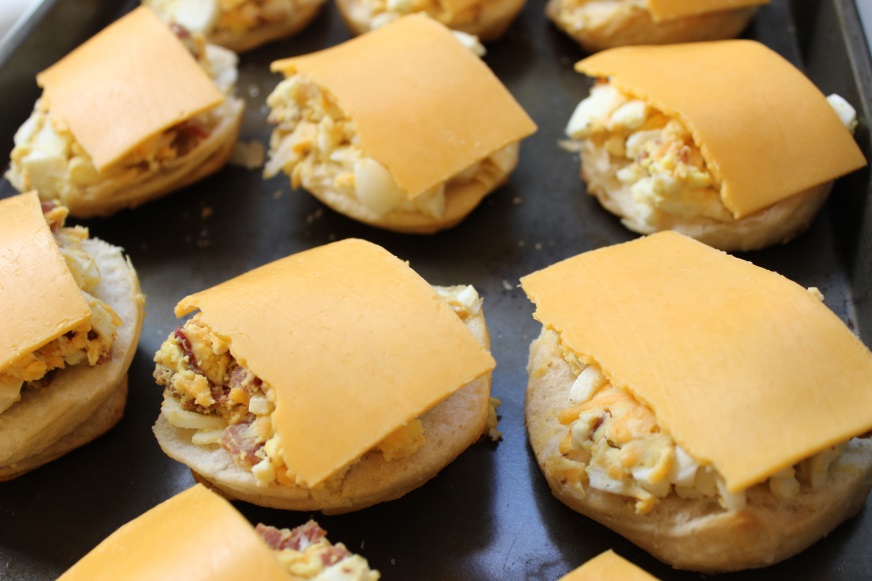 We enjoyed this particular brunch a few weeks ago with my family on the morning of my birthday, and everyone loved it. The "surprise" can be made ahead, so there is very little work involved the morning of. The gist here is you have a mixture of egg, bacon and cheese served over a bread of choice. Think of this as sort of a breakfast egg salad (surprise!), but with way way less mayo than would go into an actual egg salad. Side note: the bread of choice obv needs to be a halved biscuit, but I won't judge you for using English muffins or plain toast. As written the recipe makes quite a lot, but it is easily halved. Whatever plans you have this weekend, make sure to include these. You seriously won't regret it.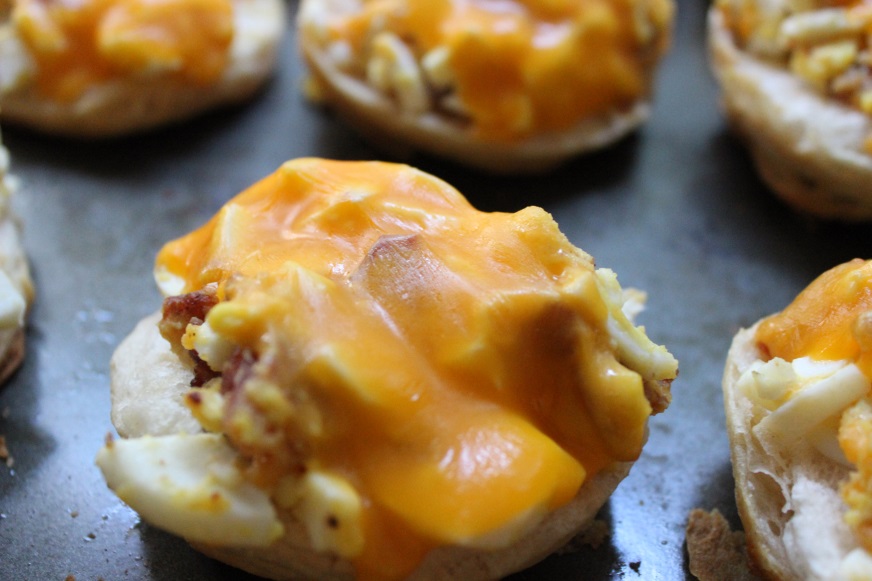 Ingredients:
12 hardboiled eggs – peeled and chopped
1 lb bacon – cooked and chopped
1 cup shredded cheddar cheese
¼ cup mayonnaise
Salt and pepper to taste
Bread of choice*
Sliced cheddar cheese (optional)
Directions:
Preheat oven to 350 degrees.
Gently mix all of the ingredients in a bowl until well combined.
Spoon the mixture onto the bread* and top with sliced cheese (if using).
Bake in the oven for about 5 minutes, or until the cheese is melted.
* We buy the biscuits with pull apart layers, bake according to package directions, then split in half and put the filling on the halves.
** These make great leftovers. Even if you're planning to eat on these for days, go ahead and bake them with the cheese on, then just refrigerate until you're ready to eat and then microwave for about 30 seconds.