Ricotta Spinach Stuffed Eggplant Parmesan. Do you need more words, or is that enough to get you in the kitchen stat? This dish is everything your veggie loving self needs every day for the rest of your veggie loving life. Remember Andy – my meatatarian husband that *tolerates* one meatless night a week? Well we had TWO meatless nights (and 2 meatless lunches) last week, and he was 1,000% okay with it. And it's all thanks to this ↓ lightly breaded eggplant + spinach + ricotta + mozzarella + sauce all baked to perfection.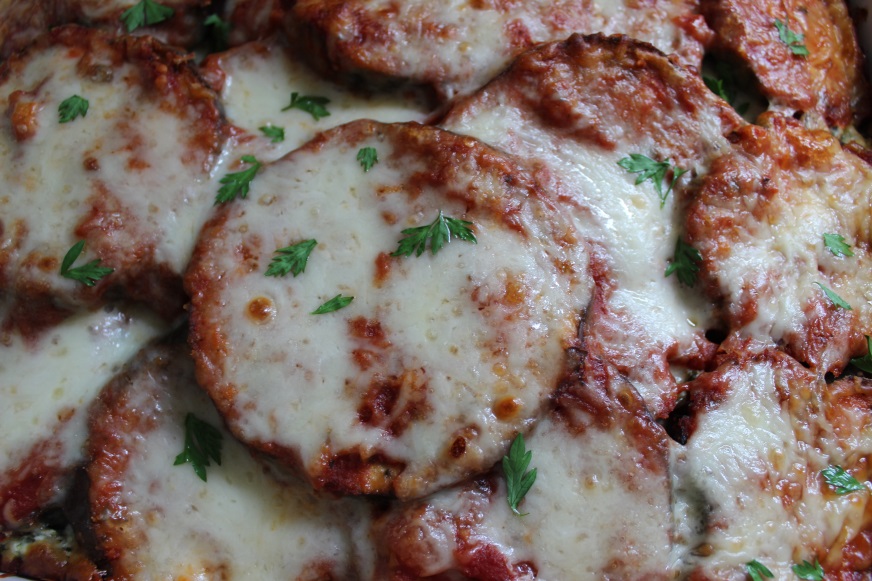 What we have here is traditional eggplant parmesan (except baked) meets eggplant lasagna meets stuffed shells (minus the pasta) meets gooey cheese heaven meets heaven heaven…like for real this is probably what vegetarians eat in heaven…too far? -> NOPE. This dish is huge, and could be cut in half, but then that would require more measuring, plus you would have fewer leftovers and put in just about the same amount of work, so I'm going with the "more leftovers = less cooking later on" side of the aisle. <– Lazy girl winning at life right there, friends.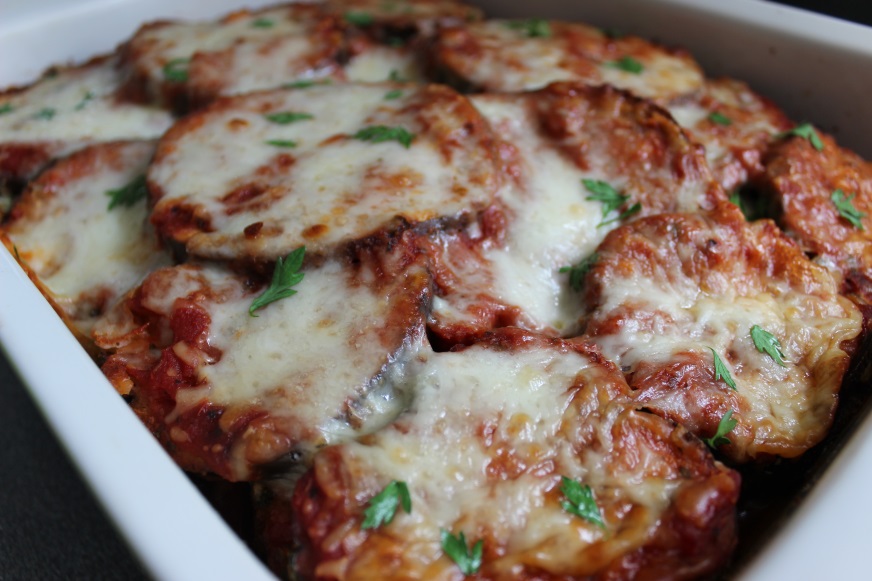 And, you guys, this dish is suuuuper low-cal. I had to run the numbers three times because I just couldn't believe it. Divided into 8 huge portions, each serving is only 313 calories – 313 calories FOR DINNER. That leaves room for a nice piece of crusty bread and glass of wine…two things that give me all the comfort food, treat yo self, keeping it healthy dinner feels. I mean look at the size of that serving…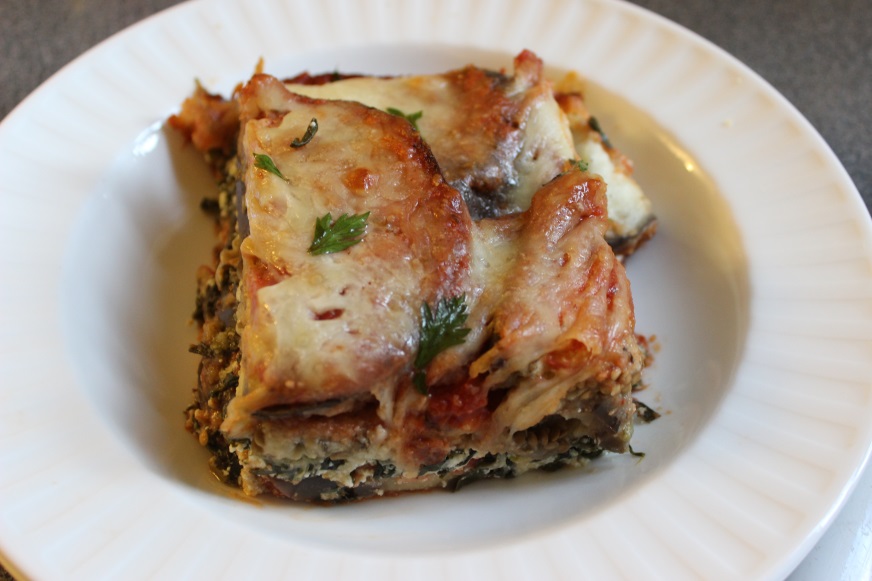 For us this is a Sunday night dinner, Monday-Tuesday lunch and Wednesday night dinner type of situation. You need a good hour from the time you start slicing the eggplant until it's totally assembled and ready for the oven, but that is definitely not all hands-on time. You have two 20-minute waiting times that you can get a ton of work done. For example: the last time I made this I dusted my house and set-up to clean the bathrooms while the eggplant soaked, then while the eggplant rounds were baking I cleaned the sinks and toilets. Then you still have an hour of cooking time when you can do anything: vacuum, exercise, relax with a glass of wine because your house is 75% clean – whatever, the choice is yours! It's not practical for us to make during the week, but if I stayed home this would be something that could easily be made during naptime and cooked later on.
This is also a great dish if you're having guests, especially if you want to have a vegetarian option. You can have it assembled and ready for the oven, then just pop it in once they arrive and let it cook while you're doing appetizers and drinks. It can easily serve as a side dish (smaller portions, obv), but it is really so good as an entrée and you don't miss having meat.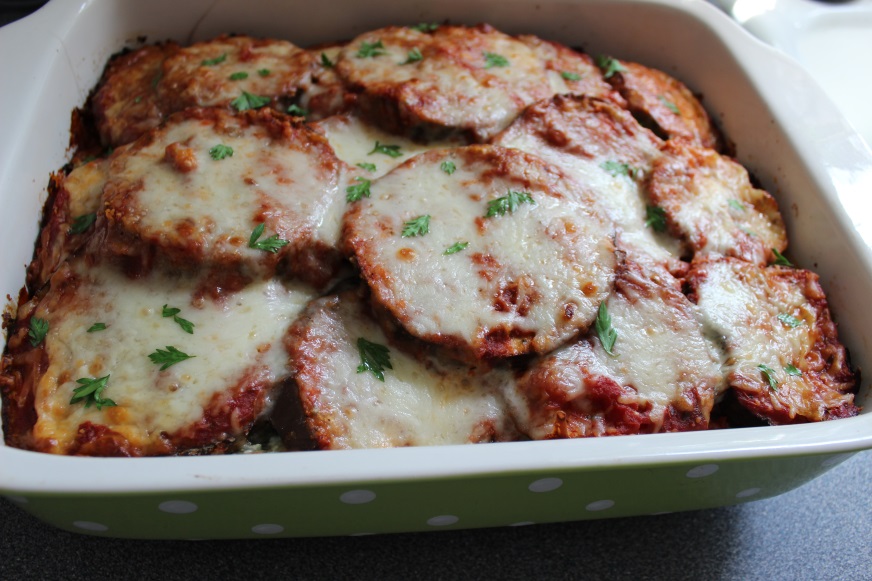 8-10 servings (313 calories/8 servings or 250 calories/10 servings)
Ingredients:
2 large eggplants (mine equaled about 3 lbs)
2 cups milk
1 ½ tsp salt
1 cup breadcrumbs
½ cup flour
1 tbsp Italian seasoning
1 cup ricotta cheese
1 egg
1 (10 oz) box frozen chopped spinach – thawed and squeezed of juices
½ cup shredded parmesan cheese
2 ½ cups marinara sauce (one jar)
2 cups shredded mozzarella
Directions:
Combine milk and salt in a two-gallon zippered bag. Cut eggplant into ¼ inch rounds, then add to the bag. Soak for 20 minutes*.
While the eggplant soaks preheat oven to 400 degrees and line 2-3 baking sheets with parchment paper. Combine breadcrumbs, flour and Italian seasoning in a bowl.
Remove the eggplant, one piece at a time, and coat both sides in the breadcrumb mixture. Place on the baking sheet, and repeat until all of the slices are coated (some overlap is ok). Cook in the oven for 15-20 minutes. The breading may still look a little "dusty," but that's fine.
While the eggplant cooks, combine ricotta, egg, spinach and parmesan in a bowl. Season with salt and pepper to taste. Prepare a 9X13 baking dish with cooking spray.
Take the eggplant slices out of the oven.
Assembly:

Spread ½ cup marinara sauce in the bottom of the baking dish.
Layer half of the eggplant in the dish.
Cover with 1 cup marinara sauce**.
Add the spinach-ricotta mixture, and spread evenly over the marinara.
Sprinkle ½ cup shredded mozzarella cheese over mixture.
Layer the second half of the eggplant.
Cover with remaining cup of marinara sauce, spreading evenly.
Finish with remaining 1 ½ cups shredded mozzarella.

Cover loosely with foil, and bake in the oven for 45 minutes. Remove foil and bake another 10 minutes, or until the cheese is browned to your liking.
Enjoy!
*Flip the bag a few times to make sure it soaks evenly.
**This won't look perfect, but it all cooks together nicely. Just use a spatula and spread as evenly as you can, and make sure there is at least a little sauce covering each piece.