Winter has finally arrived in North Carolina…if you need me you can find me bundled up in a chunky sweater and fluffy socks and probably curled up under a big blanket.  All that unless there is snow on the ground!  People tend to laugh at the South for shutting down when it snows, but I actually love it.  As a teacher, Andy is automatically in the group that gets to stay home, and sometimes my office will close or tell everyone to work from home if we're able.  We've only had one dusting this year, but snow's in the forecast for Friday, and I'm really hoping it's a good one.  Last year Anna Ruth was just under a year old and we were dealing with ear infection after ear infection, so we didn't take her outside much.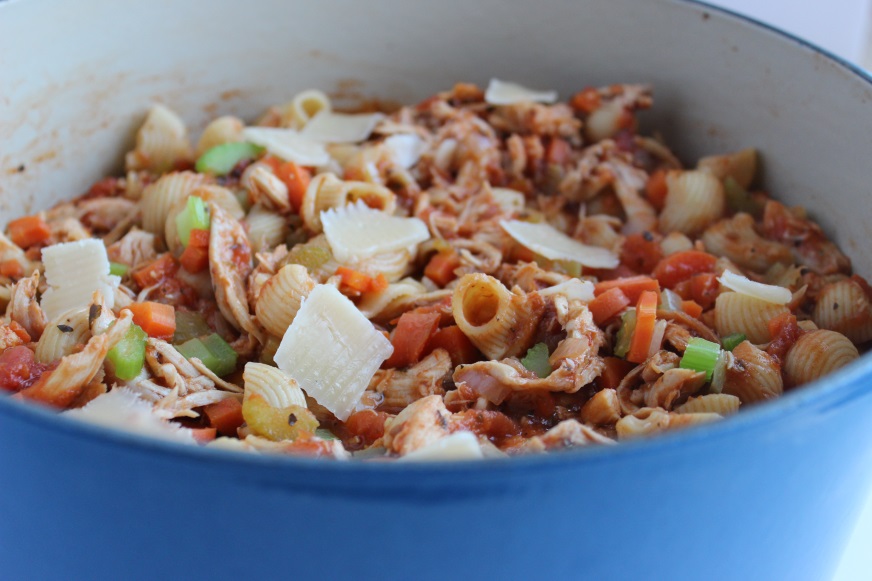 This year I have visions of sledding and building snowmen, then coming inside for hot chocolate and warming up by the fire.  The reality, though, will be playing trying to get a perfect picture outside for 10 minutes before deciding AR is too cold, then trekking back in and getting snow and dirt all over our mudroom.  Then no hot chocolate because this loser mom generally just can't justify the amount of sugar, and also HAVE YOU EVEN SEEN MY KID HOPPED UP ON SUGAR??  <—I'm sure it's like most almost two-year-olds, but I try to avoid it as much as possible.  I know the day's coming when she'll know what sweets are, but for now she doesn't and, therefore, doesn't feel deprived by not having them.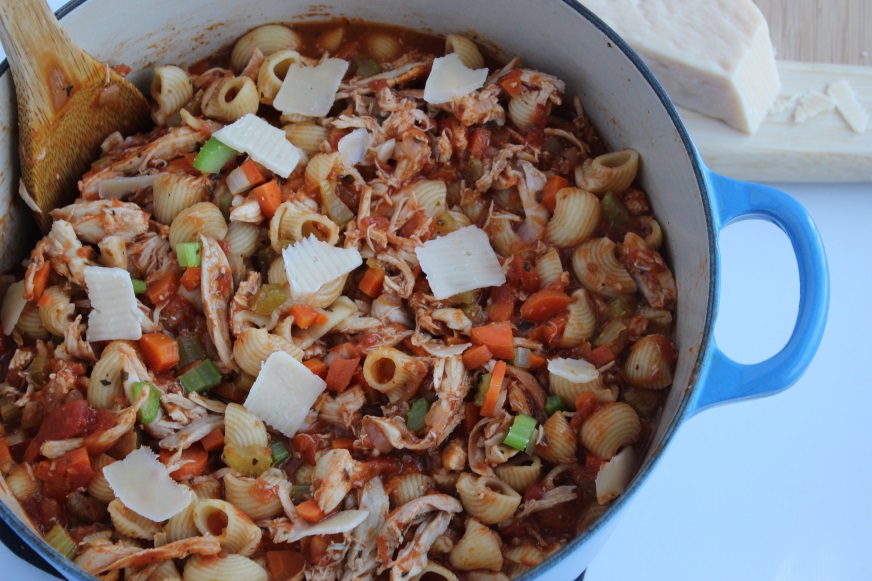 One thing I can get behind on a cold, snowy day is this Soul Warming Chicken Pipette Stew.  Yes, I just went there.  It doesn't even have to be a cold, snowy day.  Below 80 degrees?  I'll have the soul warming stew, please.  This is really somewhere in between a stew and a soup, but closer to stew, so that's what I'm going with.  This is so easy – especially when prepped ahead.  A couple of variations – if I happen to have it I like to make it with homemade turkey stock and leftover turkey from Thanksgiving or Christmas.  Also, *leaning forward, looking at you over the rim of my glasses* I cannot stress this enough – subbing tortellini with the pipette takes it completely over the top.  I'll use tortellini if I have it, but generally just use whatever little tube pasta I have on hand, which in this case is almost always pipette (Barilla brand).  There's just something so fancy sounding about making Chicken Pipette Stew, right?  Any small tube pasta works, but then it can't realllly be called Chicken Pipette Stew…it would be something like Chicken Elbow Macaroni Stew, which would be very sad.  Ok, fiiiiine, you can still call it Chicken Pipette – I won't tell.  Anyways, back to the point, this is great for a crowd and freezes really well if there are leftovers.  We generally get two dinners and two lunches out of the batch, but Andy eats a lot, so it may go even further for some families.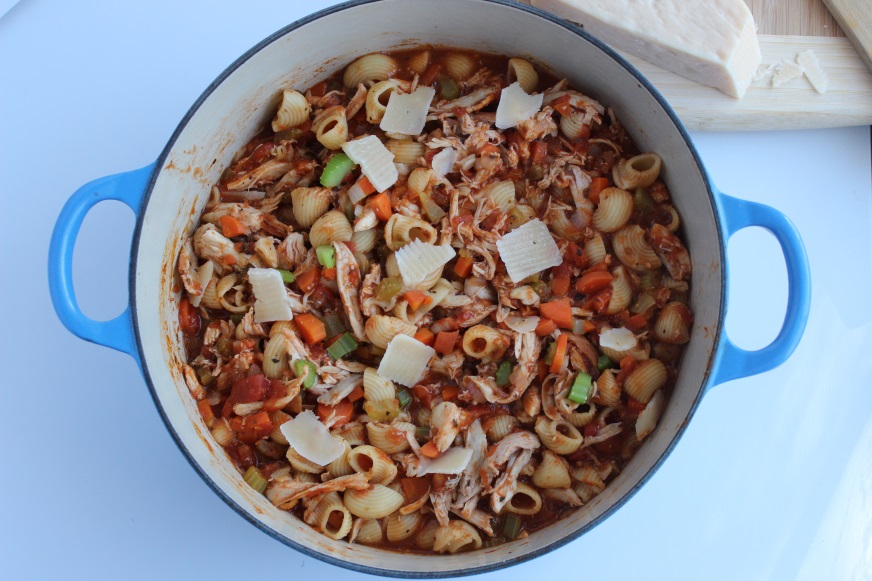 If you're making this all at once, you'll need to give yourself about an hour (though, more than half of that is just time to let it cook).  Let's talk about your prep ahead plan for a minute.  When I plan this for a weeknight meal I always dice the veggies and shred the chicken on the Sunday afternoon before.  I prepped this during the commercial breaks while watching the first quarter of the #Panthers game.  Then the night of it's simply softening the veggies, adding the other ingredients and stirring occasionally.  If you're making this all the night of, just dice the veggies first, then shred the chicken after you've added the broth.  Feel free to add any other herbs or spices you like.  I like to add a little crushed red pepper or hot sauce, but don't add it until serving so that AR can eat it.  Ok, now it's your turn – run on to the store and make sure you have everything on hand, so you can have this ready to warm you back up after a long, cold day.  Thanks for reading!
I'm looking for a reliable recipe calorie calculator, but when I put the ingredients into a free online counter it came out to roughly 380 calories per serving if you break this into 8 servings.  One serving is perfect for me, but Andy generally goes for seconds.
Ingredients:
2 tbsp olive oil
3 carrots – fine diced
4 stalks celery – fine diced
2 small shallots (or one medium onion) – fine diced
1 tsp Italian seasoning
2 cloves garlic – minced
1 bay leaf (optional)
1 (24 oz) can crushed tomatoes (I use the kind with basil, garlic and oregano)
8 cups chicken broth or stock  (or 6 cups broth and 2 cups water)
2 cups uncooked short tube pasta (I use Pipette from Barilla)
1 whole rotisserie chicken – skin removed and shredded off the bone (or 3 chicken breasts cooked and shredded)
Directions:
Heat olive oil in a large pot or dutch oven over medium heat.
Add carrots, celery and shallots and cook until tender – about 5-7 minutes
Stir in Italian seasoning, bay leaf, garlic, crushed tomatoes and chicken broth. Reduce heat to just under medium, but not quite medium-low.  Simmer for 20-30 minutes, stirring occasionally.
Bring mixture to a boil then add pasta and cook according to package directions.
Towards the end of the pasta's cooking time, add the shredded chicken.
Serve hot garnished with parmesan and hot sauce if desired.
Leftovers can be stored in the refrigerator for up to a week or in the freezer for three months.