We're going Vietnamese today! Please don't let that scare you. I've forged the way, now just take my hand as we dive into this bready, meaty, crunchy, spicy, herby situation that is now my lyfe. Banh mi, you guys. Sorry in advance, this post is a little long, but it's just because I have so much to say on the subject, and I'm determined to bring you all with me into the obsession of pork banh mi sandwiches.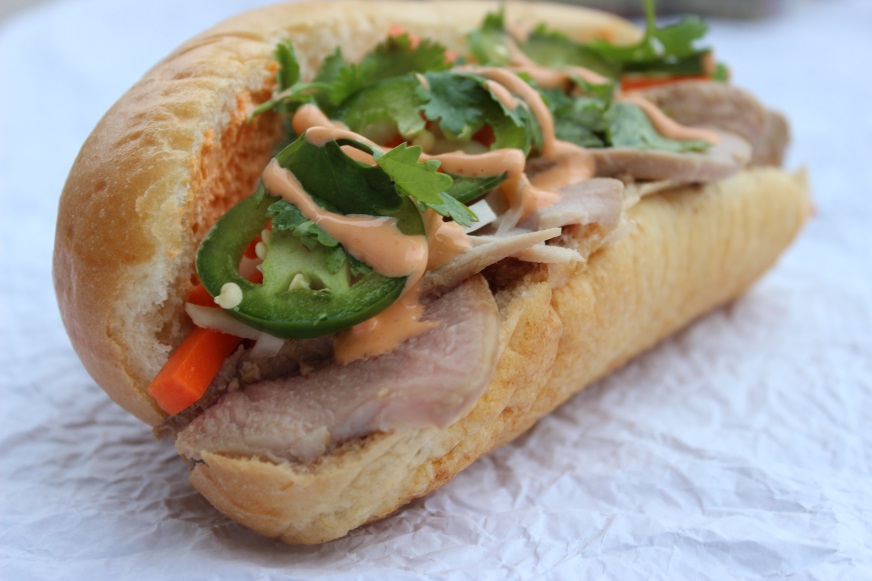 Have you guys heard of Banh Mi? I'm sure you have, and I'm just late to the game #asusual. I first heard about what is now my favorite sandwich obsession while watching a show on Food Network, and immediately knew I would like it. Fast forward a million years (okay, like, 2 years) and Andy and I stumble upon a place in our city that specializes in them.
Face in palm, y'all. HOW DID I NOT KNOW ABOUT THIS PLACE? In our defense it's in an area of town that we rarely go through, and it's got a textbook hole-in-the-wall status. No matter what the situation – we found it, and my life changed for the better. It was everything I thought it would be and more. After having that sandwich I couldn't stop thinking about it and knew I wanted to make it at home, so I did some research.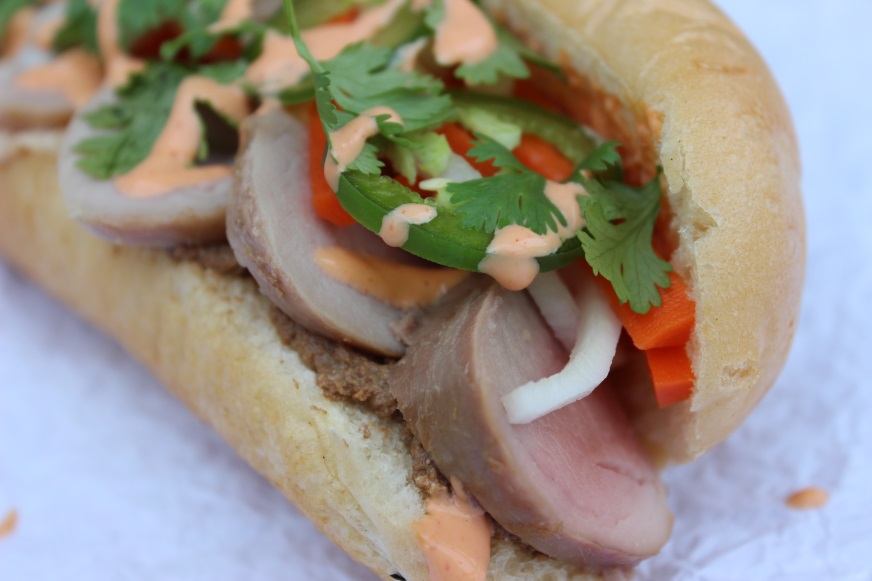 The first thing I realized is that there's no rule book for banh mi, but I did find some common themes in that they generally include some sort of marinated meat (or tofu), pickled veggies, sauce and fresh herbs. They also often involve pate, which is that brown spread you see really well in the picture above. See the notes section after the recipe. While it's a traditional ingredient to use, we found that it's really not necessary. The taste is fine (unless you don't like pate – hiiiiii, dad!), but it just doesn't really add much to the sandwich.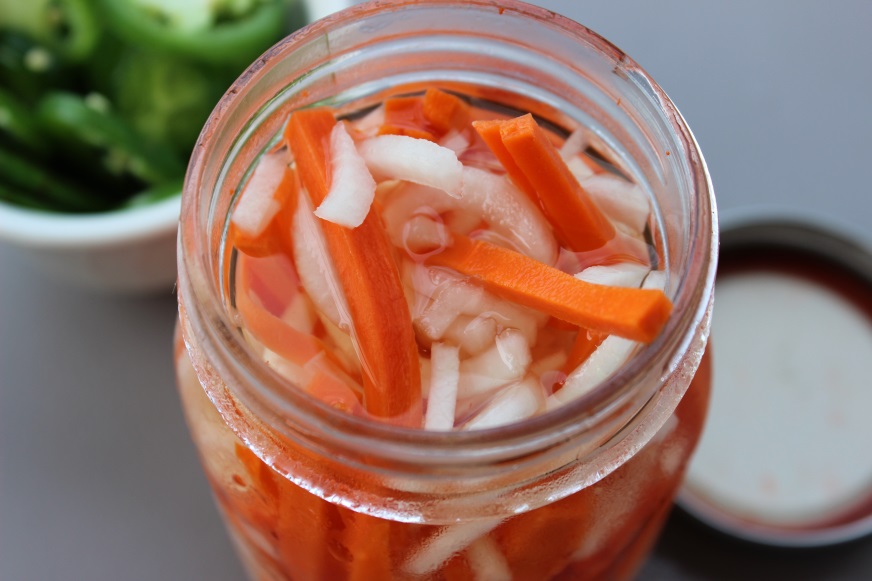 Before I get into discussing my recipe we need to have a little chat – lean in and listen to me closely. There are three parts that have to be made for this recipe, and I don't want anyone thinking that means it takes a long time. Two of the three parts can/should be prepared a few days in advance, and literally take 5-10 minutes each. Then the day of you're just cooking the pork and assembling the sandwiches. Do not let the number of steps fool you – this is an EASY recipe.
First step here is a spicy sauce. I knew right away that I would make my sriracha mayo for this. I've been making this sauce for years because – surprise! – it tastes exactly like the spicy mayo you get with sushi, and I love it with seafood. A little goes a long way, so that's how I rationalize eating mayo with seafood…or maybe it makes me feel like I'm sort of eating sushi when I use it? Either way, it's good, and we generally have some on the ready in our fridge. The good thing about this sauce is that you can make it several days before you have the sandwiches because it lasts in the fridge just like regular mayo (you can also make it the day of, but I find it tastes better when the flavors have had at least several hours to cozy-up).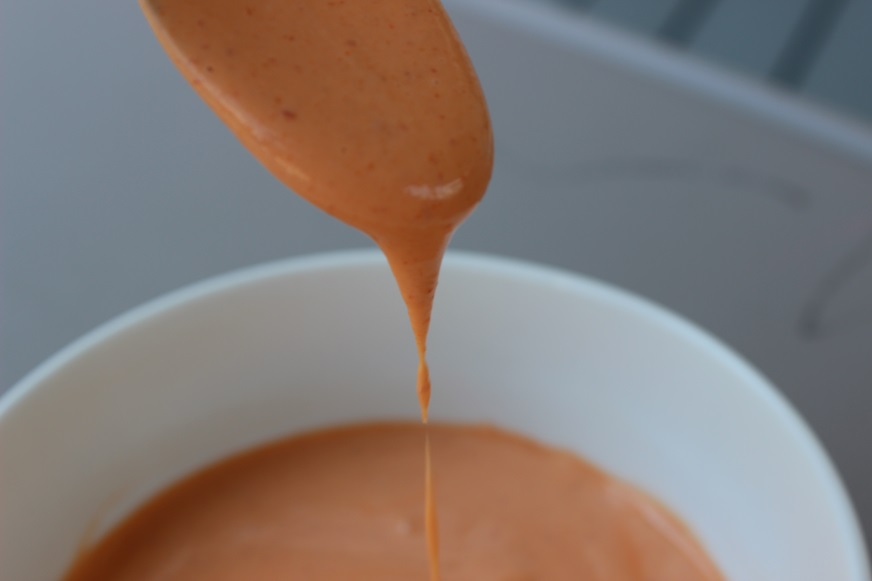 The second thing I realized was that I would need pickled veggies, so I did some research and found that pickled veggies generally include vinegar, salt and sugar. So I made my own 🙂 My mom seemed impressed, and I was like, "What? Like it's hard?" These veggies are so good, friends. They provide the perfect crunch and pop of vinegary zing that goes perfectly with the soft bread, spicy mayo and pork. I used my spiralizer to cut the daikon radish, and then just quickly julienned the carrots. Don't have a sprializer? No problem. I've also just julienned the daikon, and it took no time at all. These need to be made at least two days in advance, but can be made up to a week early. (I found the daikon radish at Whole Foods, but if you don't want to make multiple grocery store runs and can't find it then just double the amount of carrots to pickle.)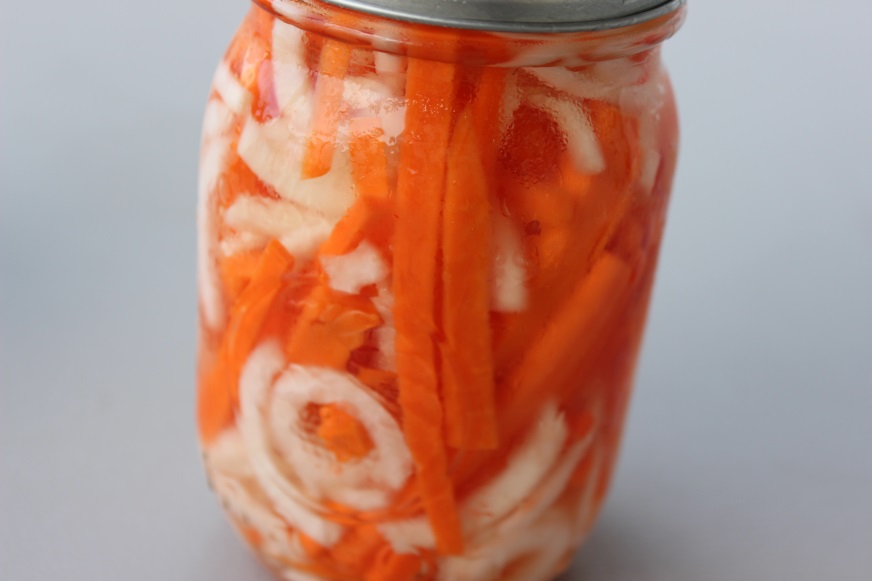 The third part of my banh mi is the pork. This is the star of the sandwich. Even if you don't make the sandwiches, make this pork with this marinade. It is SO good that it could be served as a main in its own right. I got it into the marinade during naptime at the beach, but it would be fine going a little longer, so get it into the marinade before work on the morning you're going to make it. Then you'll just roast it in the oven for 20-25 minutes and dinner is ready!
Okay, I hope I've given you the motivation needed to make your own banh mi sandwiches. All you need are three super simple parts made at your convenience, and you have a casual friends over for dinner meal, or weeknight supper with leftovers for days. Either way you're totally winning.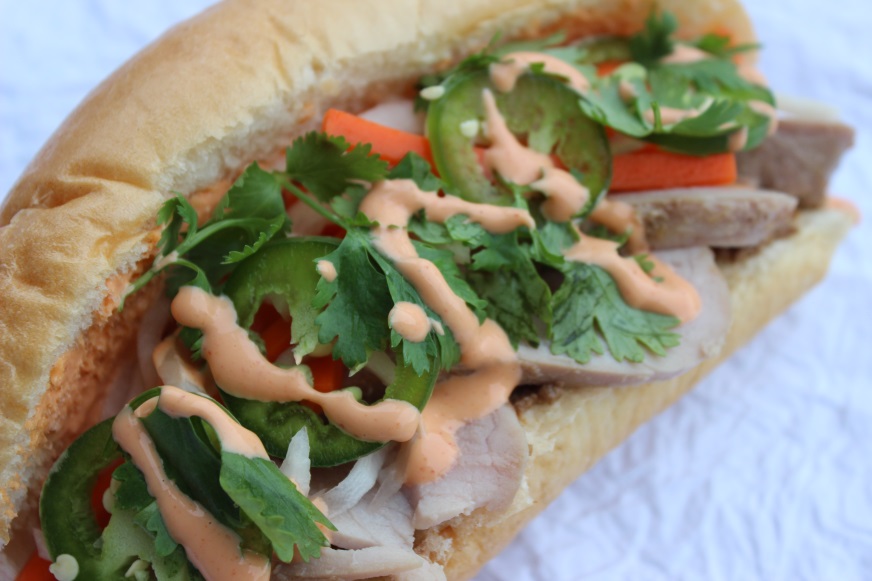 Ingredients:
2 pork loins (about 2-2.5 lbs total)
Pork marinade:
–        ¼ c soy sauce
–        2 tbsp fish sauce
–        4 cloves minced garlic
–        2 tbsp lemongrass paste*
–        2 tbsp sesame oil (or olive oil)
Sriracha mayo:
–        1 c mayonnaise
–        ¼ c sriracha
–        1 tsp sesame oil
Pickled veggies:
–        ½ daikon radish
–        4 carrots
–        ¼ c sugar
–        1 tbsp salt
–        ½ c rice vinegar (white works, as well)
Soft French bread rolls
Toppings: cilantro, jalapeno, pate (optional)
Directions:
Prepare the pickled veggies (2-5 days in advance): julienne cut the daikon and carrots, and place into a container with a tight fitting lid. Combine the sugar, salt and vinegar and pour over the veggies. Fill the container with water so that the veggies are submerged. Refrigerate until ready to use.
Prepare the sriracha mayo (can be made in advance): combine the mayonnaise, sriracha and sesame oil. Store in the refrigerator in an airtight container.
Prepare the pork (day of): place the pork loins in a zipper plastic bag. Combine marinade ingredients and pour over the pork, and marinade 4-8 hours.
Preheat oven to 425 degrees. Remove pork from the marinade and place in a baking dish. Cook the pork for 20-25 minutes.** Remove from the oven and allow to cool slightly.
While the pork is cooking cut the French rolls and prepare the toppings.
Slice the pork loin in about ¼ inch slices.
Assemble: spread the sriracha mayo on the bread, add preferred amount of pork slices, top with the pickled veggies, cilantro and jalapeno***
Enjoy!
*You can find lemongrass paste in the same section of the produce department where you find the tubes of basil and other fresh herbs.
**We like our pork loin to still have plenty of pink when it's done – not still bleeding, but pink. If you prefer your pork to be well-done, up the cooking time by five minutes.
***If using pate as a topping, just spread on one side of the bread before topping with the pork.
Notes: the pictures include pate, but we've found that it's really not necessary. In my research, pate always came up as a topping, so we at least tried it. It's not bad, but for us it just didn't add anything, and we could barely tell it was there.
More notes: this feeds about 8 people, but if you're making it for a small group of 2-4, the leftovers are just as good as the fresh meal, so definitely don't worry about cutting the recipe in half. If you're like me then you'll be fine eating them every day for a week!