I'm back with another mouthful of a recipe name – shocker. The only other name that came to mind that would truly make sense is Winter Bliss Soup, but I am not that obnoxious with my recipe names just yet. This Creamy Potato and White Bean Soup with Sausage and Kale feels like giving yourself a hug from the inside out, so "winter bliss" could totally be an appropriate name if that's what you want to call it. Friends, I don't even feel like I can give you an adequate description of how delicious this soup is, which is very sad for a food blogger. I've tried and just can't come up with the words that express it well enough. Seriously, though, this might be the best soup I've ever made or eaten. There's not one thing that makes it what it is. It's everything combined that just makes it so perfect. Literally, I've had people taste this and offer to actually PAY me to make a batch for them. Personal-ish chef? Me? *Blushes*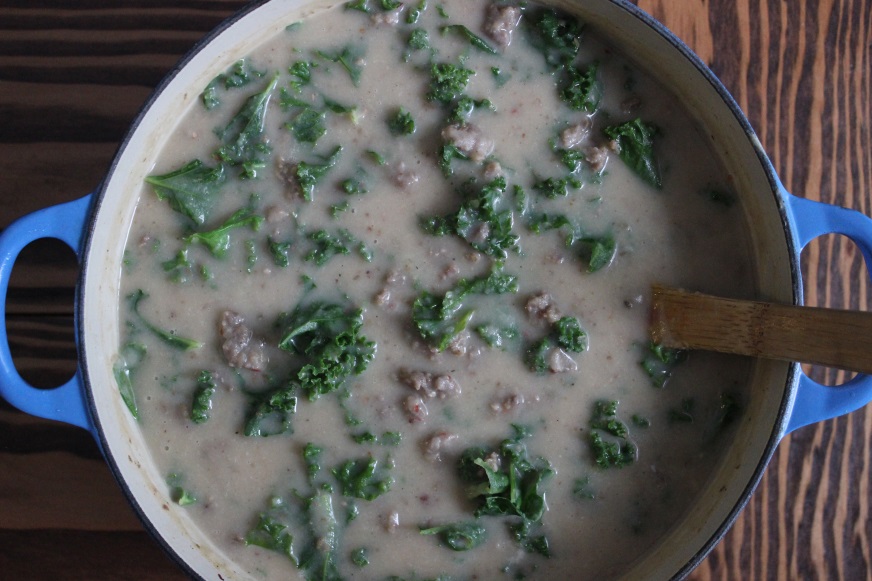 Something you'll learn about me is that I'm a raging soup enthusiast. Obsessed. Literally, if I ever open a restaurant it will be called Laura's Bisquetro and serve soup year-round, which is why I will probably never open a restaurant because I am likely the only person that still wants soup when it's 90+ degrees outside. I love love love making soup – maybe even more than eating it, okay fiiine it's a tie. I have several quick and easy recipes, but there's just something about spending a little time here and there on a long, lazy Saturday that makes me so happy (probably because I have so few long, lazy Saturdays 😉 ). This soup is somewhere in between quick and easy and long and involved. It's pretty hands on from start to finish, but really doesn't take more than about 45 minutes. Here's the gist: cook sausage, cook shallots and potatoes, add beans, puree, add sausage and kale. Dunzo bunzo.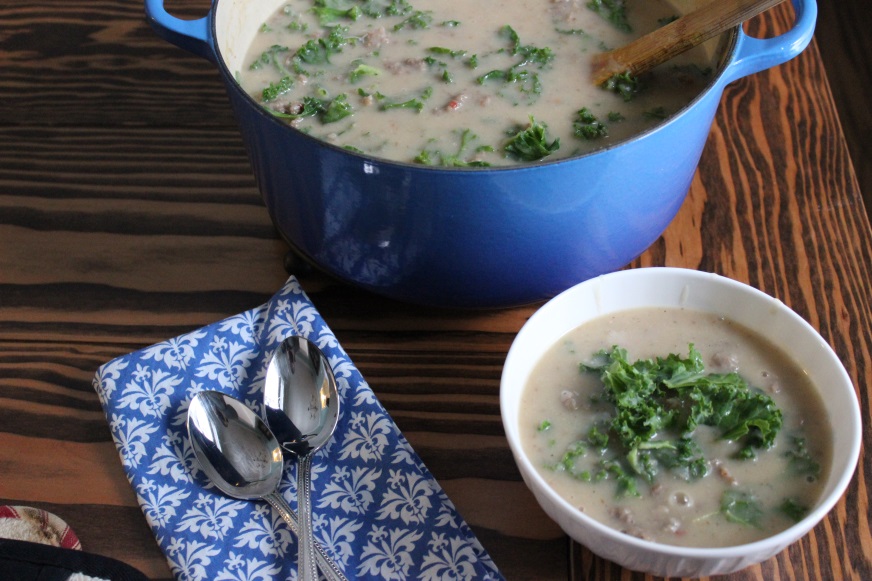 Now that I've said "dunzo bunzo" twice now, I have to explain. This is something my sweet little niece started saying a couple of years ago, and it stuck around the Peascoe house. Here is a pic of my perfect little Abigail. She just loves Anna Ruth to pieces and the feeling is mutual, which makes my heart happy happy happy. If you ever see AR holding a toy like a phone, ask her who she's calling and she will say Abby or Jack 99% of the time. (Jack is Abigail's brother/AR's cousin-twin, and he'll definitely show up later on!)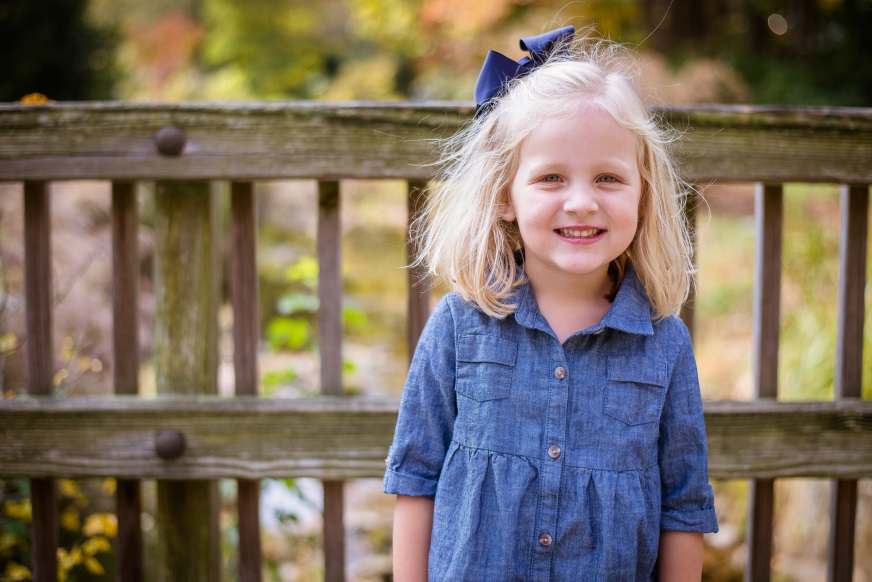 This creamy potato and white bean soup with sausage and kale is everything your freezing self wants needs during the winter. All with fresh, cozy ingredients. The potatoes, white beans and heavy cream puree into the creamiest, silkiest soup base ev-er. I'm generally not one that goes for heavy cream in recipes, but it just adds so much to this soup that I can't forgo it. I don't peel the potatoes (duh, all the nutrients, and ->LAZY GIRL<-), so the combination of that with the white beans gives it an earthy taste, which isn't bad, but just needs to be mellowed out by a little cream IMO. Made as is this soup has a good kick of spice, so if you're making it for kids I would suggest either leaving out the red pepper flakes and/or using a mild sausage. Side note: I'm interested in making this with turkey or chicken sausage, so let me know how it turns out if you do it first! Guess what else I love about this soup…it freezes beautifully! <– You probably knew that was coming, right? I'm so typical. I'll admit I was a little skeptical about how the kale would handle it, but it comes out of the freezer and is 100% as good as the fresh version. Just make sure to let it thaw out completely in the fridge before reheating. Enjoy!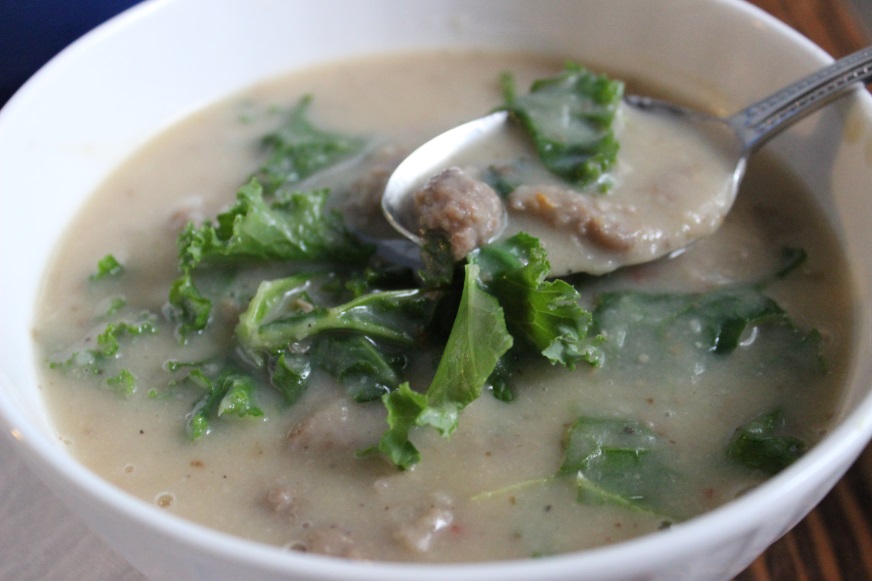 Serves 8 (435 calories per serving)
Ingredients:
1 pound hot Italian sausage
1 tbsp butter
1 large shallot – diced
2 cloves garlic – minced
1 tsp each salt and pepper
1/2 tsp red pepper flakes (optional)
8 cups chicken broth
3 large russet potatoes – diced
2 (15.5 oz) cans cannellini beans – drained and rinsed
1/4 cup heavy cream (optional)
1/2 -1 bunch kale – stems removed and leaves rough chopped or torn
Directions:
1. In a dutch oven or large stock pot over medium heat, cook sausage until done, using a wooden spoon to crumble as it cooks. Remove from pot and set aside*.
2. In same pot melt butter and add shallot and cook until soft. Add garlic, salt, pepper and red pepper flakes (if using) and stir until fragrant – about one minute. Add broth, scrape up the browned bits on the bottom and then add the potatoes.
3. Bring mixture to a boil, then reduce heat to simmer for 30 minutes, or until potatoes are tender. During the last five minutes of cooking time, add the beans.
4. Use an immersion blender to puree the mixture until smooth. Stir in heavy cream.
5. Return the sausage to the soup, then add the kale a couple handfuls at a time. It will look like it's too much, but kale wilts down a lot, so keep adding!
6. Serve with crusty bread (if desired) and enjoy!
*I use sausage that doesn't render much fat, so I just leave what's left in the pot after scooping it out. If your sausage renders a lot of fat, spoon most of it out and leave 1-2 tsp.