It's week two of my four-part Christmas series, and today we're talking about one of my very favorite parts of Christmas: Christmas morning and Christmas Breakfast.
Growing up, Christmas morning was one of the most special times with my family. It was always the four of us, and we would have a lazy time of opening gifts and then have a special breakfast. Now that Andy and I have our own family, we've continued the tradition. The holidays are so full of parties and other obligations, and – while very fun – there's just not much time for it to just be us. That's not the case for Christmas morning. Andy and I decided before kids that Christmas morning would always be a time for our family to just be together.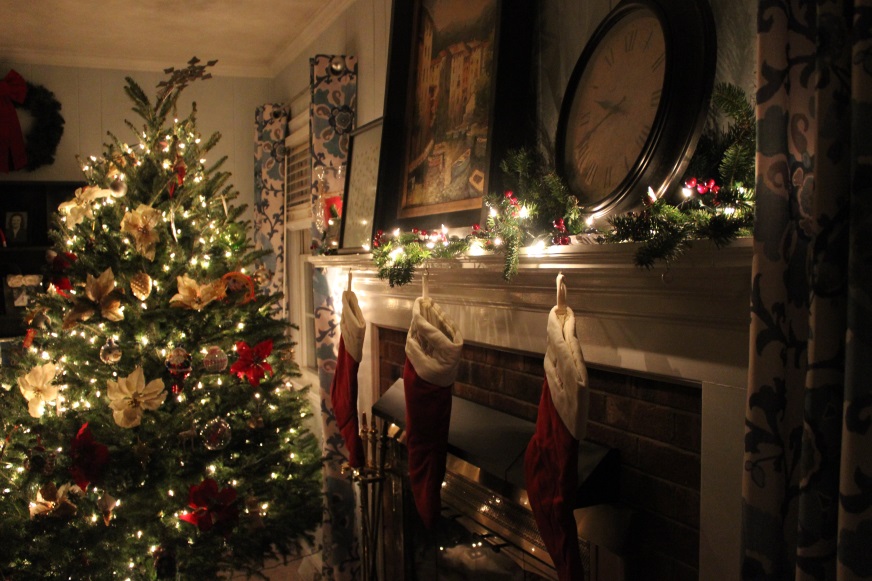 The last two years were great, but Anna Ruth is really starting to get it now, and the joy and wonder you can just tell are going through her heart and mind are incredible to witness. Every house we pass that is decorated, she lets out a squeal of excitement – "Christmas lights!!" Every present I wrap – "is this for me??" (No, sweet girl, it's not.) Randomly singing "Happy Birthday to Jesus" because they've been practicing at play school. All of these little things leading her up to the big day. We're even getting together with friends in a couple of weeks for a birthday party for Jesus (stole that idea from my sister, and I am probably more pumped for that than anything else we have planned). She's loving this time of year and we haven't opened a single present yet.
I admit I need to check myself with all of the Christmas hoopla we've got going on, and make sure to keep our focus on the birth of Jesus. It is just so hard to find that balance, though, when your child shows so much joy in the festivities of the season – lights, parties, treats, gifts. I want her to love this time of year, and the meaning behind it for our faith. Any traditions you do with your kids to give them a sense of wonder during this time that keeps the focus on Jesus? Please share!
In the meantime, I've got your Christmas breakfast covered. This is an overnight casserole that is almost like a savory overnight French toast. The thing I love most about this is that it goes straight from your refrigerator into the oven. Most breakfast casseroles I see have you pull it out of the refrigerator an hour before baking for an additional hour <– ummmmm, who in the world wakes up two hours before they're going to eat breakfast?? Not us.
Guys, this is easy peasy to put together the night before, and is perfect for Christmas morning…get the casserole in the oven -> open gifts -> eat breakfast. You can easily cut this in half, but then you will be missing out on leftovers for days, and that would make us very sad.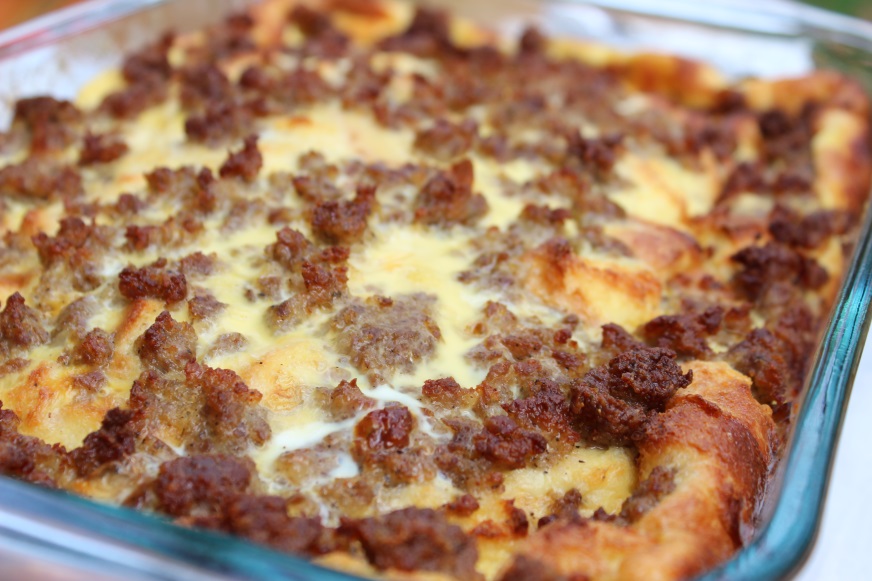 I hope you are all enjoying this season, and taking time to find joy in the little things. Thanks to this little overnight wonder, Christmas breakfast is covered, giving you one less thing to have to plan – you're welcome 😉
Ingredients:
1 lb breakfast sausage
10 slices white bread – torn
8 eggs
2 c shredded cheddar cheese
3 c milk
¼ tsp pepper
½ tsp salt
Directions:
Cook the sausage and set aside to drain off excess fat.
In a greased baking dish, combine the torn bread pieces and cheddar cheese. Mix to evenly combine.
Sprinkle the sausage over the top in a single layer.
In a bowl, beat the eggs with the milk, salt and pepper. Pour mixture over the bread/cheese/sausage.
Cover and refrigerate overnight.
In the morning, remove the cover and place in the oven BEFORE preheating. Turn the oven on to 350 degrees, and bake uncovered for one hour or until completely set.
Enjoy!