Warning: this post is picture heavy with yummy chicken pita and family time – I just couldn't help myself! You can scroll through for the recipe, but then you'll miss all of the mouthwatering goodness.
Happy hump day, friends! Did you miss me? I'm back after a week off because #vacation. I know I only took one week off from posting, but man it feels like it's been ages. Last week my little family went with Andy's parents, aunt, uncle and cousin and took a trip far into the NC mountains where we kayaked, tubed, rode a train and just generally relaxed for several days, and it was incredible. Since starting MFTS it was the first time I let myself go completely offline and not worry about anything blog related. I wish I had tons of pics to share with you, but they're basically all of AR playing in the creek behind our house. Okay okay, here's some of that, and our family train ride on the Great Smoky Mountain Railroad (sorry it's blurry – thanks a lot, train).
After a few days, though, it was back to reality. And back to our current obsession, which made up our 4 meals pre-mountain trip and now 4 meals post-mountain trip. Ask me if I'm mad about it and the answer is a resounding as if, you guys. As. If. I present to you Chicken Pita with Avocado Tzatziki.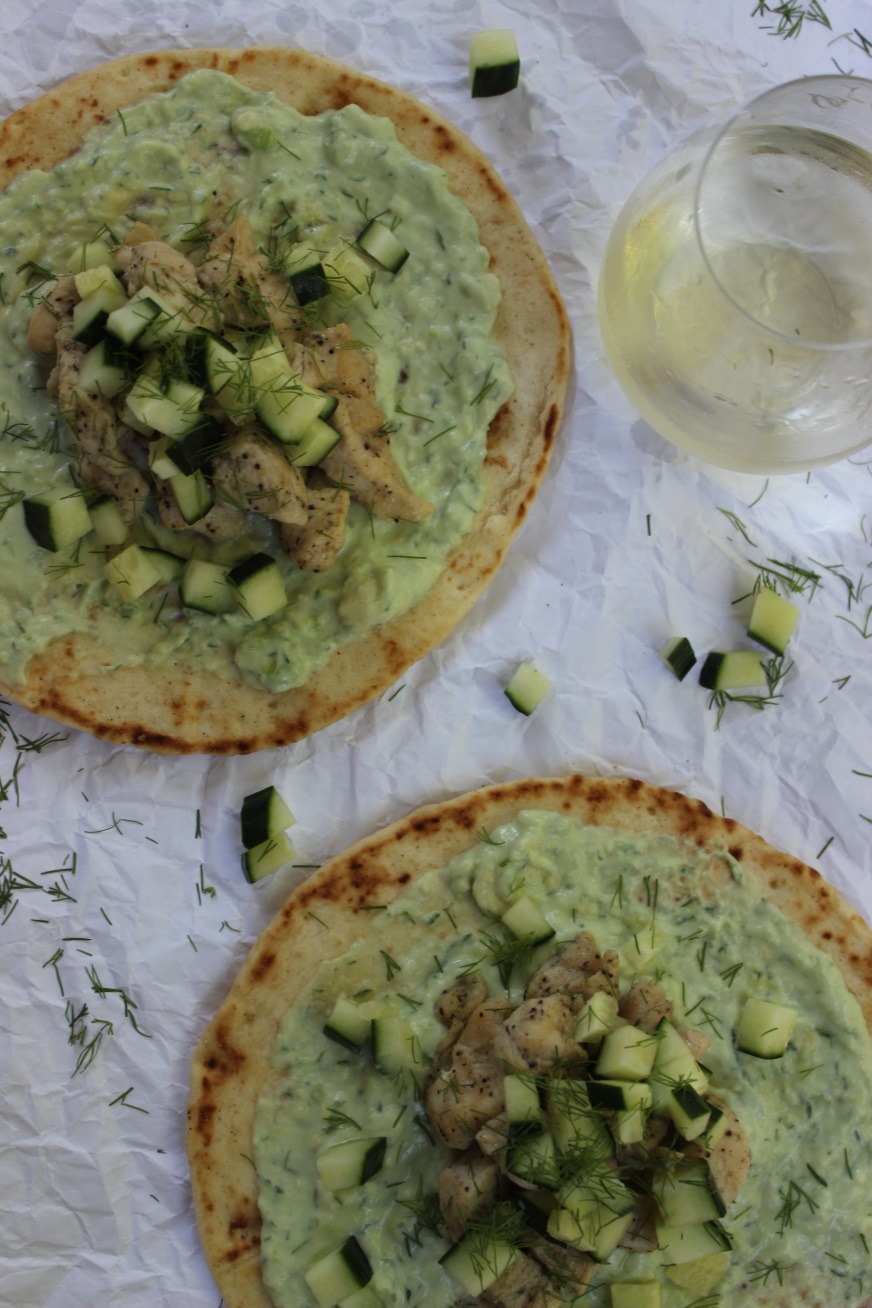 *Let me first state that I make no claims to this being an authentic tzatziki recipe. I've tried making traditional tzatziki and haven't gotten it quite right yet, but this is my blog and I get to call it what I want amiright? Call it magic sauce for all I care. That may actually be a better name for it given how easy, healthy and absolutely delicious it is. Srsly, you'll want it on errrythang once you've made it.
What we have here is the easiest, freshest, green on green on green meal you can have ready and on the table in less than 30 minutes. Let's break down my chicken pita with avocado tzatziki…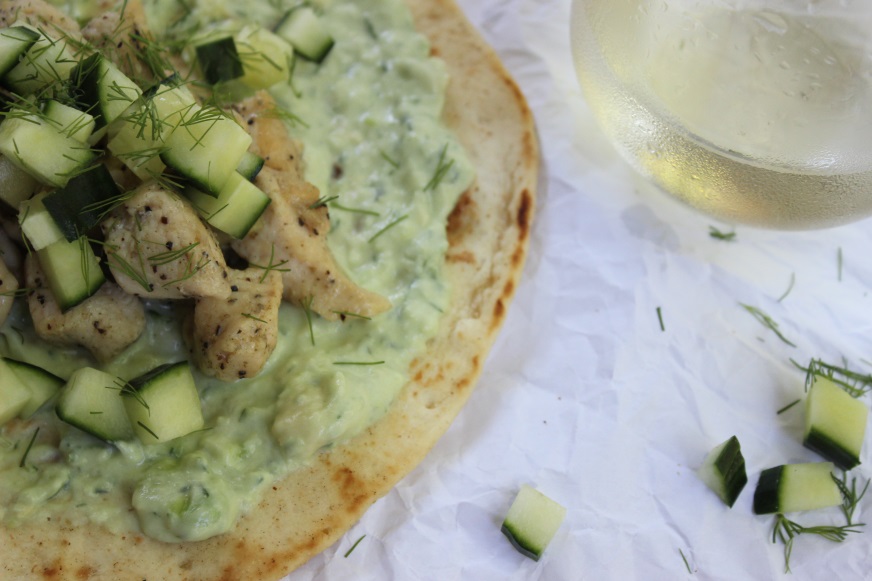 First you have the pita. Flatbreads or pockets work, but we generally prefer the flatbread. Andy likes to spiff 'em up a little by warming them in a pan with a teensy drizzle of olive oil and salt <– this step is 100% optional, but you should definitely warm your pita a little before loading it up!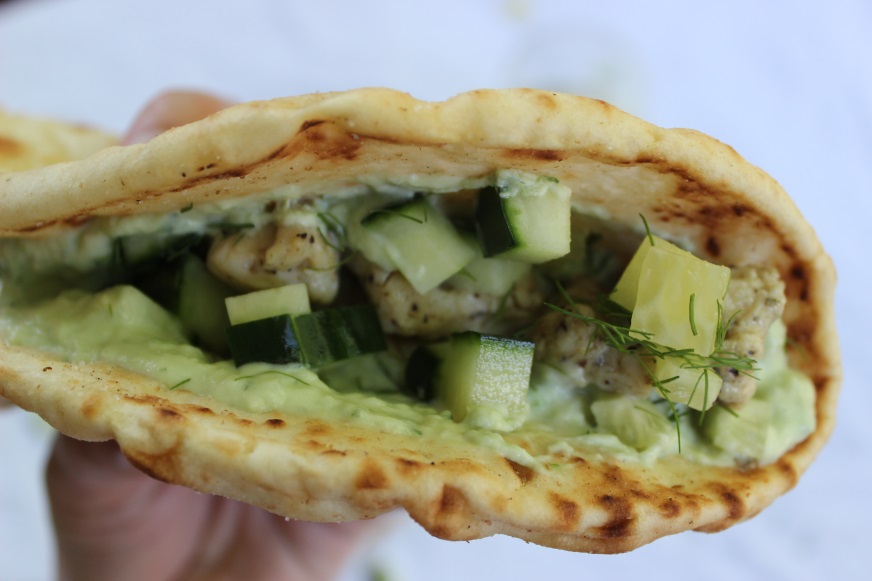 Then you have the magic sauce avocado tzatziki. This sauce was the inspiration for the entire dish. See, every week we buy a bag of avocados from Costco. We share one for breakfast most mornings, but we generally still have 1-2 leftover later in the week. I thought it would be good to mix with Greek yogurt, and then I decided to see how it would be with some grated cucumber.
Y'all.
I can't.
It was SO good I had to stop myself from eating it with a spoon. The key here is the grated cucumber. I use my microplane, but a box grater would work too – just make sure to grate it directly over the bowl. I'm showing you a picture of the before mix so you can see what you're going for with the cucumber. You'll think there's a lot of juice, but you want it. Embrace the magic, green, glow-giving juice.
Next you have the Greek chicken. Simply cube up chicken breast, season and cook in a skillet. Dunzo bunzo. If you have an awesome meat counter like I do then you can ask your meat guy if he'll cube the chicken for you. I'll have them do this if I'm at the store when it's not really busy. If you do this you'll save a good 5-10 minutes on the total prep time. I use this Greek seasoning that I bought at my local grocery store, but it's also available on Amazon and (hey look!!) it's Prime eligible. You can make your own mix, but if you're busy like me then the seasoning mix is the way to go.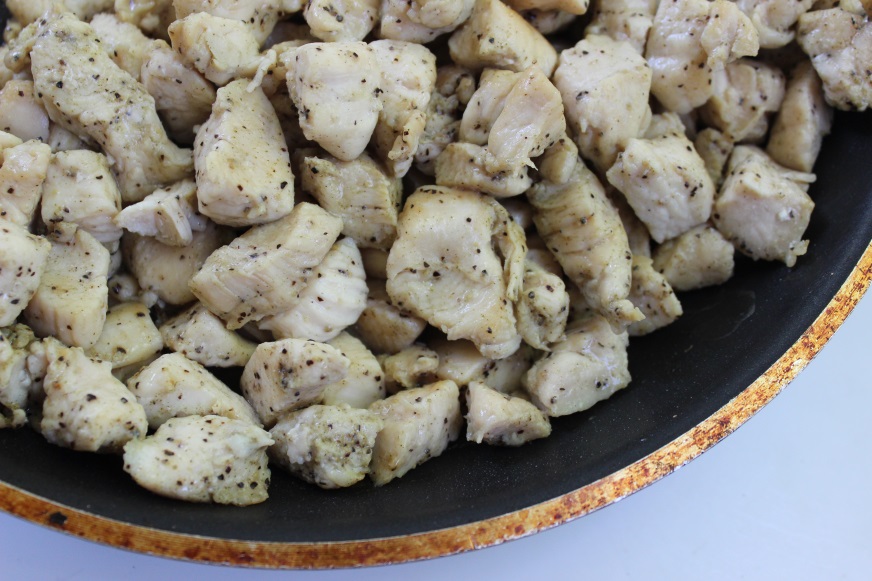 Finally, top it all off with a little extra diced cucumber and dill. Annnd we're done! Dinner is on the table in less than 30 minutes.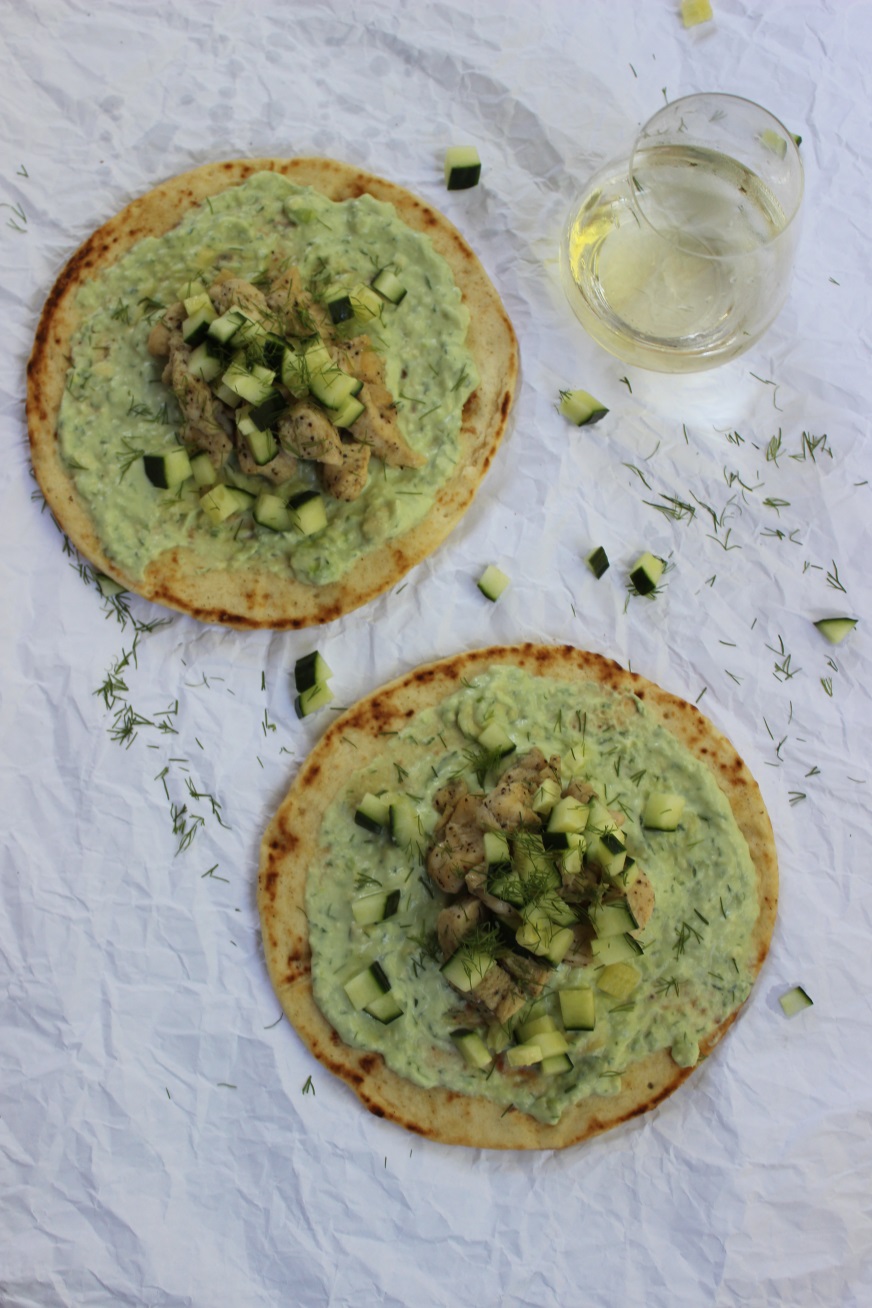 I could end there, but it would be cruel of me to not talk about the leftover situation here. Of course, you can use the leftovers to make the same dish with pita included. Orrrrr, you can pack up the chicken, leftover sauce, veggies and lettuce and have a super delicious/healthy dinner at the pool/beach/park/dock/whatever. No greasy pool bar food for this family (though, we may have ordered cheese sticks, but whatevs).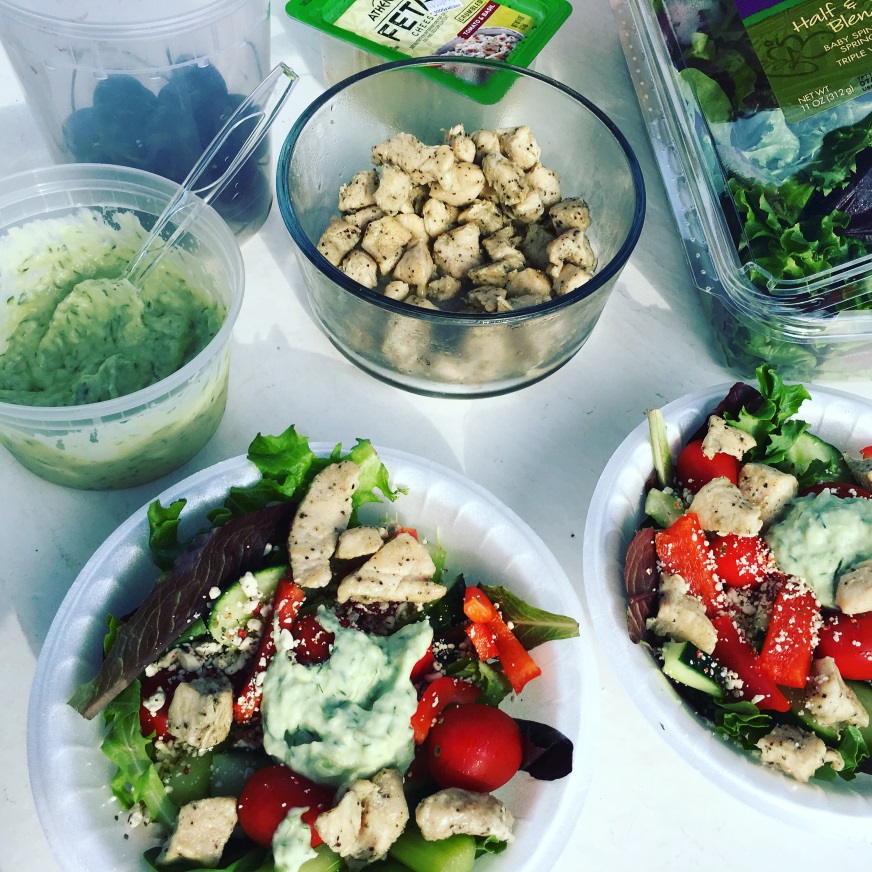 One last close up of this little greeny to show off her good looks. Enjoy!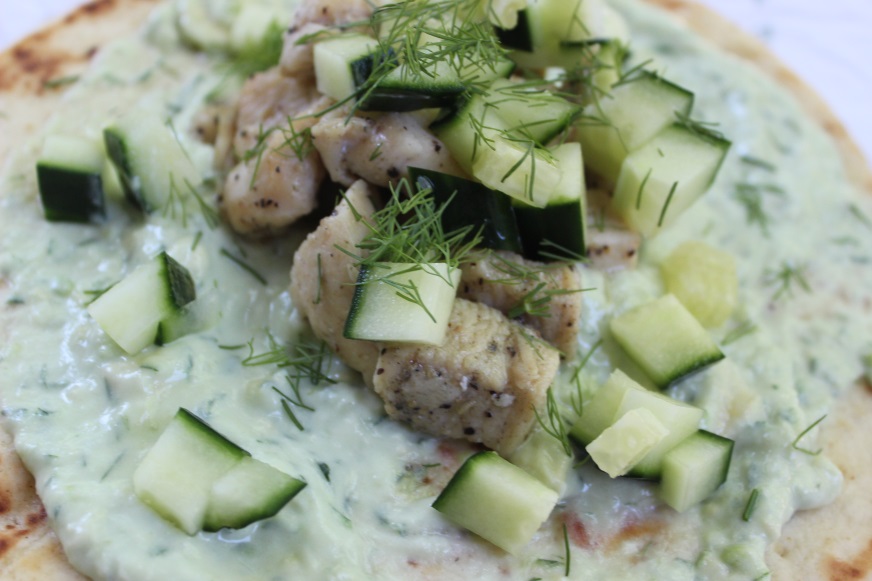 Ingredients:
1 tbsp olive oil
2 chicken breasts (about 1.5 lbs)
1 tbsp Greek seasoning
1 ripe avocado
½ cup Greek yogurt
1 English cucumber (1/3 for grating, then small dice as much as you want for topping)
Splash lemon juice
1/2 tsp salt
6 pita (flatbread or pockets)
Optional: chopped dill
Directions:
Dice the chicken breast, then stir in the Greek seasoning making sure all pieces are evenly coated.
Let the chicken sit in the seasoning while you prepare the avocado tzatziki.
Make the avocado tzatziki: mash the avocado in a bowl, and combine with the yogurt. Grate about 1/3 of the cucumber into the mixture, add lemon juice and salt and stir until well combined.
Heat olive oil in a pan over medium heat. Season the chicken with the Greek seasoning and sauté until done.
Assemble: smear the avocado tzatziki over the pita, top with chicken, extra cucumber and dill.