After several weeks on the vegetarian/vegan train, let's get back to more traditional comfort food: turkey chili over cheese grits.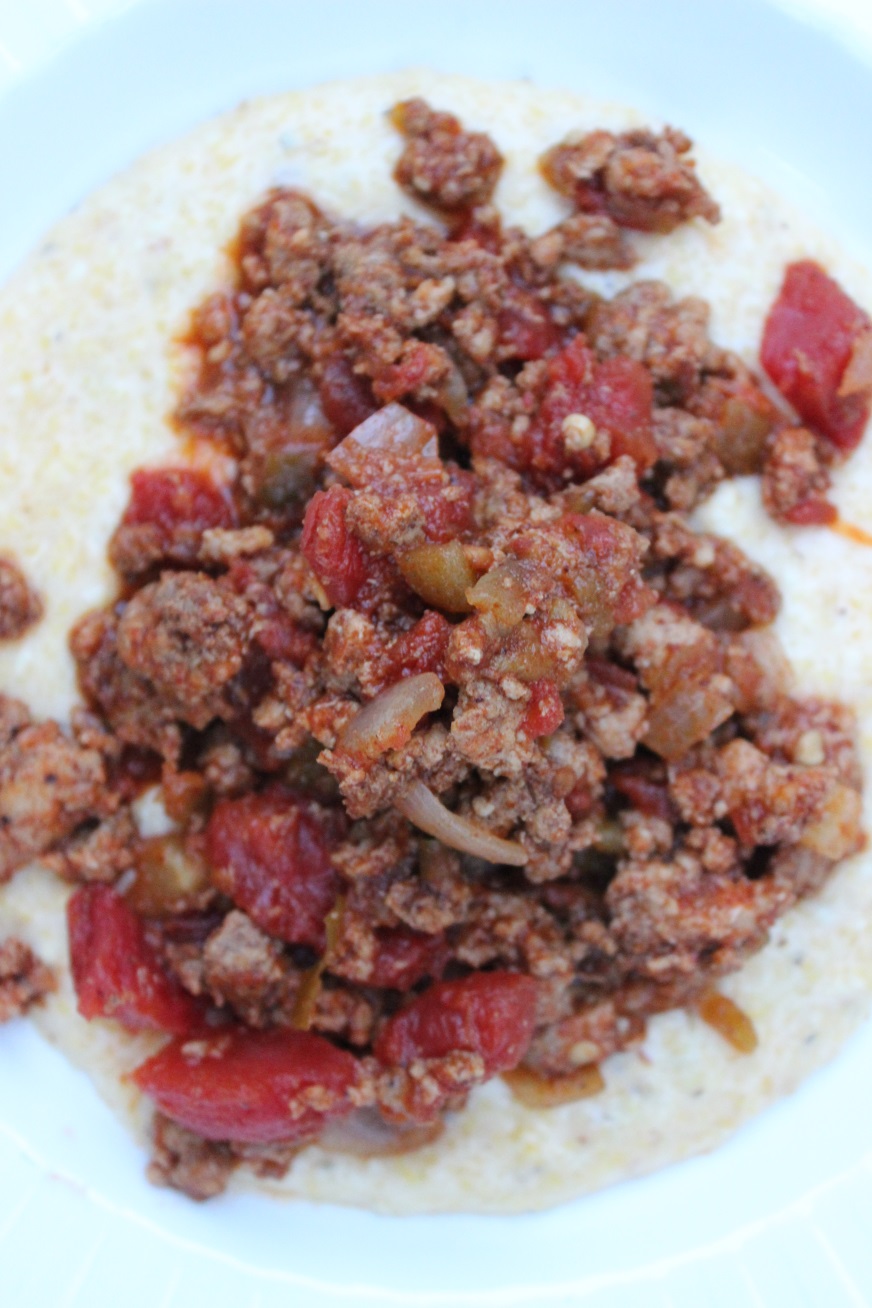 Let me paint you a picture of a typical Winter Saturday in the Peascoe house. Wake up and play before a super easy breakfast of – I don't know, say – Saturday brunch surprise. An outing to whatever activity we have planned to get us through lunchtime. We get home, eat some lunch and get Anna Ruth into her room for room time. If we're lucky, a Carolina basketball game will be on. If not, Andy either starts doing work for grad school or a little yard work, and I start on whatever I'm making that day. AR finishes room time, Andy's done with work, dinner is going and we just have the rest of the day to do whatever we want. It sounds so simple – and it is – but after such a hectic holiday season it is really the best thing ever.
I've always been really into cooking and freezing, but being pregnant that goes into overdrive. The more I can make and freeze now, the less I have to worry about when I'm nearing my due date or once the baby is here. Lately I've been making a lot of this turkey chili. This isn't your typical chili with beans, so your idea of chili needs to shift a little here.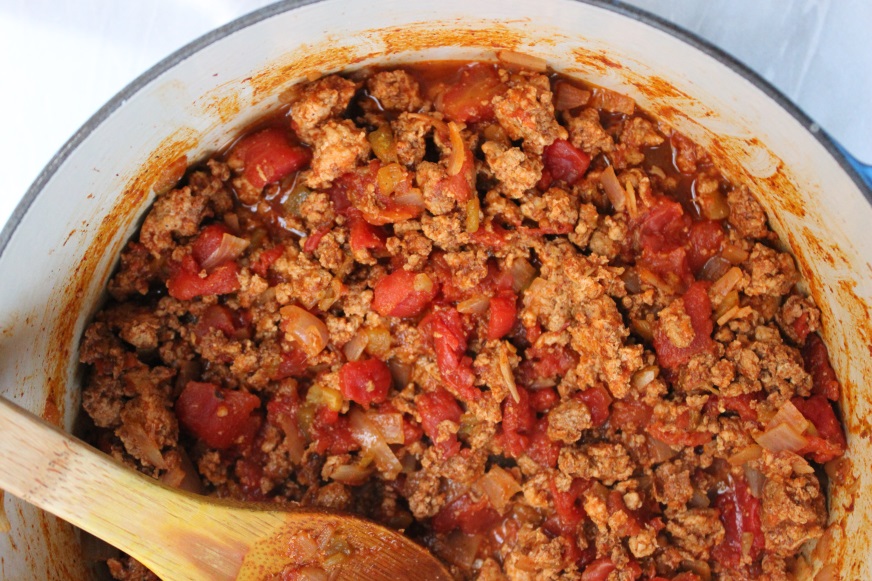 My mom and I started making this recipe when I was just out of college and living with my parents before Andy and I got married. Given that there are no beans, and given our skinny, early-20-something-bodies, Andy and I would feel like we just needed something else with the meal. We tried cornbread, which was eh/okayish, but not quite IT. That's when I came across some sort of slow cooked meat dish served over polenta, and my mind immediately went to turkey chili over grits. After that first time we were hooked, and life had so much more meaning. <– yes, that sounds a bit dramatic, but try it and tell me otherwise.  My sister recently served this to a large group of her in-laws, and said she could just tell it blew some minds.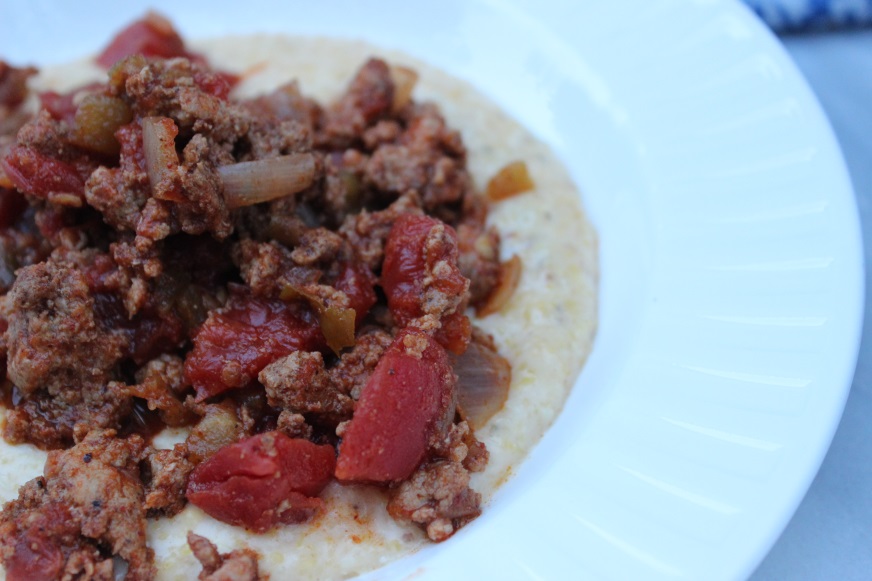 The chili itself here is really quite simple. We brown the ground turkey with the aromatics, add the final ingredients and let it cook for as little or as long as you want. I love starting this in the afternoon, and just letting it go for an hour on low so the whole house smells like comfort food. I generally double or triple the recipe, so I have plenty to freeze for later.
The other star of this show is the cheese grits. When it comes to cheese grits, the naughtier the better. I don't have an exact recipe, but I always use stone ground grits, and cook them in chicken broth. Once they're done I add an assortment of shredded cheese, cream cheese and heavy cream (really just whatever I have on hand). If we're making this for a group, I don't hold back on the indulgent additions because more cheese is always better. However, if it's just for a family meal I regulate myself to keep the calorie count in check. The gorgeous thing here is that the turkey chili has so few calories, that it's okay in my book to have the grits a little more indulgent.
Top with other traditional chili toppings, or don't (we don't) – once you have this version of turkey chili over cheese grits you'll have a new ideal for what chili night looks like in your house.
Turkey Chili over Cheese Grits
Ingredients:
1 tbsp olive oil
1 large shallot – diced
2 tbsp chili powder
1 tbsp cumin
2-3 tbsp minced garlic (I use jarred garlic)
1 lb ground turkey
2 (16 oz) can stewed tomatoes*
1 (4 oz) can chopped green chilies – mild or hot*
For the grits: stone ground grits, chicken broth, shredded cheese/cream cheese/heavy cream (optional)
Directions:
Add the first six ingredients to a large pot, and cook over medium-high heat until the turkey is done.
Add the tomatoes and chilies, and bring to a simmer. Allow to cook over low heat for at least 10 minutes and up to an hour.
Cook the desired amount of grits in the appropriate amount of chicken broth according to package directions. Once done stir in whatever combination of shredded cheese, cream cheese and heavy cream desired.
Serve the turkey chili over the cheese grits and enjoy!
*If you're going to eat it without letting it simmer on the stove for a while, drain the tomato juice from one of the cans. If you're going to let it simmer on the stove, include all of the juices.
**Hot green chilies make this really really hot. Andy and I love spicy food, but it's even a little hot for us. Since I generally double this recipe, I use one can of each.