Quick post today – mainly because there's not a lot to say about this easy sausage and mushroom stuffing …and also (if we're being honest with ourselves) because stuffing just isn't that exciting to photograph. If you're a traditionalist, carry on. But if you're open to the possibility that stuffing doesn't have to be dry with little flavor then stick around.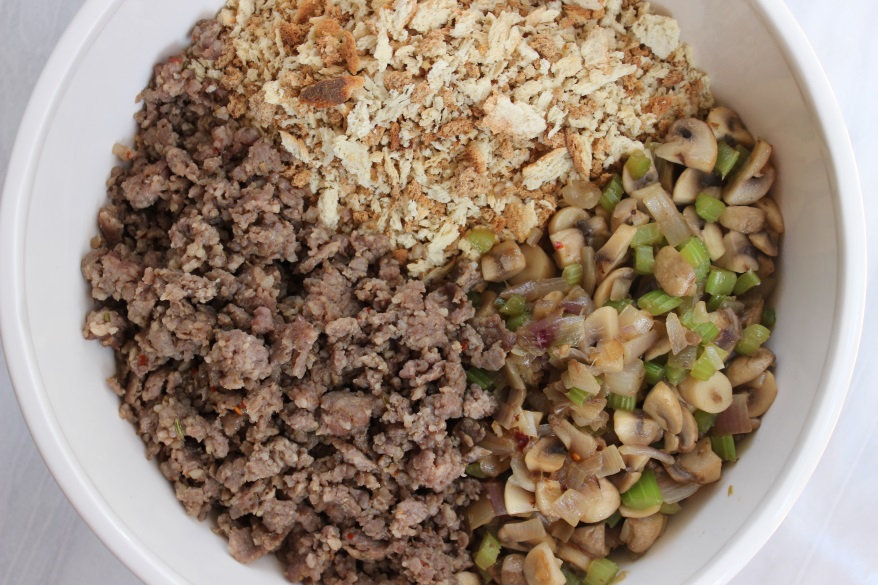 We're on the home stretch before Christmas. There were moments I thought we'd never make it, but here we are. We've had an exceptionally busy season, but I wouldn't trade one second of it.
This past weekend we wrapped up the hosted events in our house with a birthday party for Jesus. We got together with a few friends (you may remember them from our Memorial Day Weekend beach trip with the best fish tacos or from the Christmas in July party with chocolate chip peanut butter cups), and had just what it sounds like: a birthday party for Jesus. We had pizza and birthday cake, and the kids sang happy birthday to Jesus. It was such a sweet time with these friends that we've come to love so much. We've gone from three to five kids with another on the way, and it is so fun to see their friendships developing. And since I'm not bombarding you with too many pictures of sausage and mushroom stuffing, here is one of these sweet kiddos blowing out the candles on the birthday cake for Jesus.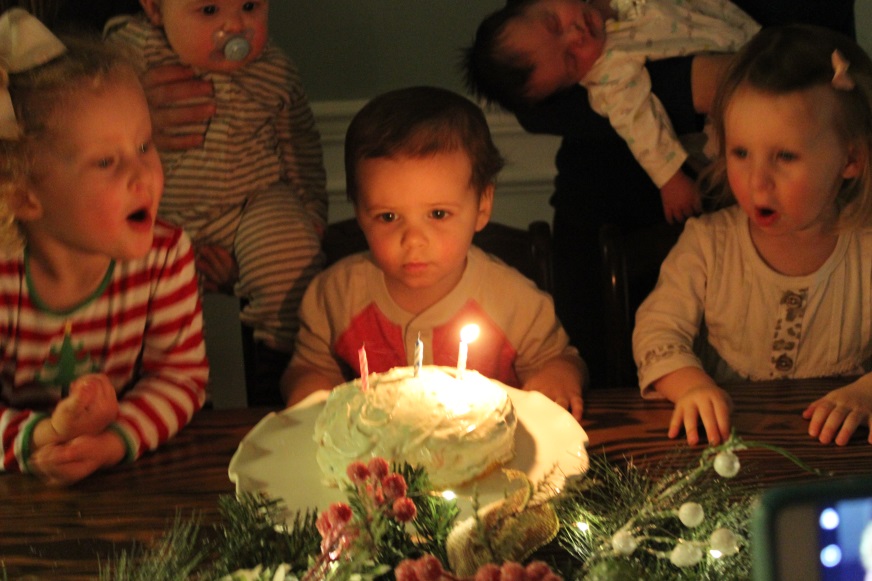 Now back to business. I'm wrapping up my self-dubbed "Christmas Series" with an unconventional dish: sausage and mushroom stuffing.
What is your family like? Are you traditionalists that want everything exactly as it's always been, or are you open to updates on old favorites? Please be the latter. I'm sure if I thought long enough on it, I could probably come up with a dish that I just can't condone making any way other than the way it's always been.  Stuffing is not one of those dishes. There are gobs of stuffing recipes that go away from the norm – some of which I'm sure include mushrooms and sausage – but few of them contain six ingredients or less.
You heard me.
Six. Ingredients.
This is another great prep-ahead recipe that can be assembled the day before, then cooked before the meal. Simply wait to add the broth until you're ready to cook.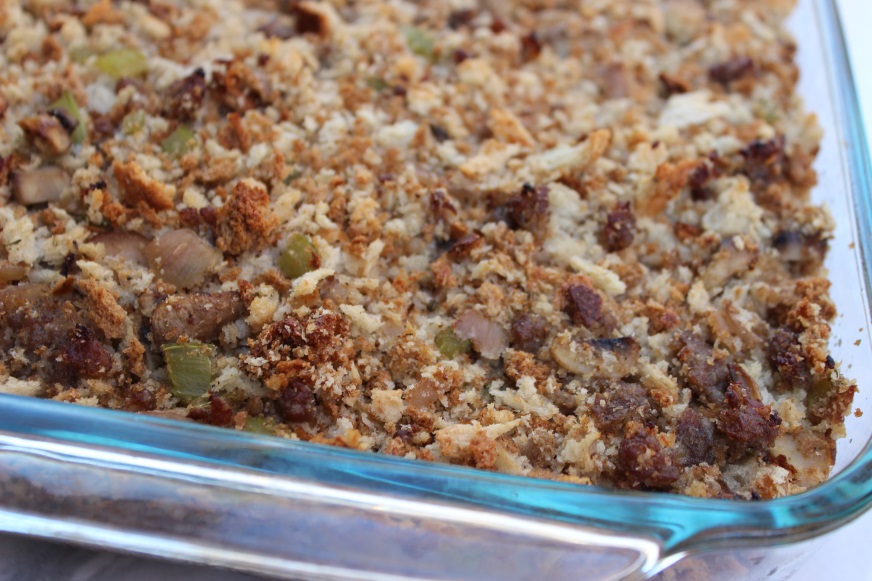 Whether you plan to make this sausage and mushroom stuffing, Aunt Peggy's cranberry apple casserole or bring a stunning cake stand of treats, I hope you all have the merriest Christmas.
Sausage and Mushroom Stuffing
Ingredients:
1 package herb seasoned classic stuffing (I use Pepperidge Farm – 14 oz)
1 shallot – minced
2 stalks celery – minced
1 lb mushrooms – chopped
1 lb mild Italian sausage
4 cups chicken broth
Directions:
Preheat oven to 350 degrees.
In a skillet cook the sausage, making sure to crumble as it cooks. Remove the sausage to a paper towel lined bowl and set aside (leaving the fat in the pan).
To the pan, add the shallot, celery and mushrooms and cook until softened – about 7-10 minutes.
Combine the cooked sausage, veggies and stuffing in a large bowl and stir to combine.
Pour into a 9×13 baking dish and set aside until ready to cook.
When ready to cook, pour the chicken broth evenly over the stuffing mix.
Cover with foil and cook for 30 minutes. Remove the foil and continue cooking an additional 10-15 minutes, or until browned on top.
Enjoy!