See what I just did there? I just told you this is a recipe for The Best Fish Tacos. I don't take that statement lightly. Let me be super clear: THESE ARE THE BEST FISH TACOS. You will want to eat them 24/7/365, and when you're not eating them 24/7/365 you'll be dreaming about and counting down the minutes until you can have them again.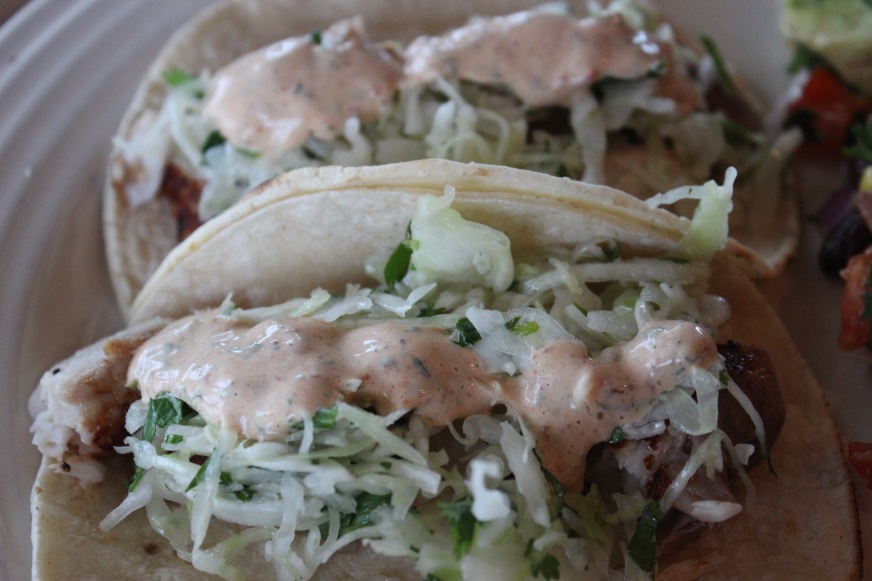 These fish tacos are made up of three crucial parts: well-seasoned fish, a spicy mayo and a citrusy slaw. It's these three parts combined that make these the best fish tacos you'll want every day for the rest of your life. If all three parts are not adequately represented (while still good) it just doesn't make as much sense. You've got spice from the fish and the chipotle mayo, but then – oh hayyyyy!! – here comes the zippy cilantro lime slaw to cool your mouth down and give a little crunch. You guys, just trust me on this – these tacos are made up of a perfect trifecta. Do not leave one out.
I don't know how Andy and I came to making our fish tacos this way, but we've been doing them for probably eight years now, and we just can't get enough. We've made them for so many people over the years, and a lot of those people have made this their go-to fish taco recipe because it is just that good and it is just that easy.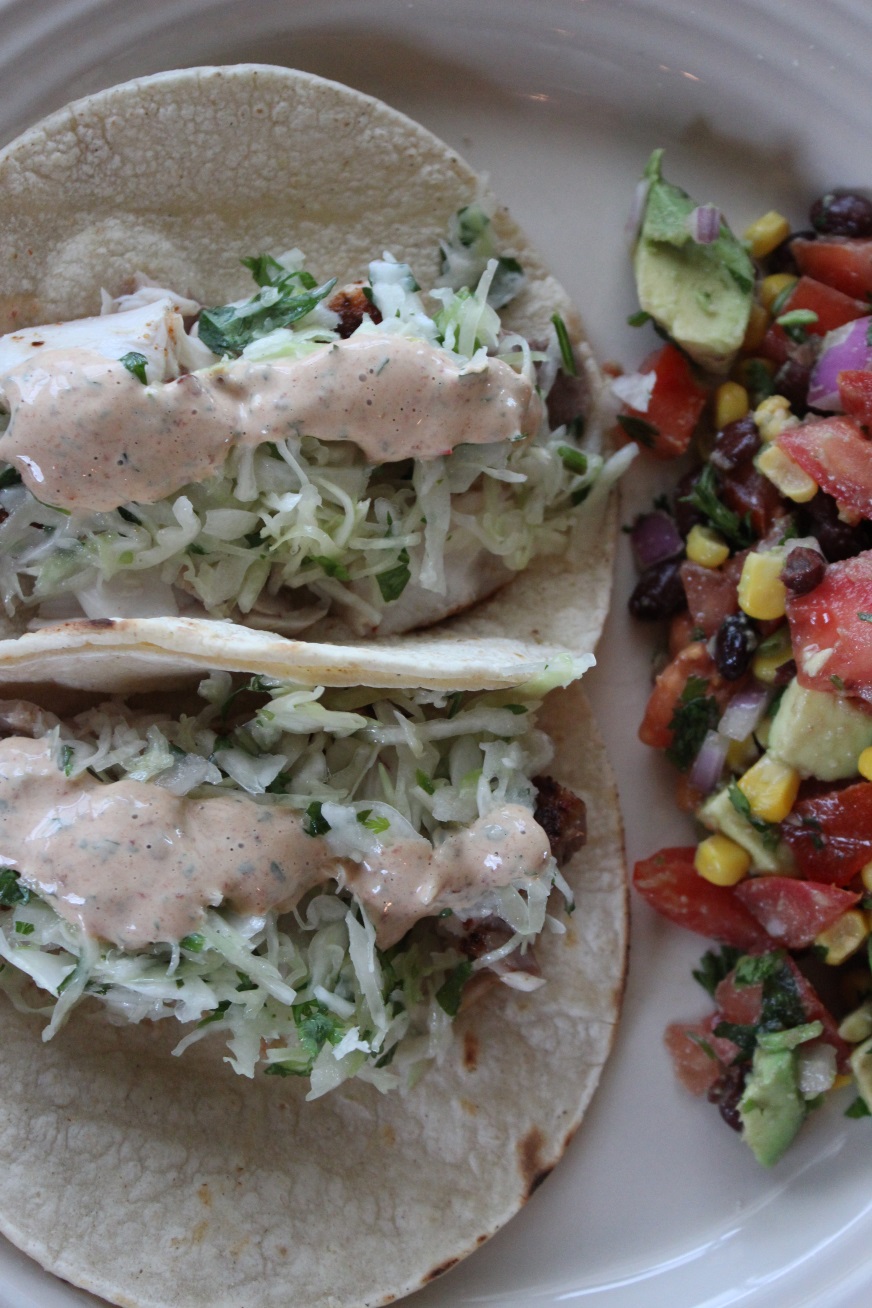 We had these this past Memorial Day weekend while we were at the beach with friends, and I'm 99% sure everyone loved them. As written the recipe feeds eight adults, leaving just a little slaw leftover. (Don't worry, you can easily half this.) Three pounds of fish sounds like a lot, and I honestly thought there would be leftovers, but I guess the fact that there weren't just speaks to how delicious they are. Speaking of the beach – check out these three cuties that had a blast spending the long weekend in the sun and sand…so, so much sand. Fish tacos and beach babies. Does it get any better?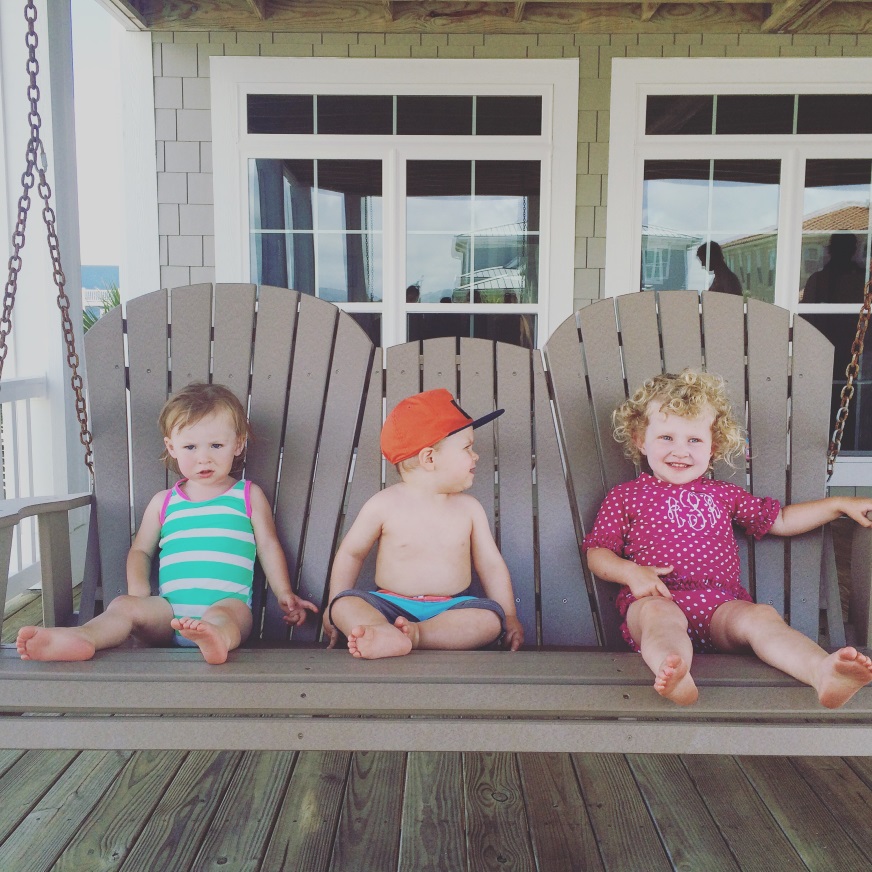 We served the tacos with a fresh veggie salad/side/dip thing (recipe coming soon), and it was the perfect beach slash way to start the summer meal.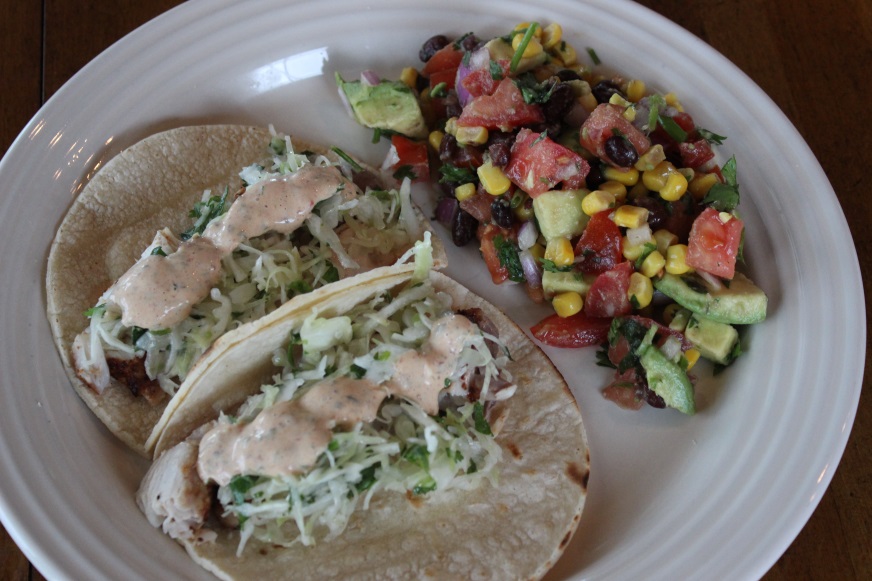 You'll get the best results if you make the slaw and mayo a couple hours ahead of time, so the flavors really have time to meld together. If you don't have a mini food processor, no worries, just chop the chilis in adobo and cilantro really finely. If you don't have one, though, I would really consider getting one. I make so many sauces so quickly (especially in the summertime) that it is totally worth the $35 spent. If you're wondering – yes, I did bring it to the beach with us because I have become that obnoxious sauce person that can't even go for one weekend without using my mini.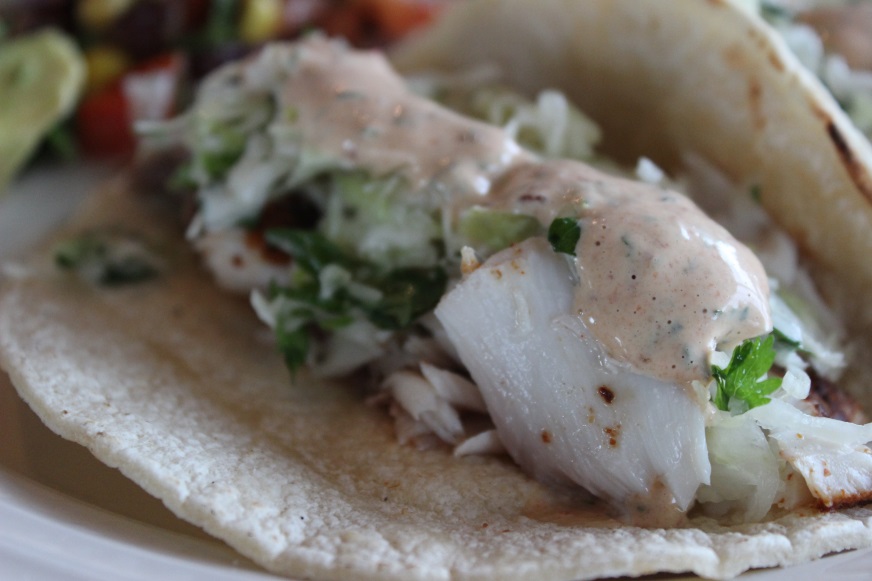 Serves 8
Ingredients:
3 lbs white fish (we generally use mahi mahi, but grouper is also good)
1 tbsp olive oil
Corn or flour tortillas
Seasoning mix:
1 tbsp EACH cumin and chili powder
1/2 tsp EACH paprika and salt
1/8 tsp cayenne (optional)
Cilantro lime slaw:
2 (10 oz) bags shredded cabbage
Large handful cilantro (leaves and stems)
1/4 cup lime juice
1/2 tsp salt
2 tbsp olive oil
Chipotle mayo:
1 cup mayonnaise
3 chipotle peppers in adobo (plus about a tbsp of the adobo sauce)
Small handful cilantro (leaves and stems)
2 tbsp lime juice
Directions:
Combine all of the seasonings in a bowl and stir to combine. Set aside.
Prepare the slaw: chop the cilantro, then combine with remaining ingredients. Refrigerate until you are ready to serve (this does best when made a couple of hours in advance).
Prepare the chipotle mayo: place all ingredients in a mini food processor and pulse until well combined. Transfer to a bowl and refrigerate until ready to serve (also does best when made ahead).
Rub the olive oil onto the fish then season liberally with the spice mixture. (If you are making this for fewer people, just use part and save the remaining mixture for next time.)
*Heat your grill to medium. Starting with skin side up, cook the fish over direct heat for 5 minutes, then flip and continue cooking another 5-10 minutes until done. The fish is done when you can flake it easily with a fork. Once done, slice into strips for serving.
Layer each tortilla with some fish, slaw and chipotle mayo.
Enjoy!
Notes: this is the amount we used to feed 8 adults. The slaw can keep for an additional day or two, and the chipotle mayo for up to a week, but we ate all but a small bit of slaw. If making this for a smaller group, just cut in half.
*You can bake the fish in the oven, as well. Just google how to bake the particular fish you're using. For mahi mahi it's 425 degrees for 20-25 minutes.