Well hello there beautiful, glorious Fall. I've been waiting about nine months for you to come back around. Today we're transitioning from summer with a Fallish salad. We're taking the base salad we've eaten basically every day all summer and adding a little coziness to it because what is this life if everything in Fall isn't cozy?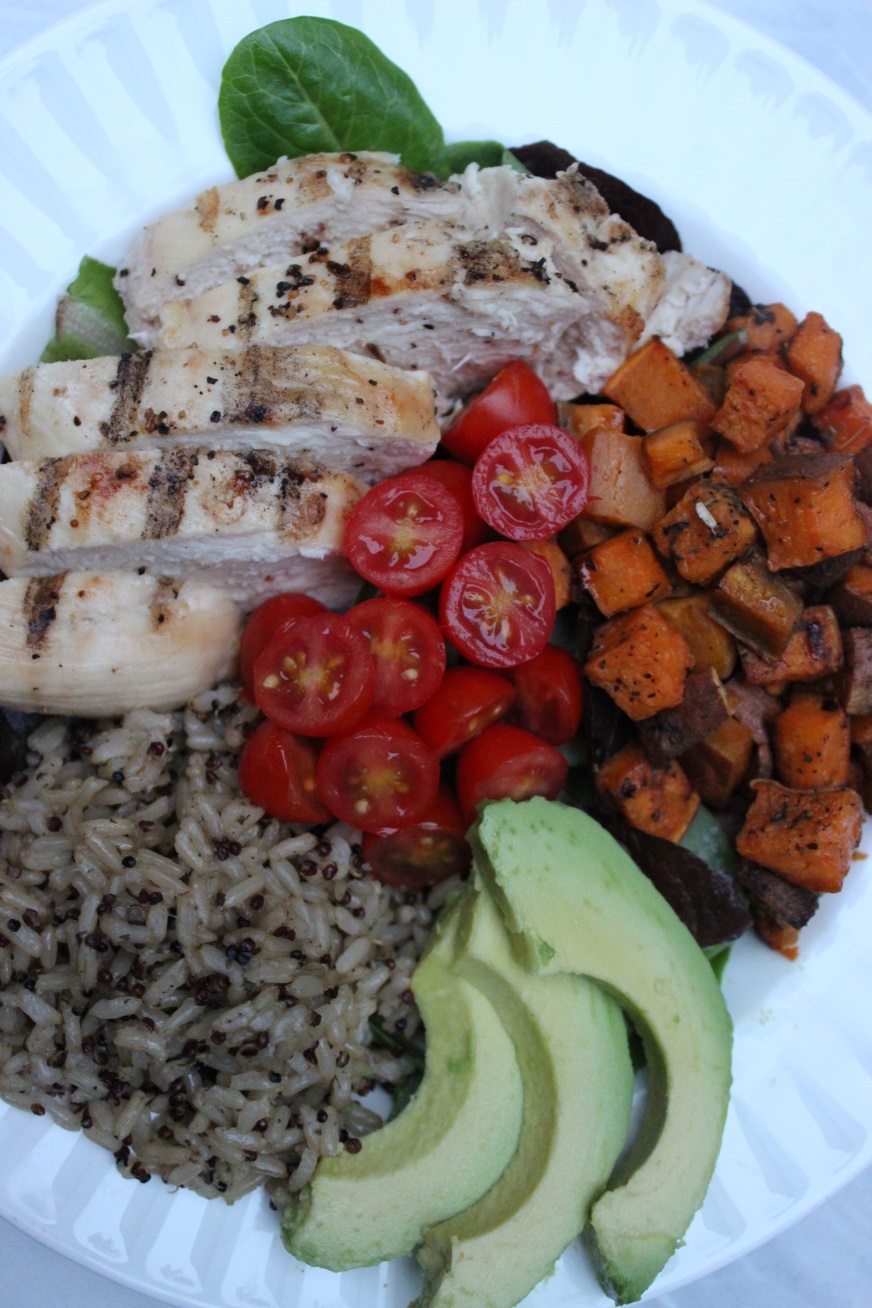 Let's break this Fallish salad down, shall we…
Really this isn't so much of a strict recipe, but more of a guide for building your Fallish salad. The beauty of salads is that you can load as much of a particular topping as you prefer. (I know some of you like exact amounts, so the recipe below has the portions we generally go with.) We start with grilled chicken breast because every salad we're calling a meal needs a protein. Grill with just a little salt and pepper, and you're good to go. Next we have the roasted sweet potatoes. They add just a hint of savory sweetness, and (oh, hello!) bright orange yummmm to your salad. Then we have the brown rice and quinoa. Guys, just trust me here, grains on salad = good. These three things are the only "requirements" for this Fallish salad, but I added cherry tomatoes (from our garden, thankyouverymuch) and sliced avocado for good measure. Top with a little balsamic vinaigrette (hint: the Good Seasons spice pack made with balsamic vinegar and olive oil is muah muah muah), and you're done.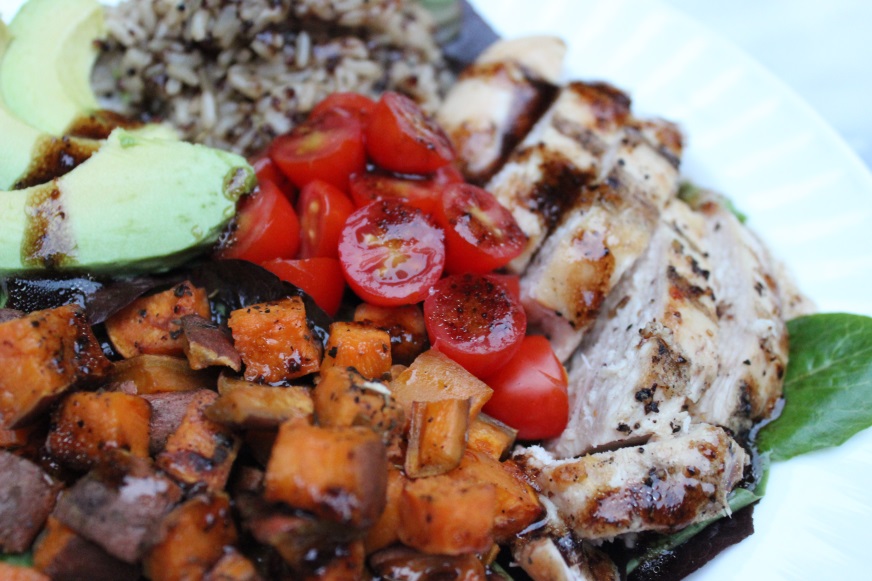 I love this salad because you can prepare the chicken and sweet potatoes the day of or several days ahead because – ta da – this Fallish salad is good hot or cold. Also, the whole "brown rice and quinoa" situation sounds fancy, but it's really just these awesome, organic, ready-to-go-in-90-seconds pouches that you can buy at your local Costco. We go through so many boxes of these a year because who has time to make their own quinoa and brown rice with garlic? As. If. (Feel free to use whatever grains you have on hand, though. I just prefer the convenience of the magic pouches.)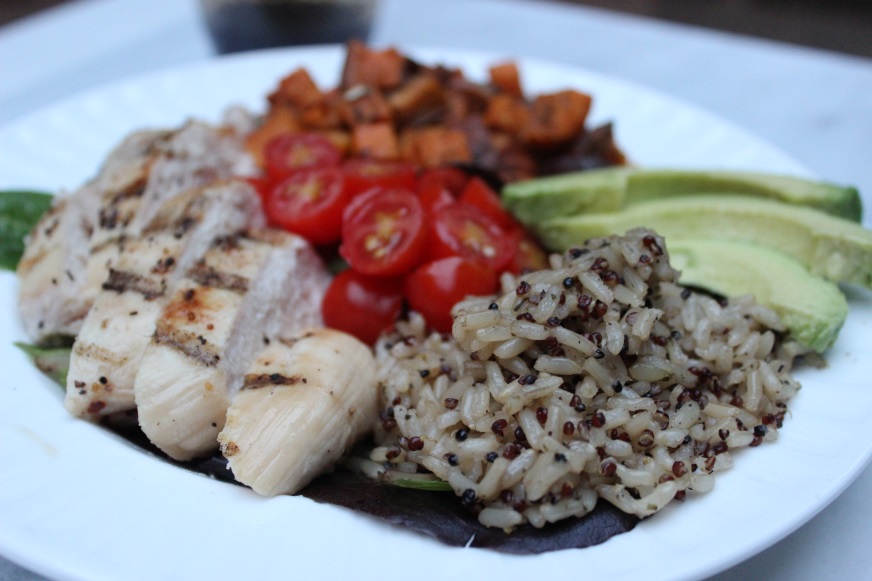 Fall: the season where Laura gets back on her prep all the things train. Don't get me wrong. There's a solid place in my heart for summer, but getting back into this groove just makes me feel like myself again. Sure, I'm myself all summer, but just a lazier, unprepared version, and that is just so unsettling for this type-A planner.
As detailed above, this Fallish salad uses two of my current favorite prepped foods – grilled chicken breast and roasted sweet potatoes. You may remember how I like to roast cauliflower and butternut squash on Sunday's. We took a break from that over the summer, but now I'm into the same thing, and sweet potatoes have joined the mix. Sweet potatoes just scream Fall to me. And have you ever tried them on a salad? So good.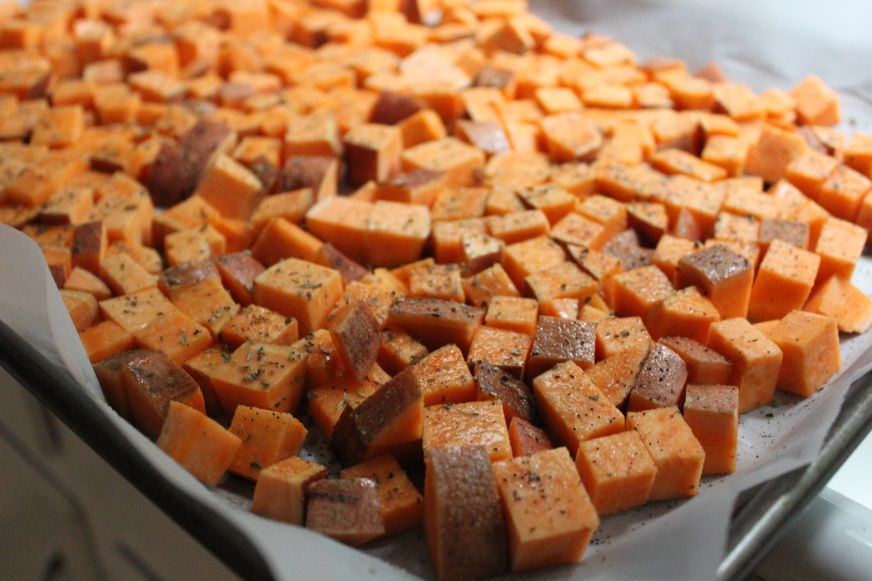 My latest food prep obsession, however, is chicken breasts. This is probably a duh thing for most of you, but I hope I'm not the last one to figure this out. Over the summer we got into the habit of grilling 3-4 chicken breasts on Sunday evenings, and using them throughout the week for at least two dinners and two lunches. During the season where my cooking interest involved going into my garden, plucking a few tomatoes and cucumbers off the plant and putting them on a bed of lettuce, having grilled chicken at the ready was a life saver. My goal was to spend as little time in the kitchen as possible, and having extra chicken ready for the week was key. So why not continue that into Fall? I certainly can't think of a good reason not to. Now, instead of using all of the chicken for salads, we make other hot things with the chicken that is already prepared – think burrito bowls, quesadillas, chicken salad, chicken sandwiches, etc. The skies really limit on this one.
So there you have it. Grilled chicken, roasted sweet potatoes, brown rice and quinoa on a bed of lettuce. I hope you're as excited as I am about all of the delicious Fallishness coming your way from Miss Foodie Two Shoes!
Ingredients:
Boneless/skinless chicken breast (about 1/4-1/3 lb per person)
Sweet potatoes (about 1-1.5 for every two salads)
Grains (I use this pouch of brown rice and quinoa)
Salad greens (Spring Mix, spinach or arugula work best)
Optional: avocado, tomatoes, cucumbers, carrots, any other salad topping you like
Dressing of choice
Directions:
Grill the chicken breast(s) with a little salt and pepper until the juices run clear.
Preheat the oven to 375 degrees. Cut the sweet potatoes into cubes, spray with olive oil spray (or mix with ½-1 tbsp olive oil if you don't have spray), and season with salt, pepper and Italian seasoning (Rosemary also works here by itself). Roast in the oven for one hour, stirring half way through.
Prepare the grains you are using according to package directions.
Prepare any other toppings you wish to use.
Assembly: add the chicken, sweet potatoes, grains and any other toppings to a bed of salad greens. Top with dressing of choice and enjoy!