Let's call today Wacky Wednesday, shall we? I have no tie-in between the two things I'm talking about today other than the fact that they're both basic Fall things and that when we came home from the fair we had leftover butternut squash lasagna with sausage waiting in the fridge. That works right?
This past weekend we went to Raleigh to hang out with my sister's family and go to the fair. I've blogged about it before, but anytime we get together with cousins it's a great time. Throw in rides and fair food, and you've got one happy Anna Ruth. Corn dogs, hot dogs, obnoxious square ice cream cones, funnel cake, blooming onion and (the best ever) bagguetaboutit <– srsly, guys, this food truck makes me want to move to Raleigh. We ate things we never eat, and didn't feel bad even for a second. The kids were troopers and had a ball, and I'm pretty sure we need to make this an annual thing. Here are just a few pictures, but just know I am crying over not taking food pictures because it was so wrong and so right and I wish I had a visual to get me through the next 364 days until we go back. (I'm mainly sharing these pictures so I can have it documented for myself, but enjoy! If you're just here for the recipe – no prob, bob – just scroll on past.)
Okay, since I've already established I have no tie-in, let's just jump right on into the butternut squash lasagna with sausage sitch. You guys, this lasagna is so basic and so Fall I just can't help but do and wear all the Fall things. The day we made this, I just happened to buy five thousand pumpkins and mums (while sipping on my PSL, obv), and rocked my favorite boots and scarf JUST BECAUSE this lasagna got me in that kind of mood. It's so basic and so Fall and everything I need in my life on a cool Saturday made for football watching and lazy cooking.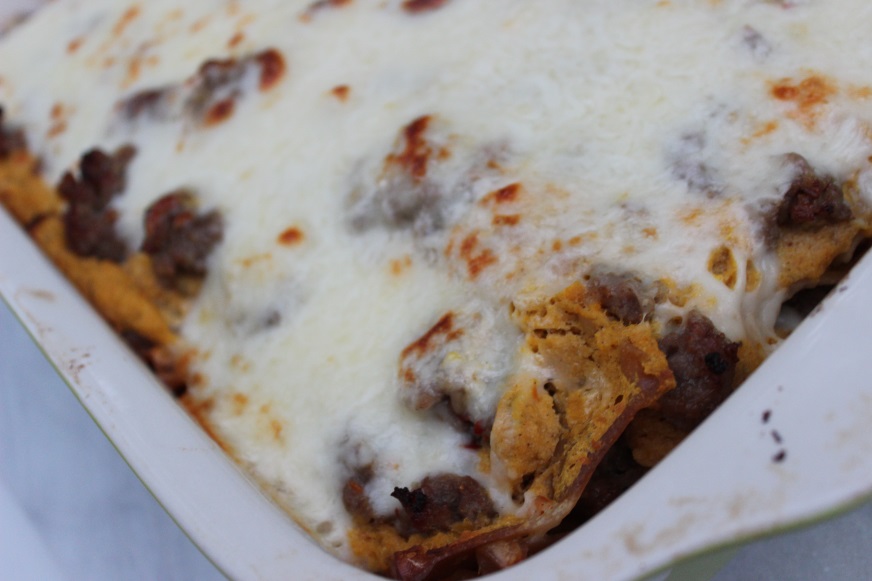 This is far from a traditional lasagna (read: butternut squash), but the effort and assembly are about the same. You need a little time for this one, which makes it perfect for a weekend meal. (Bonus: leftovers are a'plenty, and – voila – lunches are ready for the week.)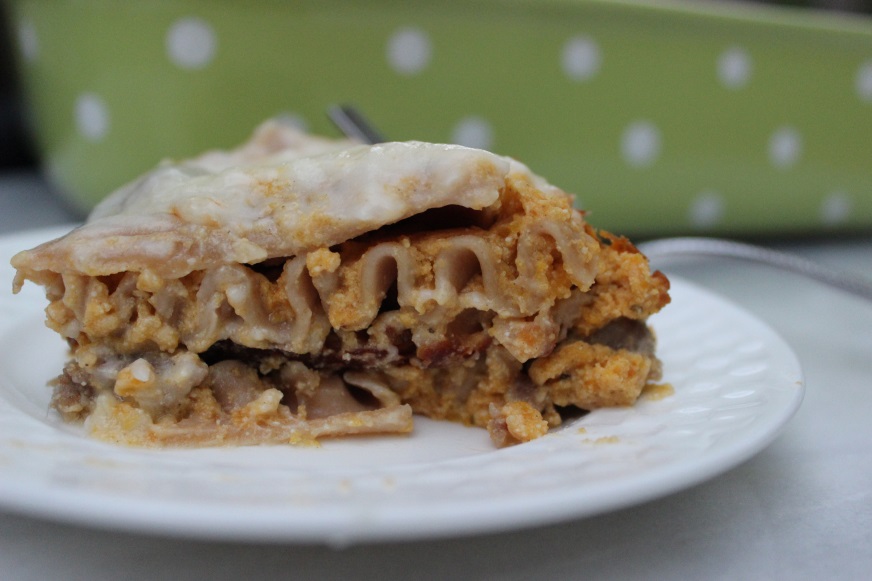 You may remember my love for butternut squash runs deep (read about it here, here and here). It's just so good and so versatile. Roast it with a little olive oil, Italian seasoning and S&P and it can be used for so many different things. It is also incredibly good with Italian sausage. Fact: I started out making a meatless lasagna, but Italian sausage raised its hand and I just couldn't say no. You're welcome.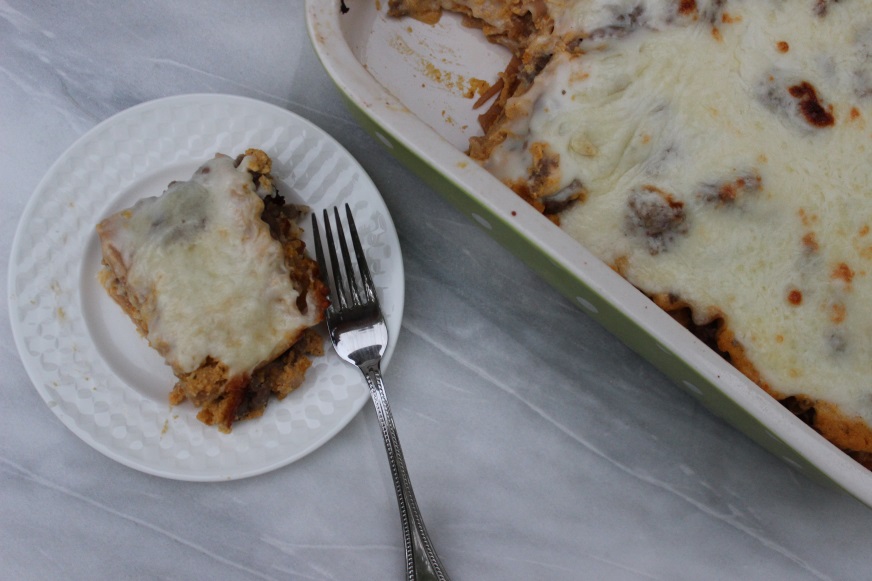 Ingredients:
2 lbs mild Italian sausage
2 lbs butternut squash – chopped (I buy the pre-chopped container at the store)
1 tbsp olive oil
Salt/pepper/Italian Seasoning – to taste
15 oz ricotta cheese
1 tsp sage
½ tsp salt
2 eggs
12 whole grain lasagna noodles
White Sauce:
-3 tbsp butter
-¼ c flour
-2 ½ c milk
-½ c shredded parmesan cheese
1 c shredded mozzarella
Directions:
Preheat oven to 375 degrees. Combine butternut squash and olive oil on a baking sheet and season with salt, pepper and Italian seasoning. Cook for 45-60 minutes, or until soft.
Prepare the sausage: Cook the sausage over medium heat until done, making sure to crumble it as it cooks. Drain in a bowl lined with paper towels and set aside.
Prepare the noodles: Cook lasagna noodles according to package directions until al dente. Drain, rinse with water to keep from sticking, and set aside.
Prepare the filling: Put the cooked butternut squash into a food processor (or blender), and add ricotta, sage, salt and eggs. Pulse until the ingredients are well combined, and then puree until smooth.
Prepare the white sauce: in a small sauce pot, melt the butter over medium heat. Add the flour and whisk until smooth. Gradually stir in the milk, and continue stirring over medium heat until the mixture comes just to a boil and thickens. Remove from heat and stir in the parmesan until it is melted.
Assemble the lasagna: spray a baking dish with cooking spray.
Spoon about 1/4-1/2 cup of the white sauce in the bottom of the dish
Spread four lasagna noodles over the bottom of the dish
Spread 1/3 of the butternut squash mixture over the noodles
Spread 1/3 of the sausage over the mixture
Spread a little of the white sauce over the sausage
Repeat: 4 noodles, 1/3 butternut squash mixture, 1/3 sausage, a little white sauce
Repeat again: 4 noodles, remaining butternut squash, remaining sausage, remaining white sauce
Top with shredded mozzarella
Cover with foil and bake at 375 degrees for 40 minutes. Remove the foil and turn on the broiler just until the cheese is totally melted and starting to brown.
Enjoy!
Notes: I would definitely go with the mild Italian sausage here. Hot would overpower the other ingredients. Also, regular lasagna noodles will work, but the whole grain gives it a slight nutty flavor that pairs really well with the butternut squash.