Thighs and drumsticks and breasts, oh my! We're getting into one of my ultimate weekend prep loves: roast chicken. A single chicken cooked on Sunday afternoon easily feeds my family for three dinners and generally 1-2 lunches for Andy…and all for around $7.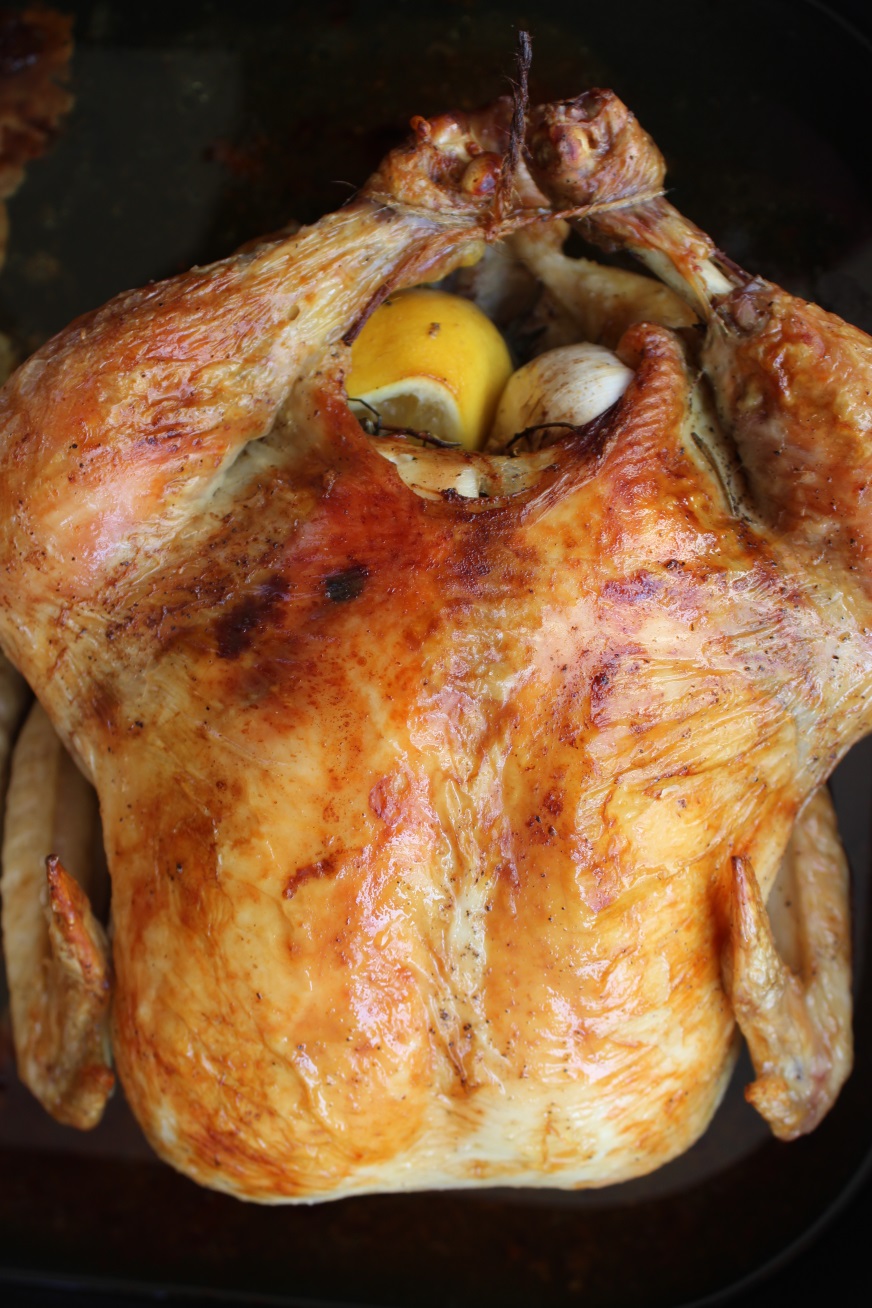 When it comes to whole chickens, where are you? Do you get excited like late-20s/early-30s me with the knowledge that one little bird goes so far with so little work? Or are you like early-20s me, and the thought of cooking a whole animal seems very overwhelming? The truth is, it's only been in the last few years that I've embraced the whole chicken, and I'm so glad I did because the time and money money money it saves is right up my alley. Here's how we generally break this down, so that we get three meals (there are dozens of other ways we use it, but here's last week's use):
Night one: eat the dark meat as is with sides of potatoes and kale
Night two: shred or chop one chicken breast for quesadillas (enough for a lunch 'dilla, as well)
Night three: shred or chop the other chicken breast to put over salad
The chicken is good for several days, so we don't eat it in three consecutive nights…meaning we don't get tired of it.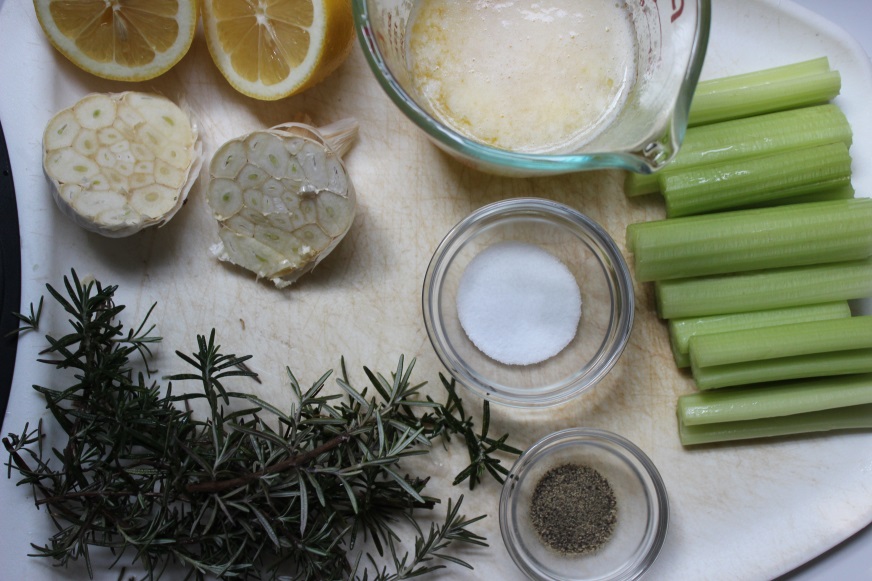 Oh – and the flavor! I'm on paragraph three, and haven't even discussed the best part. Roasting a whole chicken is hands down the way to get the juiciest chicken ever. Even the breast meat <– and that's saying a lot. So many people are just ho hum about chicken, but it's because they've only had ho hum chicken. Roasting it locks in the flavors, and is anything but boring.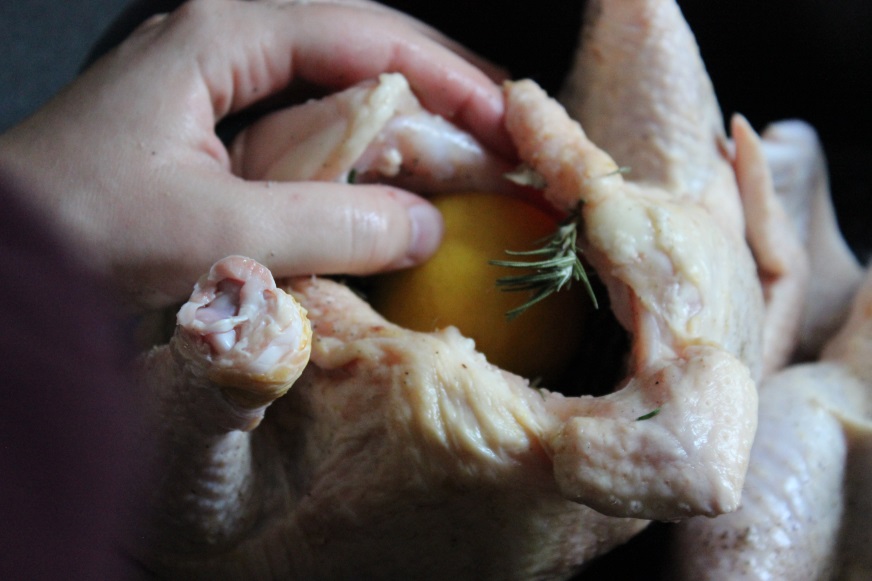 The most versatile way for roast chicken that you're using in other recipes is to simply stuff the cavity with celery. The chicken does not come out tasting like celery, but the celery provides plenty of moisture to keep it nice and juicy. The other way I do roast chicken is by stuffing it with lemon, garlic and rosemary. This preparation is better IMO if you're eating it as chicken and not part of another dish. The flavors infuse so beautifully, and the pan juices can be used to make a delicious lemon sauce.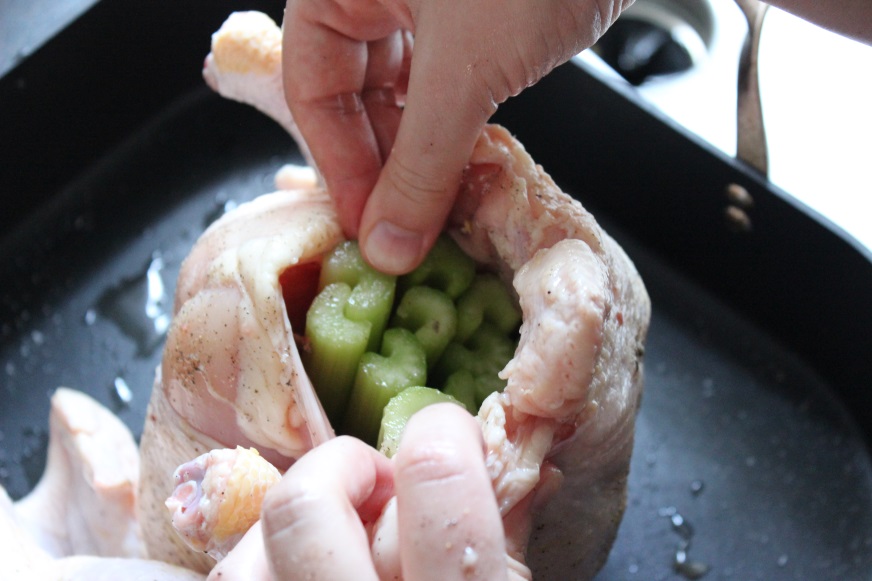 So, obv, the pictures in this post show how I roast chicken two ways, so the pan was pretty full.  If I'm only roasting one chicken, I'll generally throw in diced potatoes to cook with it, and have a nearly one-pan dinner situation. If you want to go that route, the chicken prep/cook time is no different, but you just arrange the diced potatoes around the bird and drizzle with a little olive oil, salt and pepper. I don't usually roast two at a time, but am starting to do that more now that I'm stocking our freezer for once the new baby is here. Y'all. Roast chicken freezes beautifully and is just as juicy and delicious as fresh out of the oven. To freeze, I just roast the chicken and then carve it into the servings I would use throughout the week (leg/thigh combos and individual breasts). I put them into freezer bags and into the freezer once they're totally cool. The key for using after frozen is to let them thaw in the fridge for 1-2 days before using them.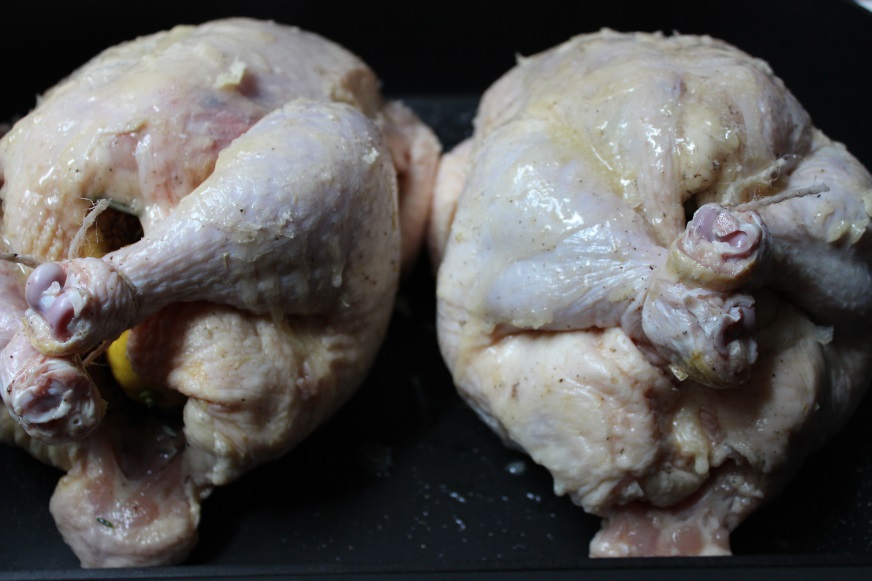 As far as roasting pans go, you don't need an "official" one to do this because we don't use the rack in this preparation. Just an oven-safe pan with high sides is fine (though if you use a cast iron dutch oven the cooking time may vary because the pan would cook from the sides as well). We got this one as a wedding gift from one of my favorite families on Andy's side, and use it at least once a week for things other than just chicken. If you want one, I would definitely suggest it.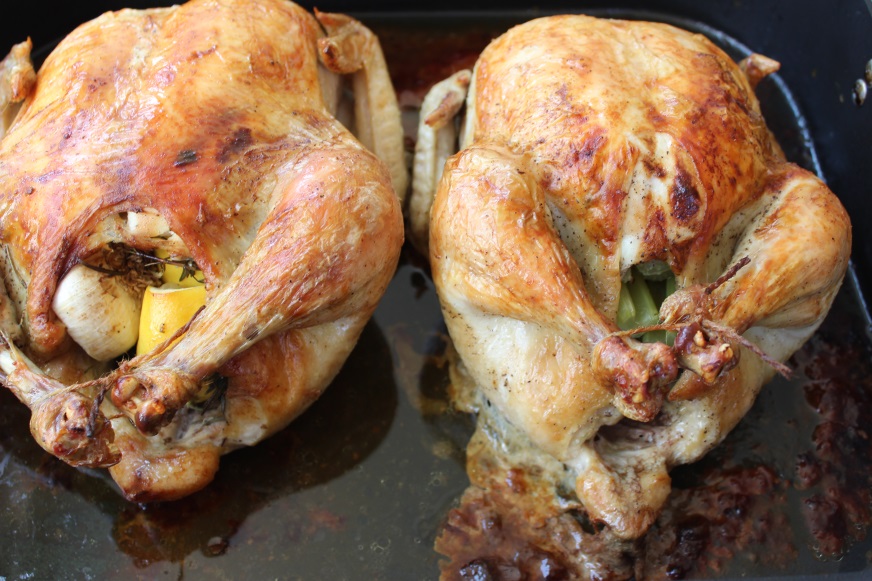 The recipe below is for ONE chicken, so make sure to double it if you want to roast two at once**. I'm giving the ingredients for the lemon/garlic/rosemary preparation because the amounts of those are more specific, but if you want to go the celery route, just replace those items with celery pieces (about 4 stalks should do the trick). Do you have other combos you use for your roast chicken? I'd love to hear them!
Roast Chicken – Two Ways
Ingredients:
4-5 lb whole chicken
4 tbsp (1/2 stick) butter – melted
Salt and pepper
1 lemon* – cut in half
1 head of garlic* – cut in half
8-10 sprigs of rosemary*
Directions:
Remove chicken from the refrigerator about 30 minutes before putting it in the oven.
Preheat oven to 425 degrees.
Dry the chicken with paper towels, and remove the giblets and neck.
Season the inside of the cavity with plenty of salt and pepper (about ¼-1/2 tsp, but you really can't use too much here).
Stuff the cavity with the lemon, garlic and rosemary* – gently squeeze juice from one half of the lemon just a little bit.
Place the chicken breast side up and season with more salt and pepper – just eyeball it, but I'd say about ¼ tsp.
Brush the chicken with half of the melted butter, and tie the two legs together.
Roast in the oven for 30 minutes, then brush on the other half of the butter.
Continue roasting until the chicken reaches an internal temperature of 165 degrees – about 45 more minutes.
Remove from the oven and let sit for at least 10 minutes before carving.
Enjoy!
*Replace these ingredients with celery stalks if you want to use the chicken for other preparations that don't necessarily work well with this flavor combo (think tex-mex).
**If you roast two chickens at a time, you may need to up the cook time by about 10-20 minutes. Just start checking the internal temp after it's been cooking for a total of an hour and 15 minutes.