Friends, I've got to be honest. I'm really lacking in words today. We're still coming down off of a great family beach week, and I'm missing the ocean something fierce. I guess reminiscing about these Cheerwine Ribs will have to get me through my withdrawal.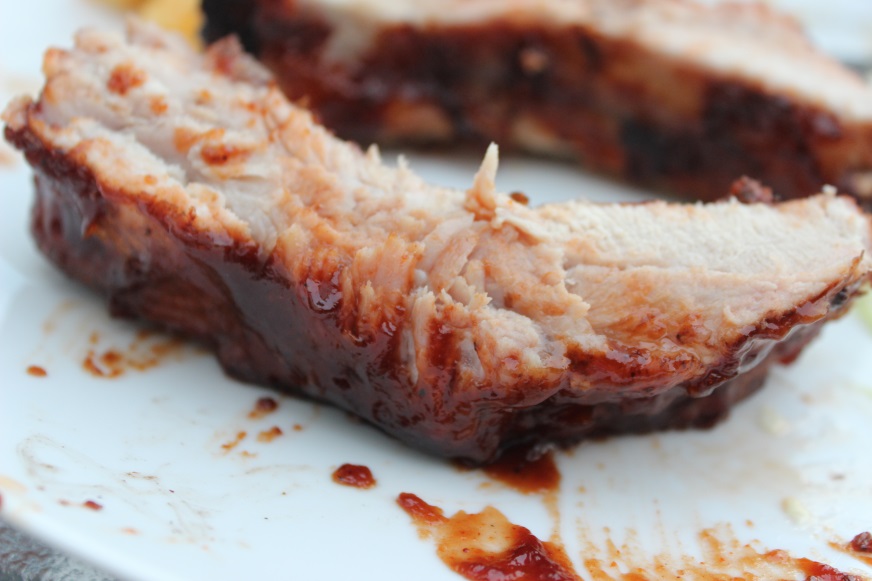 It also doesn't hurt reminiscing about the three cutest little helpers ever. You guys, Anna Ruth has woken up every morning this week asking for Jack and Abigail. These cousins love each other so much, and it makes my heart so happy when they're together. I'm terrible at remembering to take pictures on the beach, but I did actually snap a few the night we made the Cheerwine Ribs for this post. (Also, side note, I have so many pictures of these three from the back because it is nearly impossible to get all of them to look and smile at the camera at the same time – insert crying laughing emoji.) I'll try to post beach pics from my mom at some point because it would be cruel to deprive you of the cuteness that is three look-alike blonde babies playing on the beach.
Back on topic. Y'all, we're just three ingredients away from the juiciest, fall off the boniest, sauciest ribs ever. Count that – 1.2.3. Ribs. Cheerwine. Barbecue sauce.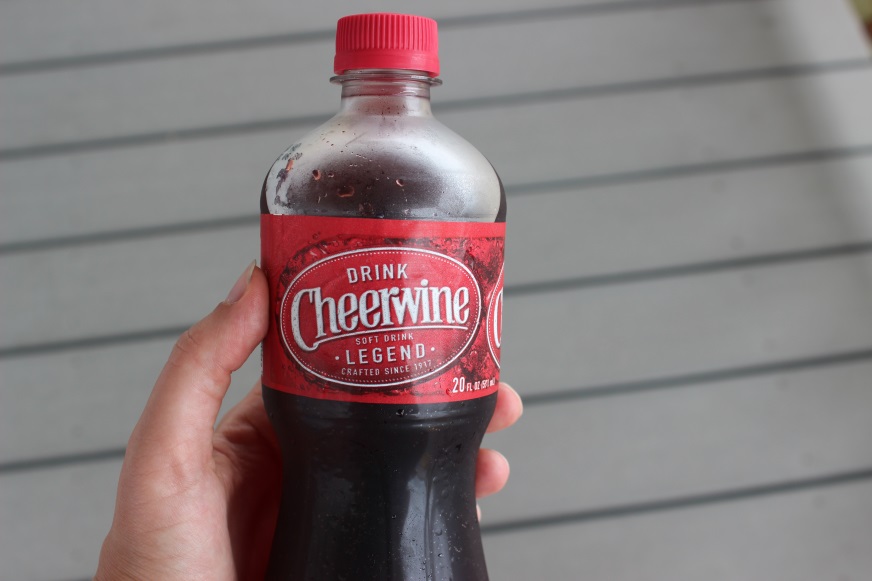 When my family goes to the beach we're not out to eaters. We're stay in and cookers. While we're beaching it, the trend in our family is slow cooking and prepping as much as possible during naptime. Prepping/slow cooking during naptime = more outside playtime before dinner.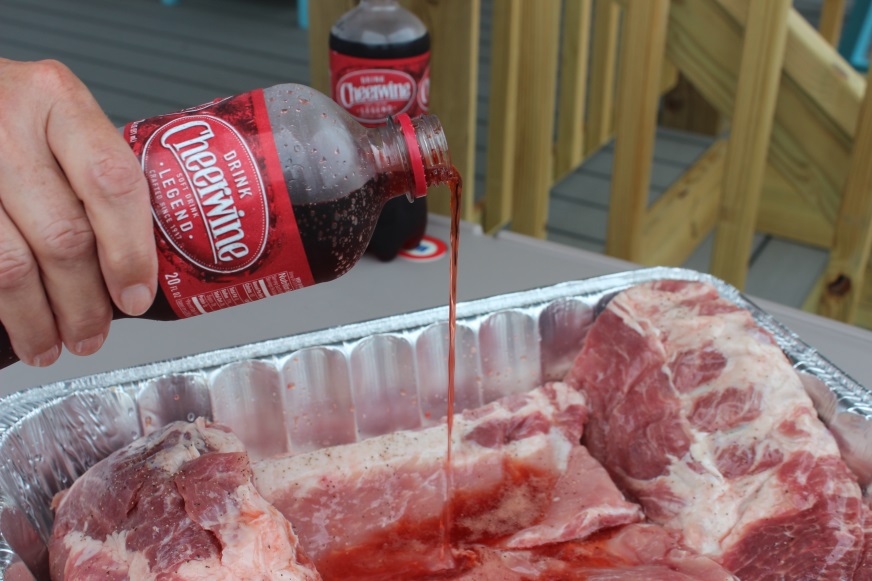 I'm sure you've all heard of another type of ribs with a famous soda, but, y'all, we live in North Carolina aka Cheerwine country, so I thought that would be delicious. I was right (as usual).
Other than your three ingredients (plus s+p and water), you only need two things to make these Cheerwine Ribs: an oven and 1-2 grill masters. If you've read the About Me page of the blog, you may remember that I don't grill. It's just not my thing. However, Andy and my bil Tim do, and they generally don't mind when we send them outside to show off their skills and enjoy a beer without three kids treating them like jungle gyms.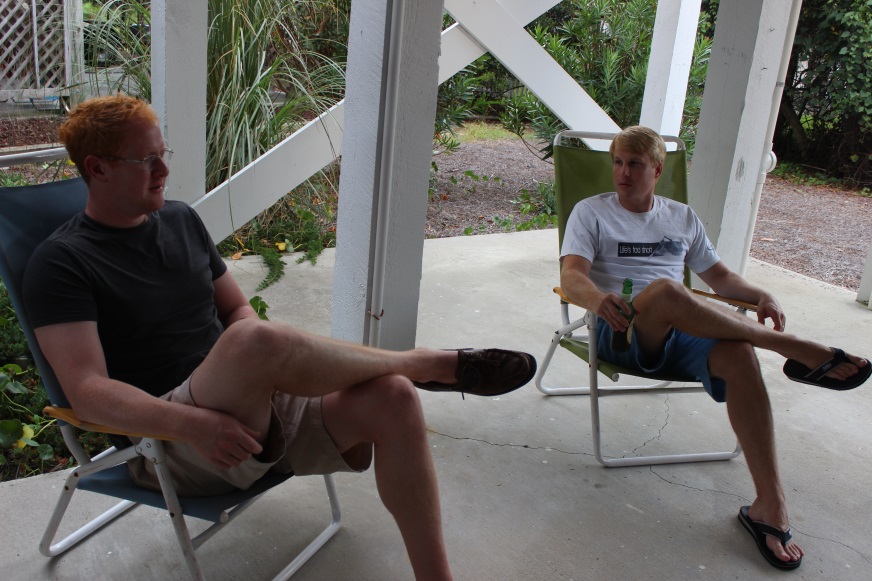 These Cheerwine Ribs are so super simple. All you do is season, cover in liquid (Cheerwine + water), cook low and slow in the oven, and finish on the grill with the sauce. The sauce here is whatever you want it to be. Given that the cooking liquid is sweetened from the Cheerwine we went with a spicy barbecue sauce, which was perfect. We will occasionally make our own, but I find the store bought to be best for ribs because it's so much thicker and really sticks to the meat.
Let's talk about the grilling portion for just a minute. Tim is VERY specific about this. First, you grill the ribs on both sides without any sauce, then baste the bottom side, flip and baste the top, then remove from the grill. You don't want to turn them several times with the sauce. Barbecue sauce is sugary. Sugar burns on the grill. Too much sugar burning = too much rib burning = not what you want. Here's what you're looking for…
Top side up – no sauce
Flip/top side down – baste the bottom
Flip/top side up – baste the top
Okay, I guess I had more wordsssss than I thought, so I'll get on with it and leave you with the recipe. Please make these soon and let me know what you think!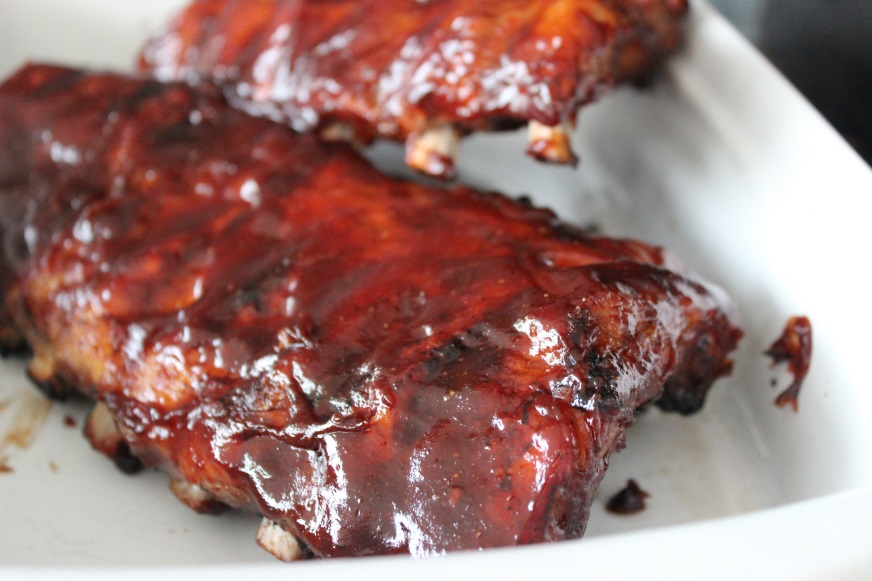 Ingredients:
2 racks pork ribs
20 oz cheerwine
Barbecue sauce (we like spicy)
Directions:
Preheat oven to 275 degrees.
Cut ribs in half so you have four sections, and place into baking pan large enough so they are not above the rim. (We use an aluminum baking pan that we just toss once we're done.)
Season both sides of the ribs with salt and pepper, then pour the Cheerwine over the ribs. Add enough water to totally cover the ribs.
Cover tightly with foil and cook in oven for 3 hours.*
Remove from the cooking liquid and heat your grill to medium.
Place ribs bottom side down, flip after 5 minutes, baste the bottom side, flip after 5 more minutes, baste the top side and cook for an additional 5 minutes. Remove from the grill and cut into desired portions (we do 2-3 ribs per person, and the guys generally get seconds).
Enjoy!
*Put your baking dish/aluminum pan on a baking sheet that is slightly larger than the pan so that any liquid that may escape will fall onto that rather than the floor of your oven.