Stepping off of the freezer meals this week, and bringing you one of our favorite slash easiest slash cheapest weeknight dinners turned workday lunches ever. I'm talking about oven fajitas. With tons of veggies and lean protein, what we have here is one weeknight dinner of fajitas with all the fixins and two days of fajita bowl lunches ready to go with minimal work.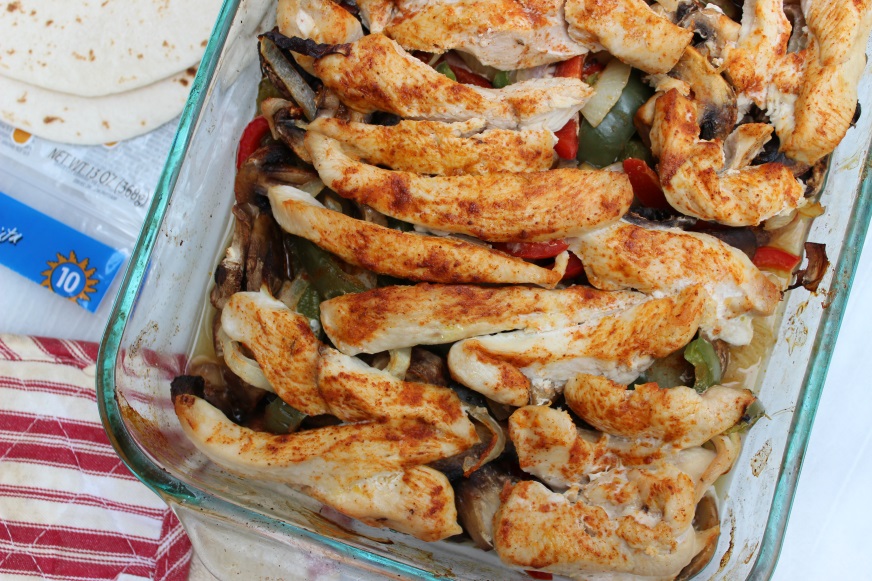 You've seen oven fajitas on Pinterest for a while now, and I can't really claim these to be very far off except maybe the addition of mushrooms? And taking them a step further by throwing in the whole meal prep thing?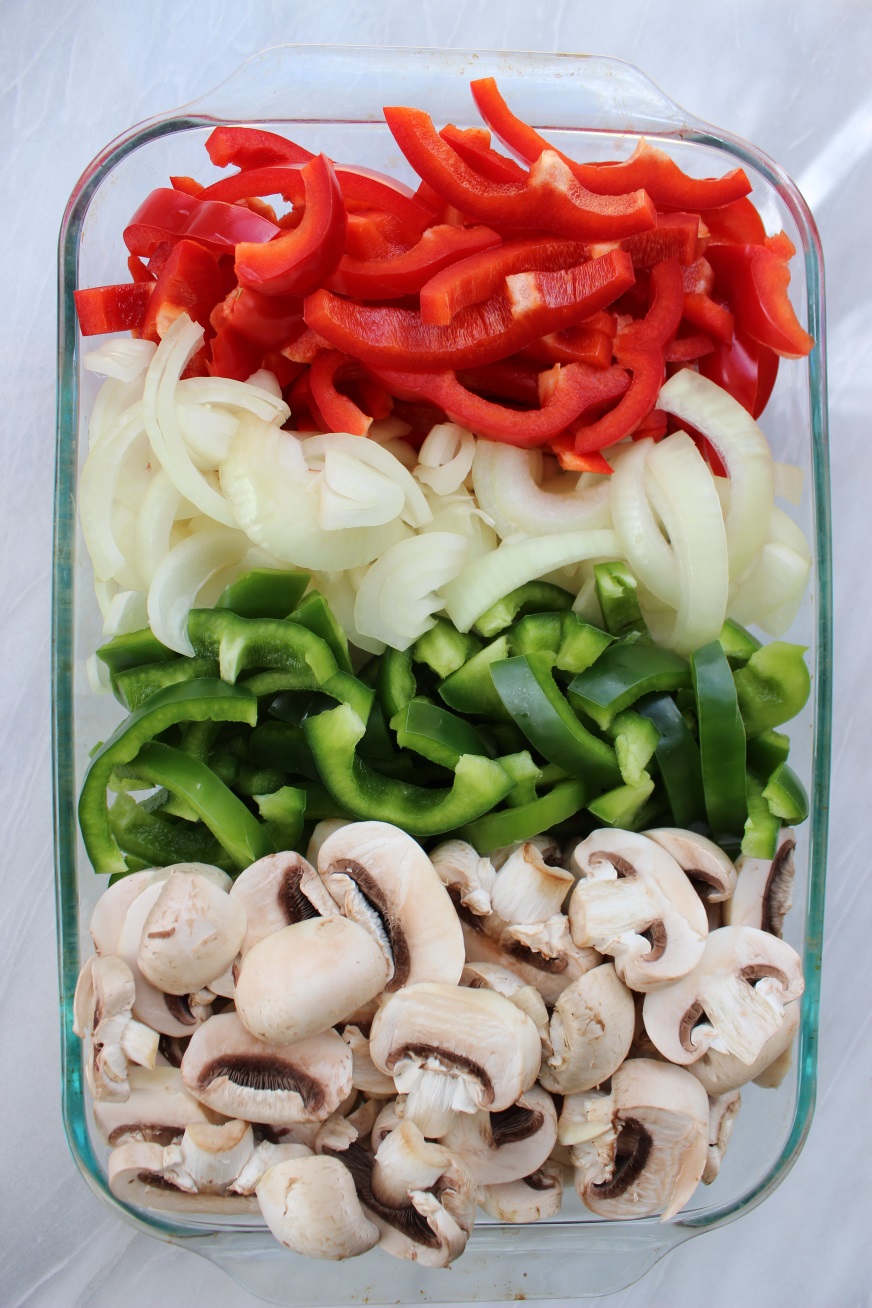 I first need to discuss the ease of the whole oven fajita sitch. I generally plan to have these on a Monday night, so we get dinner Monday and lunches on Tuesday and Wednesday out of the way, and I generally prep it on Sunday. While I'm already in a veggie chopping groove after making our weekly veggie bags, I just finish up with the veggies for these oven fajitas. If you really don't like veggie prep, you can buy most of these pre-chopped. I'm just so used to chopping things that it doesn't take me more than 5-10 minutes, but if you need to save a little time then the prepared veggies are the way to go. Once I have everything ready, I just leave them covered in the baking dish for the next day. When I'm ready to cook the oven fajitas, I add the chicken, olive oil and seasoning. (Also – helpful hint – have the meat guy at your grocery store cut the chicken breast for you to save extra time and mess.)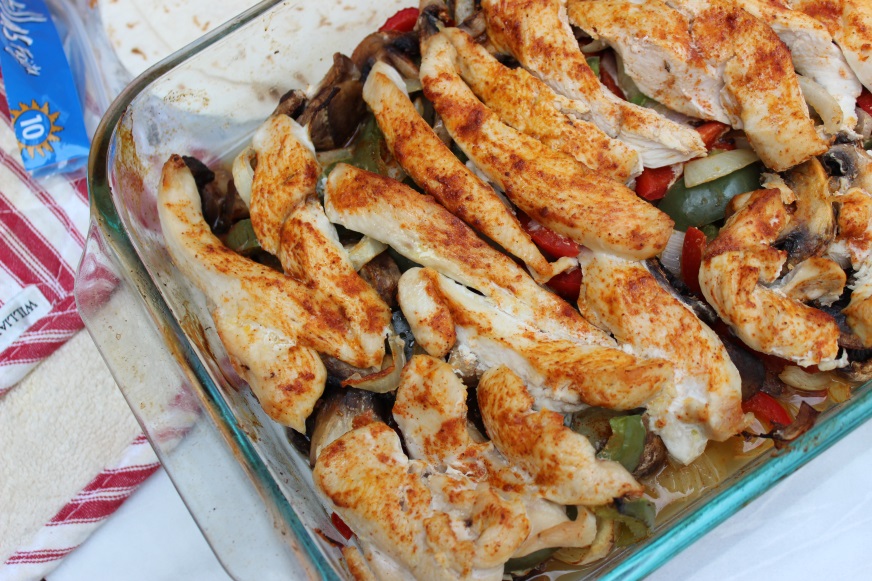 While we generally just do standard fajitas for night one – chicken, veggies, tortillas, cheese, sour cream, salsa, avocado – I prepare other ingredients for the fajita bowls that we'll have for lunch. While the oven fajitas are cooking, I make white rice (any rice works, but my rice cooker is a one-trick pony) and beans and corn for the fajita bowls. The beans and corn are just cooked with a little of the same taco seasoning as the oven fajitas, and really just need to be heated up to cook out the powderiness (word?) of the seasoning.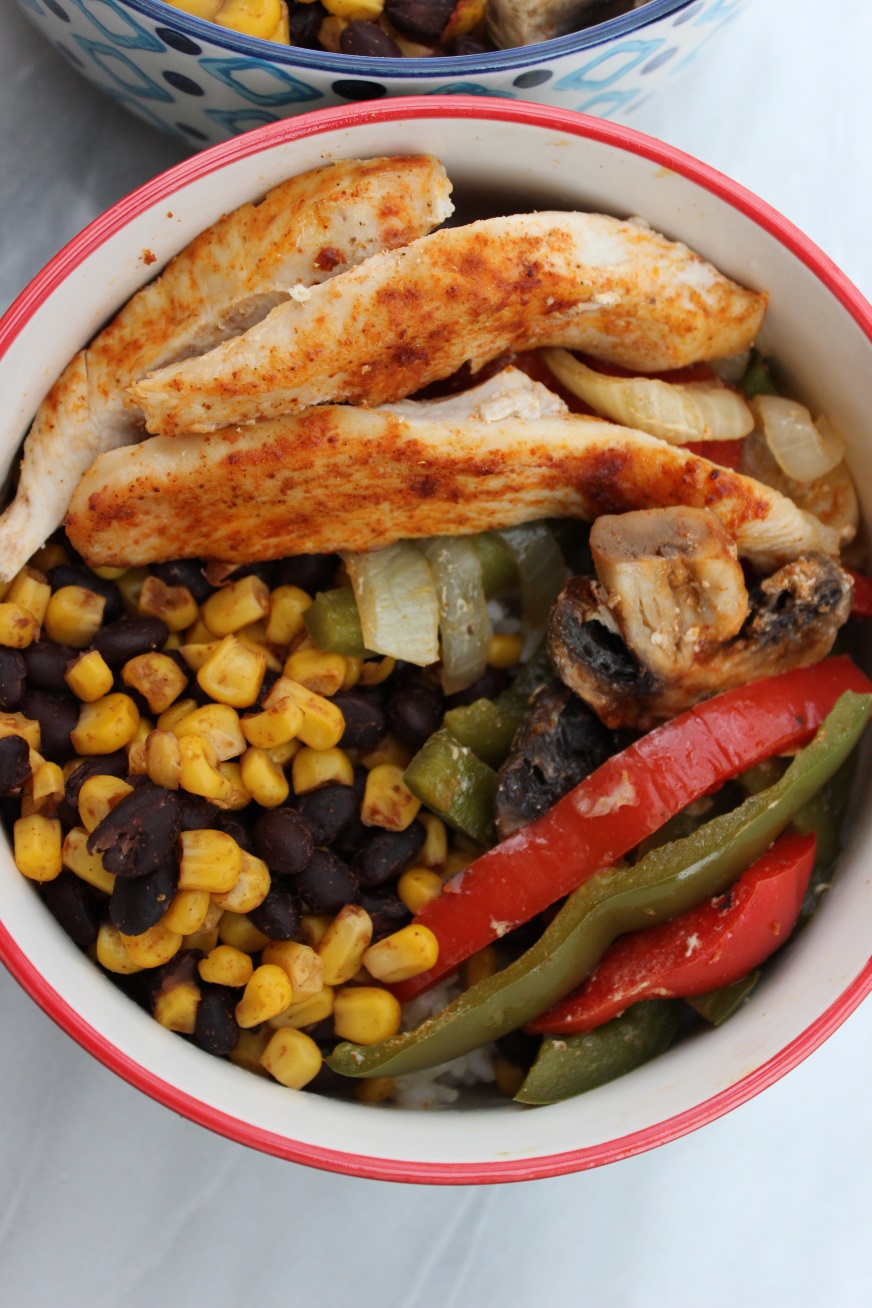 As written this recipe makes a ton, but that is because I want to get those three meals out of it. The fajita bowls look like a lot of food – and they are – but it's mostly veggies and protein, so the calorie count is still in the 400-500 range (including a serving of shredded cheddar and sour cream). You can change up the amount of veggies and chicken used to cut down on the number of servings, but when you can get so many easy meals out of it, why in the world would you?
Oven Fajitas
Ingredients:
3 chicken breasts – cut into strips (get your meat counter guy to do this)
3-4 bell peppers – cut into strips (I use 2 green and 1-2 red depending on what I have on hand)
1 large or 2 small yellow onions – sliced
1 lb white mushrooms – sliced
1 tbsp olive oil (plus more to drizzle over chicken)
1 tbsp taco seasoning (plus more to drizzle over chicken)
For fajitas: tortillas, optional toppings (avocado, salsa, shredded cheese, sour cream)
For fajita bowls:
Cooked rice
One can EACH beans and corn
A little taco seasoning
Directions:
Preheat oven to 400 degrees.
Slice all veggies and combine in a baking dish. Add the olive oil and taco seasoning, and mix well.
Place the chicken strips on top of the veggies. Drizzle with another 1-2 tsp oil and taco seasoning, and rub over to make sure each piece is covered.
Bake uncovered for 35-45 minutes, or until chicken is done.
To make fajitas: serve chicken and veggies with tortillas and toppings of choice.
To make fajita bowls:

While oven fajitas are cooking, prepare the rice.
Rinse and drain the black beans and corn, then cook in a skillet over medium heat with about 2 tsp taco seasoning. I just cook them long enough to let the water from rinsing cook off.
Assemble the bowls – place rice in the bottom, top with bean/corn mixture and then the oven fajitas mixture. Add any additional toppings as preferred.

Enjoy!