We're going in a new direction on the blog today. A cheesy, meaty, saucy, doughy direction, and I'm loving it.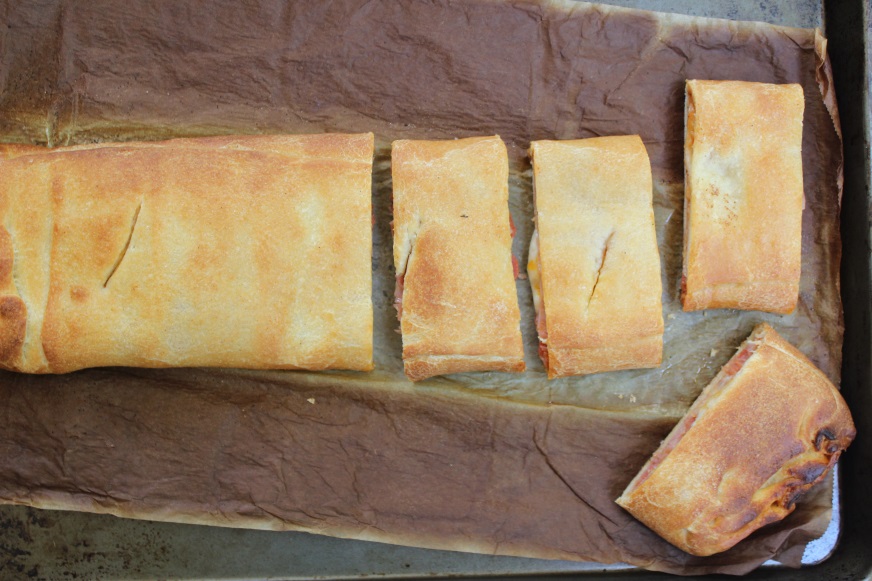 I'm calling this "basic" stromboli for several reasons:
It's the standard ham, pepperoni and mozzarella combo you'd order at a pizza place
It's the jumping off point for dozens of other strombolis made with whatever toppings you like
It is so BASIC and easy that I almost feel silly sharing it and calling myself a food blogger
It is so BASIC and easy that it is my duty as a food blogger to share it with you
Points 3 & 4 –> glimpse of how my mind works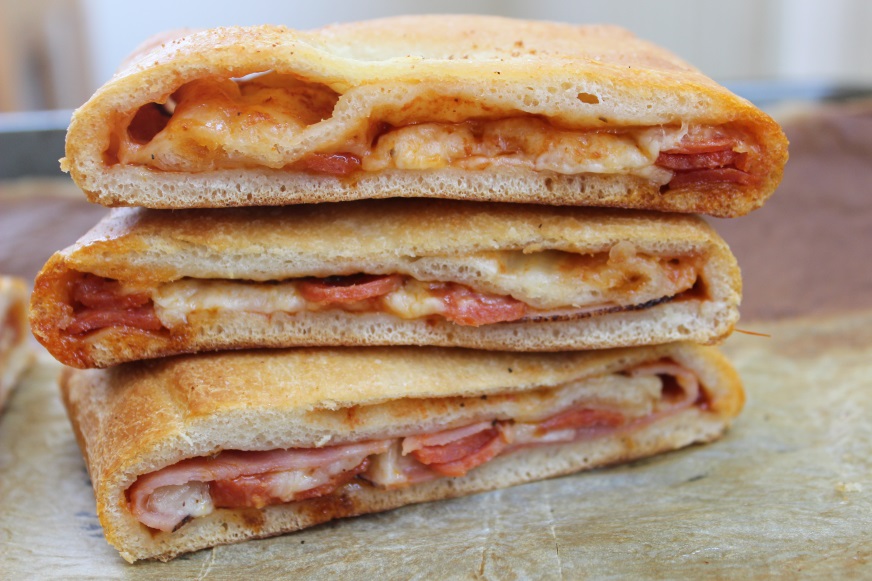 Guys, this stromboli is probably the easiest weeknight meal we've ever had, and that includes take-out. You only need five minutes of prep – count that 1.2.3.4.5 – and then you have a delicious dinner in the oven, ready in 15-20 minutes. It's kind of like pizza, but in a form that is way more fun to eat (i.e., it's dunkable). If nothing else the Peascoes are sauce lovers. Marinara, ranch, red pepper sauce. You name it and we'll probably want to try it. Stromboli is the perfect vessel for all of your dunking needs.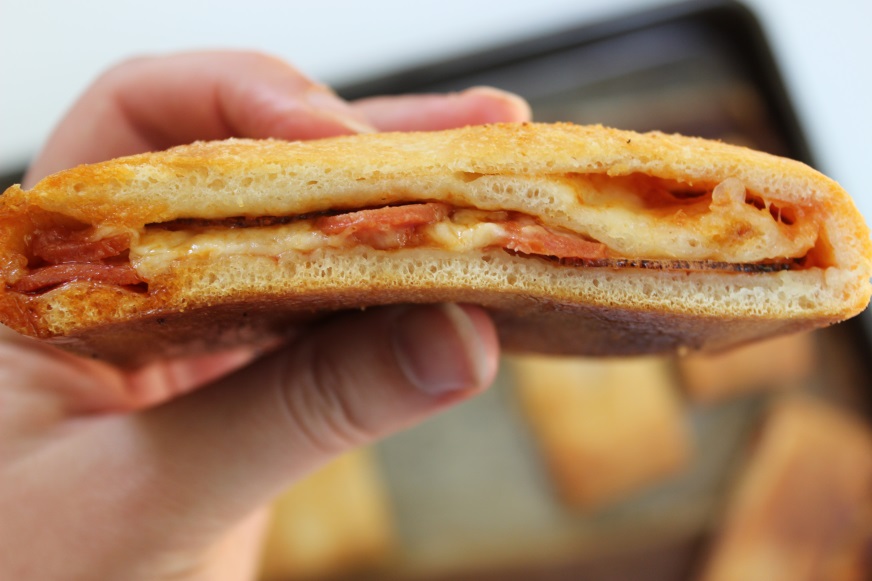 In addition to being a great weeknight meal, this is also a great picky eater kid friendly meal. Remember my favorite little 4-year-old, Abigail? Girlfriend doesn't like much, but of this stromboli she said, "this is the best thing I've ever had." BOOM. Abigail approved, so just trust that means it literally is one of the best things you'll ever have.
Let's look at the cast of characters: pizza dough, pizza sauce, deli ham, pepperoni and mozzarella. I recently found this brand of pizza dough at Harris Teeter, and I can't go back to the more well-known, blue tube brand (find it in the same refrigerator as the tubes of biscuits and other dough). Any rectangular dough will work, but if you have access to it, I highly recommend. It's the perfect rectangle, and it even comes with its own parchment paper, so literally no clean-up afterwards. The sauce can be whatever brand you like, as well as the mozzarella. For the ham, I just use a cheap-o brand from the grocery store. Feel free to get it from the deli, but I've found that it really doesn't make a difference. Then there's the pepperoni. You can absolutely use regular pepperoni, but these minis are just so darn cute.
There you have it. My most basic of the basics stromboli. We've also made these with sausage and mushrooms, and that was equally delicious. These are so fun and easy, you can make any combination you want and it will be delicious. Let me know what other combinations you come up with!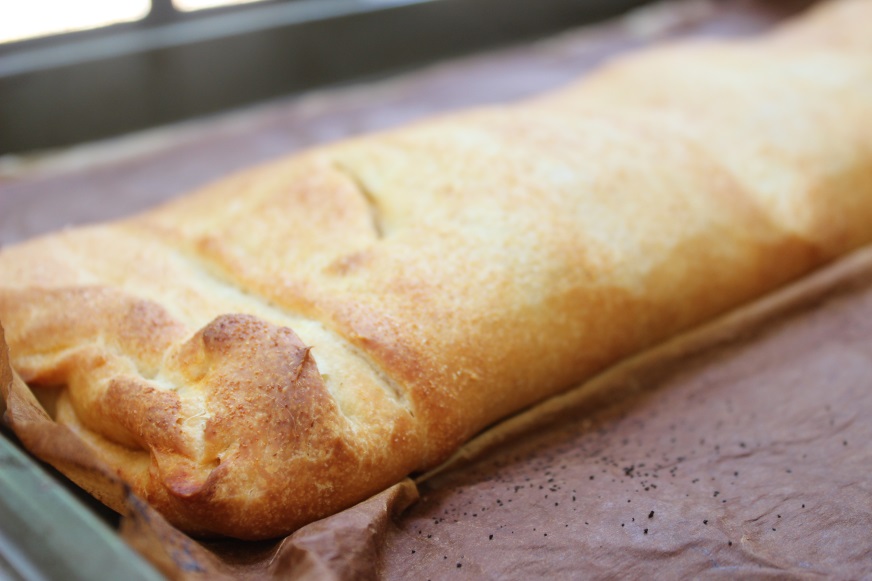 Ingredients:
1 roll rectangular pizza dough
¼ cup pizza sauce
6-8 slices thin sliced black forest ham
½ cup mini pepperonis
1 cup shredded mozzarella
½ tbsp butter – melted (optional)
Garlic powder (optional)
Directions:
Preheat oven according to your pizza dough instructions. Line a baking sheet with parchment paper (unless using dough that comes with parchment). Roll out dough.
Spread the pizza sauce over the dough, leaving about 1-2 inches along the top length.
Cover the sauce with a single layer of ham, followed by the mini pepperoni and shredded mozzarella.
Fold up the bottom third of the dough over the middle. Bring the top half down and seal it together. Seal the ends so the sauce and cheese doesn't ooze out while cooking.
Cut 3-4 slits in the top to let the air escape while cooking.
Optional: if you're feeling fan-say, melt a half tablespoon of butter and brush over the top. Follow that with a light sprinkle of garlic powder and salt.
Bake according to your pizza dough instructions. The top should be golden brown and juices bubbling out of the slits.
Cut into eight pieces and enjoy!
Notes: we like to dip ours in marinara sauce or ranch – YUM!