As promised, I'm coming at you today with my first recipe for Miss Foodie Two Shoes!  I've been going back and forth (and back and forth) for quite some time trying to decide what I should post first.  To be honest, we make so many different things, and our favorites change all the time, so instead of coming with a "signature" dish, I'm sharing a staple we come back to time and time again.  This dish is great for company, and it's what I make to take to friends with new babies almost 99% of the time – and if you've received a meal from either my mom or sister, then this is probably what you got.  It comes together so quickly.  Like, literally, the sauce is done before the pasta water even comes to a boil, so then you find yourself annoyed that you have to actually wait for the pasta to cook and have to restrain yourself from eating the sauce with a spoon…No?  Just me?  I introduce to you 5 Ingredient Lemon Basil Spaghetti.  First though – three major things I learned while creating this first recipe post:
I cannot do natural light photos in the afternoon at my house. I simply have to shoot on the weekends so I can use the light we get earlier in the day.
I'm really excited to learn how to use a natural light simulator for those times when natural-natural light isn't an option.
I need (a LOT) more practice, and I hope to revisit this post in the future once I've improved my skills.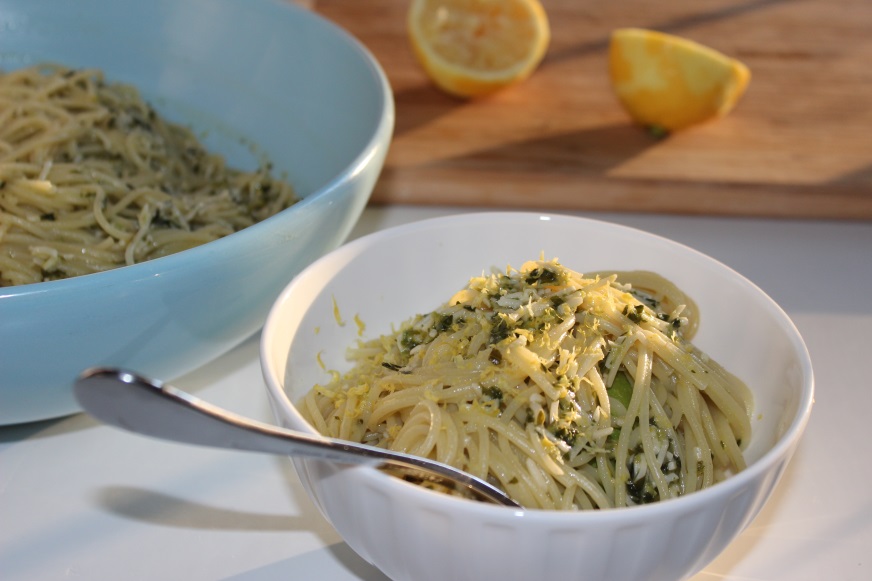 This picture doesn't do it justice, so you'll just have to trust me.  You guys, this stuff is so easy to put together and it is SO good.  It makes a ton, so I like to make it for dinner at the beginning of the week and eat on it for lunches and at least one more dinner.  <—- That last part isn't true.  I always have full intentions of having it for another dinner, but I end up taking a few bites here and there until there's definitely not enough for a meal, so it just makes sense to finish it as a snack.  I need help.  Seriously, though, this is one of those dishes that I eat straight out of the container with the fridge door open.  It's one of the few things that I can't decide whether I like better hot or cold…and if you know me, you know I'm allllll about hot food.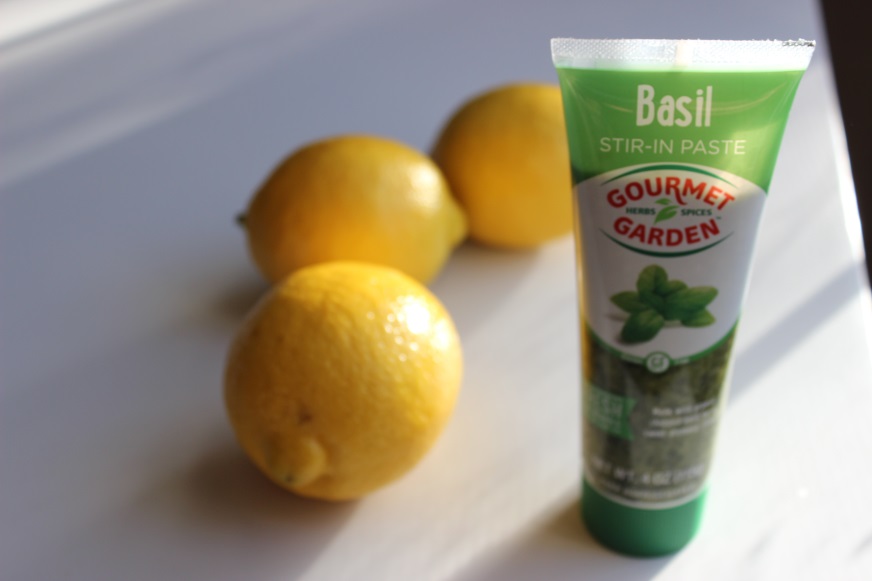 You're only working with five ingredients here (not including salt and pepper), so they have to be good. The key here is the tube of basil.  I use the Gourmet Garden brand, and it is equal to three bunches of basil.  I'm sure you could do this with fresh basil, but it would just take longer to prepare.  Also important here is the lemon zest and juice.  In a pinch you can use lemon juice from a bottle, but the zest plays a huge part in giving this that freshy fresh flavor we're going for.  Am I even allowed to say things like "freshy fresh" in my FIRST recipe post?  I'm so annoyed at myself right now.  Moving on…As with pretty much any pasta dish, you can use gluten free or whole grain pasta, or even any other shape, but y'all this really is best with plain white thin spaghetti noodles.  Sorry, not sorry.  We generally have this with grilled or panko breaded chicken breasts, but shrimp is also a really good addition to make it a main dish.  This week I marinated three chicken breasts in olive oil, lemon juice, salt, pepper, garlic and dried basil and baked them in the oven.  I'm making that stretch for this meal, two lunches and chicken phillies for dinner later in the week. So here we go – yay, first recipe!  I'll stop now, so you can go make this.  Once you have that first freshy fresh bite, you won't be able to stop – you've been warned…
Serves 8
Ingredients:
1 lb thin spaghetti
1 tube chopped basil (I use Gourmet Garden)
1/2 cup olive oil
3 lemons (zest and juice)
1 cup shredded parmesan cheese
Salt and pepper to taste
Directions:
Cook spaghetti noodles according to package directions.
While spaghetti cooks, zest and juice the lemons into a medium bowl. Add the basil.
Whisk in the olive oil to emulsify the ingredients together.
Stir in the shredded parmesan and season with salt and pepper to taste.
Drain spaghetti noodles, reserving about ½ cup of the cooking liquid, and toss with the lemon basil mixture. I generally add about ¼ cup of the reserved water, but add as little or as much as you want for your desired consistency.
Serve hot or cold! Store leftovers in the fridge for up to a week.