I'm absolutely giddy with excitement about today's post. Giddy giddy giddy. Let the floodgates open because after today I will be coming to you regularly with recipes for how to use your pulled pork shoulder (or butt). Friends, once you break into the "I smoke/roast/whatever my own pork shoulder" club, the possibilities are endless. Pulled pork Cubans, pulled pork quesadillas, pulled pork burrito bowls, pulled pork sweet potato skins, pulled pork barbecue salad, pulled pork loaded potatoes, pulled pork nachos, pulled pork pizza and of course, duh, pulled pork sandwiches with barbecue sauce. Byeeee guyzz, Miss Foodie Two Shoes is gone, and pork freak has taken over.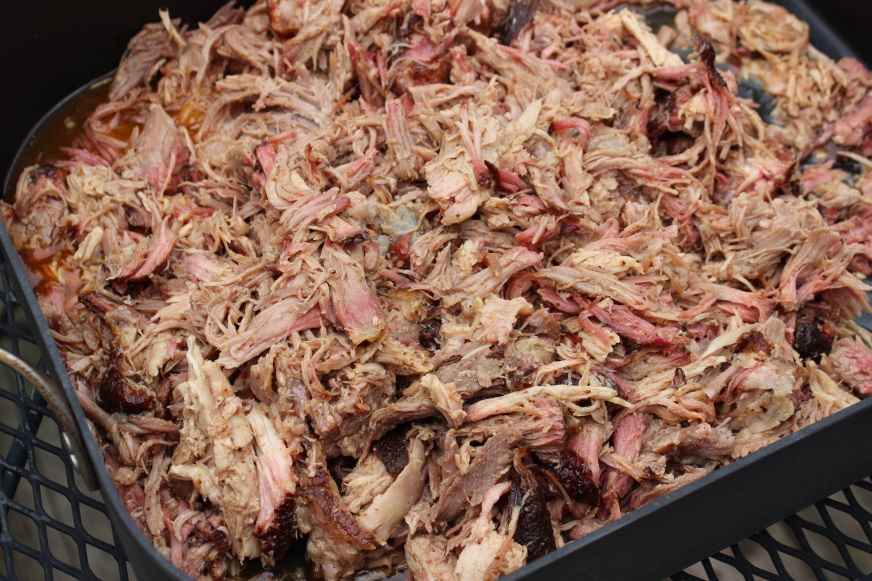 I probably shouldn't say this – being from NC and all – but I'm really not much of a "barbecue" kinda girl. I'm a "pulled pork" girl *winks*. Please don't kick me out! Thankfully this is my blog, and I get to make the rules around here, so…this recipe isn't for your standard barbecue with sauce. Sure, you can add sauce in any way, but this is the building block for so many other things you can do – plenty of which involve sauce – but this is just the base. The star here is the dry rub. It's got just enough cayenne pepper to be able to call it spicy without it being so overwhelming that kids can't eat it. You can cut the recipe in half for just one shoulder, but I usually just make the amount given and have one less step the next time we're ready to make one (<–lazy girl life hack right there, friends).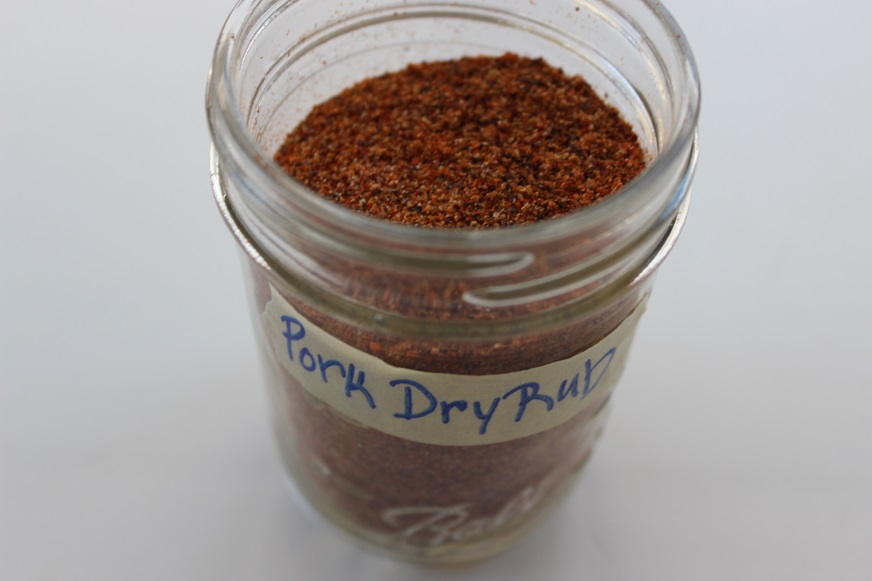 Whether you cook this outside/inside or completely inside, pork shoulders (or butts) are great for feeding a crowd or for stocking your freezer. We probably make about 3-4 per year that we eat ourselves. I simply freeze it in heaping two-cup portions, and we'll pull a bag out as the protein for a variety of dinners (see exhibit A above). I usually get 6-8 bags for the freezer, and each bag gives us dinner and lunch for Andy the next day. Yes, you need time for this one, but when you get that many meals out of it, I think it's worth it. Most recently we made a pork shoulder for a family birthday party for Anna Ruth. We did sliders with traditional sauce and slaw, and had a few other sides. We fed 15 people and had plenty of left overs.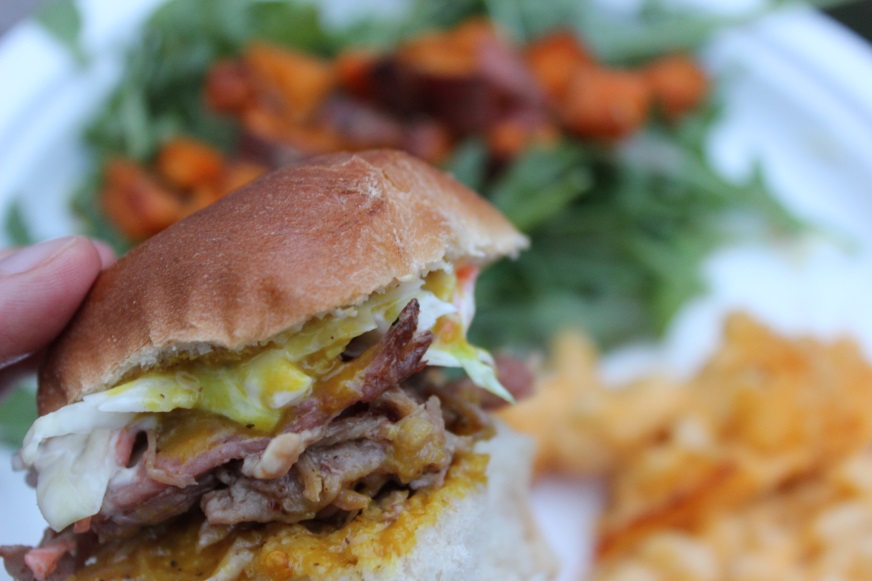 There are two main ways (in my book) that you can go about doing this:
Start the pork on a charcoal grill with woodchips of your choice then finish in the oven.
Sear the pork on the stove then cook completely in the oven.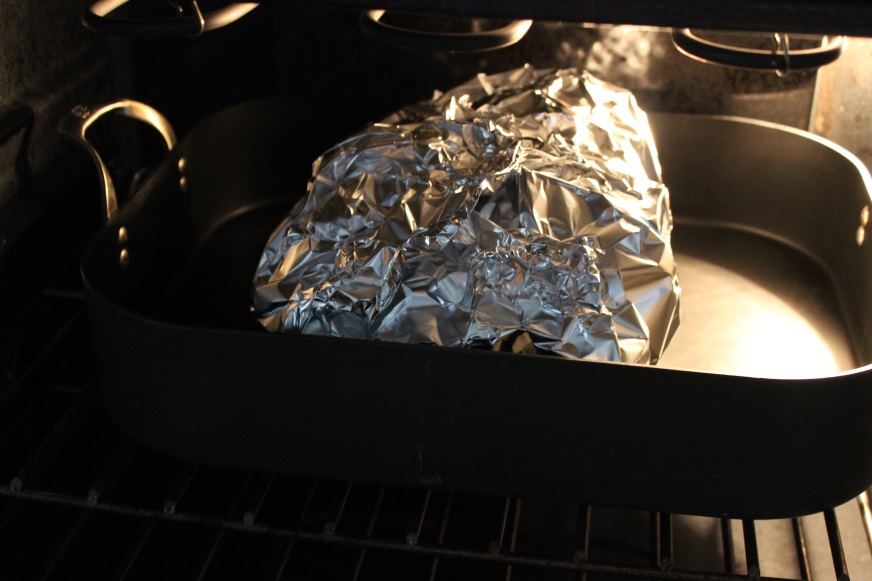 Both options come out really good, and TBH if I'm the one cooking I'm 100% oven girl because I'm just not comfortable grilling. Andy, however, loves any opportunity to use charcoal and woodchips because the bulk of our grilling happens on our gas grill. The main difference is that cooking over woodchips gives you a smoky flavor, which is key for some people when they imagine pulled pork. Either way, you can't go wrong, so just do what feels right. However you cook it, the shredding process is the same. I found these meat claws on Amazon last year, and bought them for Andy and my father-in-law as stocking stuffers for Christmas. At first I just thought they were hilarious, so obviously worth the $8.80, but they actually work really well! Forks get the job done, too, but then you miss out on shredding like a bear would. Need a guy to shred a ton of meat? Give him these claws and let him go to town.
I need to comment on the "optional" apple juice mixture you'll see below in the ingredient list and cooking instructions. My fil introduced us to the method of injecting the juice into the pork last summer, and we can't go back. It's more or less a brine from the inside out. If you don't have an injector, don't worry – this will still turn out really good. The juice just adds even more juiciness to the finished product.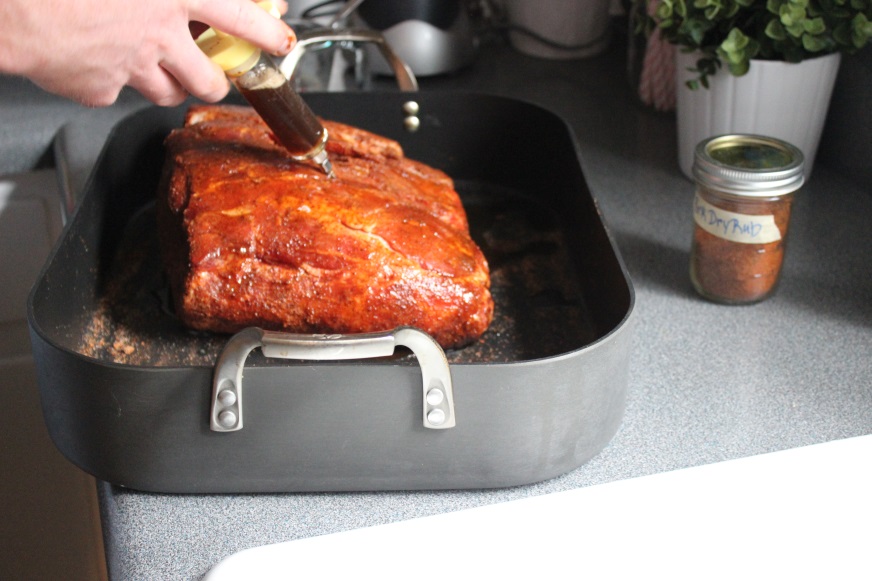 One note on the cook time: it will vary depending on how big your cut is. The key here is to make sure the pork gets to 190-195 degrees. Yes, people generally say pork needs to get to 160, and while this is true, it will not shred the way you want it to until it has reached that 190-195 mark. Trust me on this. I did the research several years ago when we had a shoulder that was several pounds over what was called for in the recipe I was using.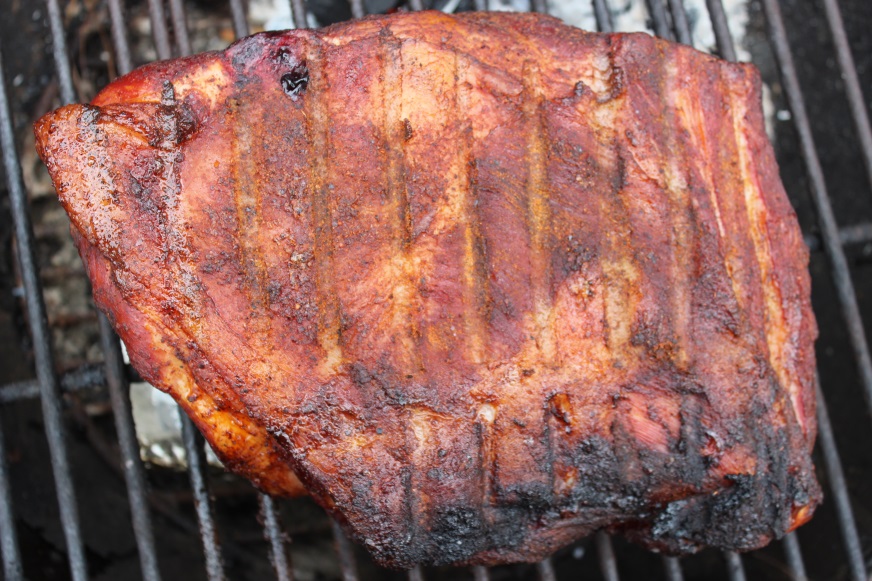 I'm including cooking instructions for both starting on the grill (smoking) and starting on the stovetop, but the pictures are from the grilling method. Enjoy!
Ingredients:
5-7 lbs bone-in pork shoulder (or 4-6 lbs boneless)
Injection Mix (optional):
¼ cup apple juice
2 tbsp brown sugar
2 tbsp salt
1 ½ tsp EACH: soy sauce, Worcestershire sauce
Dry Rub*:
2 tbsp EACH: cumin, brown sugar, chili powder, paprika, salt, pepper
2 tsp cayenne pepper
½ tsp onion powder
1 ½ tsp garlic powder
Directions:
The night before you plan to make this, combine the dry rub ingredients, and rub all over the pork. Place in a baking dish, cover with plastic and refrigerate overnight or at least 8 hours.
Remove pork from the refrigerator and allow to rest at room temp for one hour.
(Optional) using an injector, inject the apple juice all throughout the pork. You won't use the entire amount. You'll know you've done enough when the juice starts to run back out.
Prepare the grill: soak the wood chips in water for 20-30 minutes. Heat charcoal.
Grill over indirect heat (coals on one side, meat on the other) for 3 hours, turning every hour.
Wrap the shoulder in foil and finish cooking in the oven at 250 degrees for 1.5-2 hours, or until it reaches 195 degrees.
Once out of the oven, allow to rest for about an hour then use meat claws to shred the pork. Serve with barbeque sauce or use in any other way you choose! Enjoy!
**Indoor cooking instructions**
Follow steps 1-2 and 4 above.
Preheat oven to 325 degrees.
In a large dutch oven* or frying pan heat two tbsp vegetable or canola oil and sear the pork on all sides over high heat. Turn the heat down if it starts to smoke a lot.
Wrap the shoulder in foil and place in an oven safe dish.
Bake for four hours, or until it reaches 195 degrees.
Same as above – let rest then use meat claws to shred the pork and enjoy!
*I generally use about half of the dry rub, and keep the rest in a mason jar until we're ready to make another shoulder.