Today I'm testing the limits of what you will or will not let me get away with putting in your face.  In my mind veggie lasagna is *muah* but for some people lasagna with no meat is like pizza with no cheese….just let me speak my piece then decide.  #1 I mean, just look at it…
#2 This veggie lasagna is a crockpot filled with soul-warming comfort food at its finest with the health factor bumped up like a hundred notches.  I will admit some of the best lasagnas include a mix of ground beef and sausage, but I would rank this as being equally good.  Unless you're my husband (Andy, turn off the laser beams in your eyes)…he's, ummm, a meatatarian and makes no bones about the fact that he will begrudgingly eat a meal if it does not include some sort of beef, chicken, seafood or pork.  Don't get me wrong.  We do at least one meatless dinner a week, but when I try to slip a second one in there he preemptively gets hangry.  However, he actually liked this…like really really liked it – win!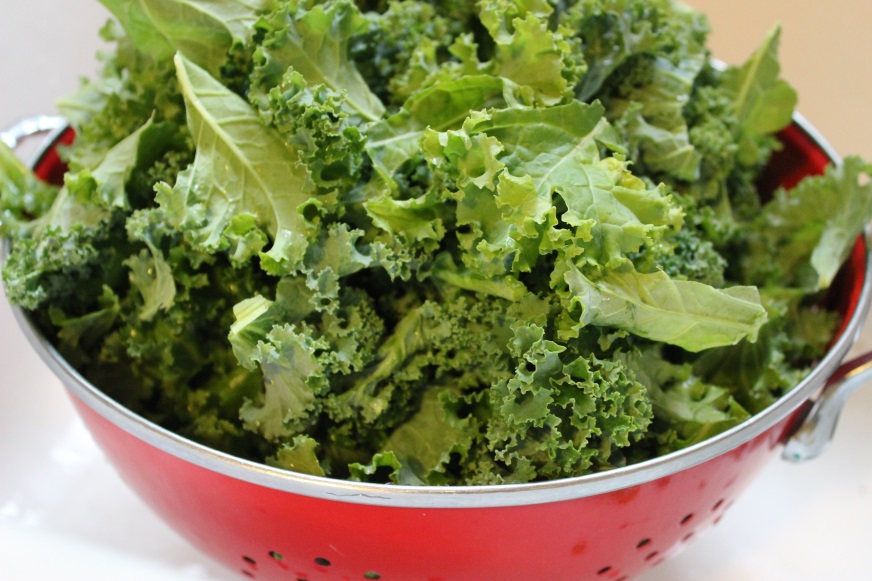 In the winter it's so easy to get sucked into eating heavy comfort food because it's so cold outside, and some days you literally feel like you'll freeze to death if you don't eat pot roast or stew.  I generally get about half way through winter like this before realizing, wow, I'm good on the animal protein, but could really use like a TON of veggies right now.  Enter this crockpot of noodley, veggie-filled love.  We've got loads of kale, cubed butternut squash and mushrooms.  Really, though, any veggies you have on hand can work here.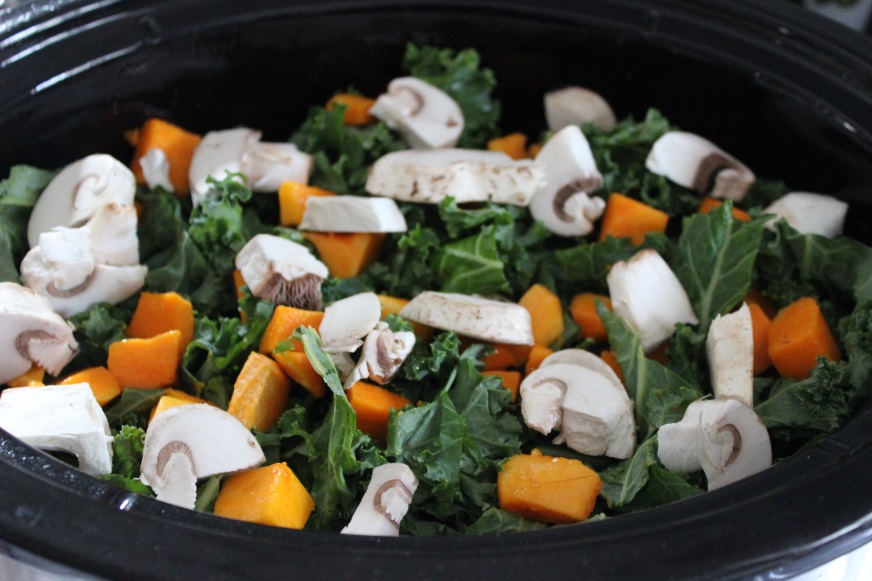 #3 You'll leave feeling all the feels of having traditional lasagna, but with the glow that can only be achieved by eating all the veggies…and all for just under 450 calories for an enormous portion.  I'll be honest, if you have a meatatarian in your life, you could easily add a pound of cooked ground meat (I would use sausage here because it goes really well with kale), and just use about 1/2 – 2/3 of the veggies.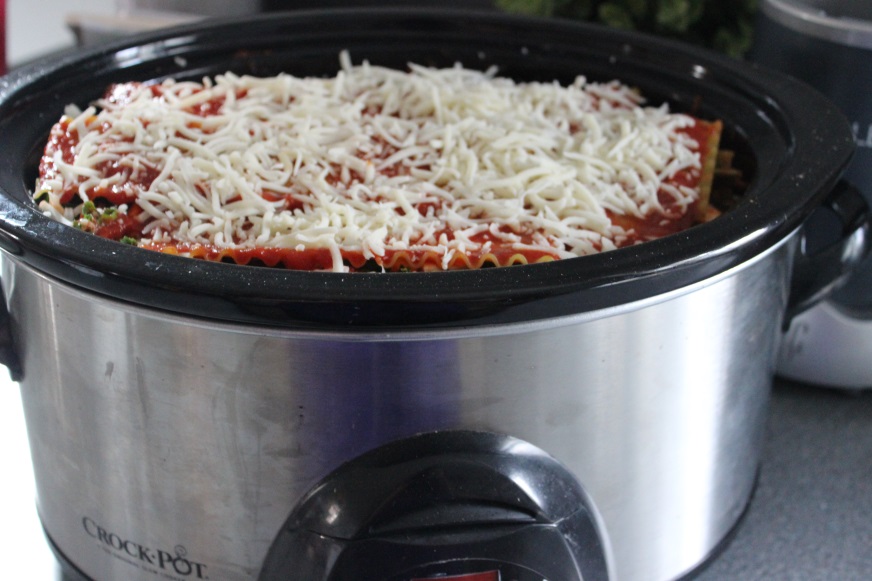 Let's talk about preparation.  This does take a minute to put together – hello, it's lasagna.  For me this is a weekend meal, or a dinner when I'm able to run home at lunch to put it together.  The biggest thing I need to stress about this is that once the cooking time is done, you need to let it sit, covered, for about an hour before digging in.  The extra hour of resting time really pulls everything together, and gives it the texture and hold-togetherness of lasagna.  Once you're done and this has been sitting for a while, you'll be able to cut pieces like you would a traditional lasagna that's been sitting, so you can go ahead and portion this out for your lunches for the week.  I've never tried freezing this, but I don't see why it wouldn't work.  If you do freeze it, let me know how it works out!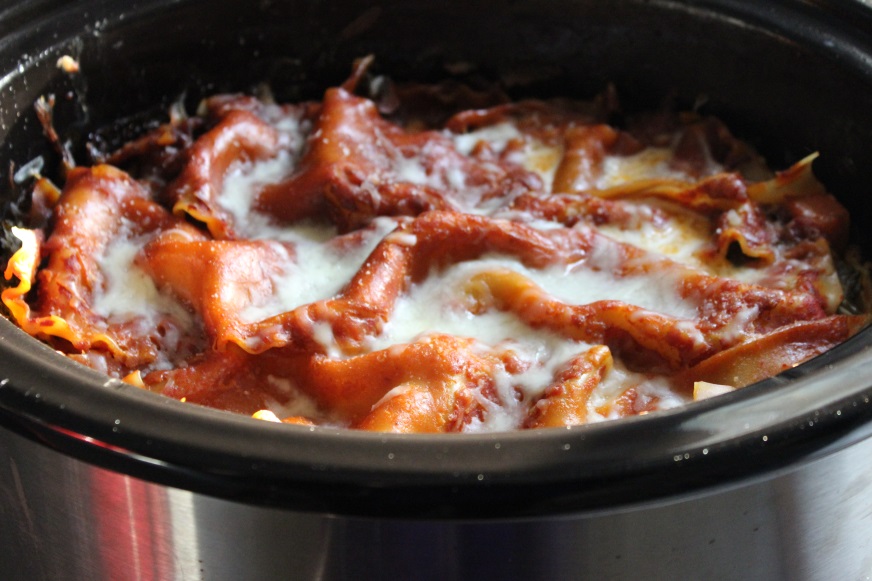 Serves 8-10 (447 calories per serving when divided into 8 portions or 358 calories for 10 portions)
Ingredients:
2 (24 oz) jars marinara sauce (you'll only use about 1.5 jars)
12 lasagna noodles (not the no boil kind)
24 oz part-skim ricotta cheese
2 cups shredded mozzarella cheese
3-4 cups chopped kale (packed)
3 cups cubed butternut squash
8 oz sliced mushrooms
Optional: garlic powder, oregano and black pepper (or any spice combination you prefer)
Directions:
Spray the crockpot with nonstick cooking spray, then add 1/2 cup of marinara sauce to the bottom.
Add 3 lasagna noodles to form a single layer, breaking the noodles to fit as needed.
Cover noodles with about a third of the ricotta then a third of each of the veggies.
Cover the veggies with 1/2 – 1 cup of marinara (depending on how saucy you like it), 1/2 cup of mozzarella and spices*.
Repeat steps 2-4 two more times then finish with one last layer of noodles, sauce and remaining 1/2 cup of shredded cheese on top.
Cook on high for 3 hours or low for 5-6 hours. Once the cooking time is through, turn off the crockpot, leave the lid on and let it sit for an hour.  This step is really important because it gives everything a chance to firm up a bit.  It'll be pretty runny if you don't do this, which may or may not be an issue for you.
*Add any spices you like.  I do garlic powder, oregano and black pepper.  I don't measure it, but I would say less than a 1/4 teaspoon of each per layer.  Depending on the marinara sauce you may want to add a little salt as well, but mine already had plenty.