In case you haven't heard – the Panthers are going to the Super Bowl!!!!!  The last time this happened I was just a wee college freshman watching it in a dorm room with friends.  We've been waiting a long time for this.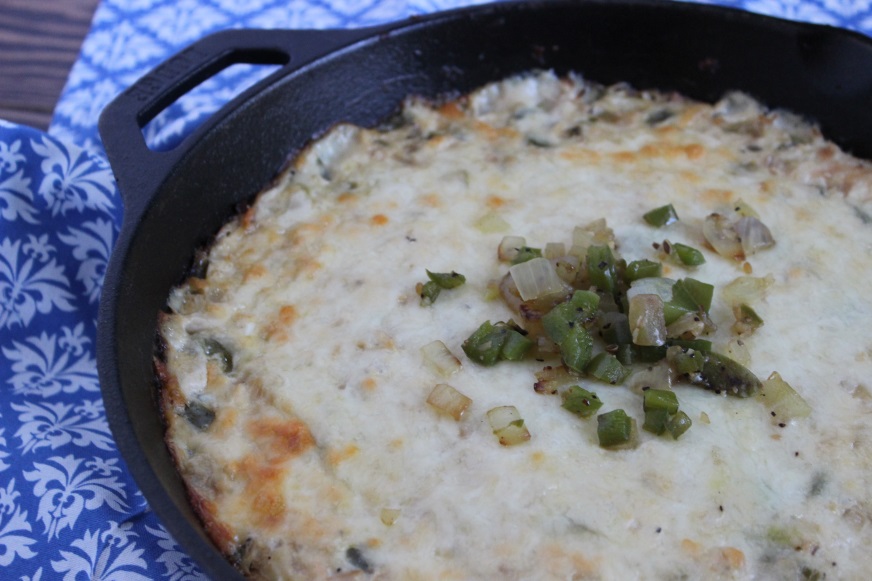 It's not just that we're going to the Super Bowl.  The entire season gave us weekly cardiaCAT arrests ( <—bleh – WHY DO YOU LET ME SAY THINGS LIKE THIS???). However, Sunday's game was almost magical.  At one point I thought Andy was rewinding the game to rewatch an interception, but – NOPE – it was just another interception, thank you!
–>DAB<–
I swear I think he may have had tears in his eyes by the end of the game…and I…I just had a huge grin plastered across my face the entire time.  I mean – how can you watch Cam and not just smile??  He is so fun.  Sunday was also a great day because…
We were still snowed in, so lots of family time and snuggles
Carolina beat Virginia Tech in men's basketball (Go Heels!)
This Chicken Philly Cheese Dip ↓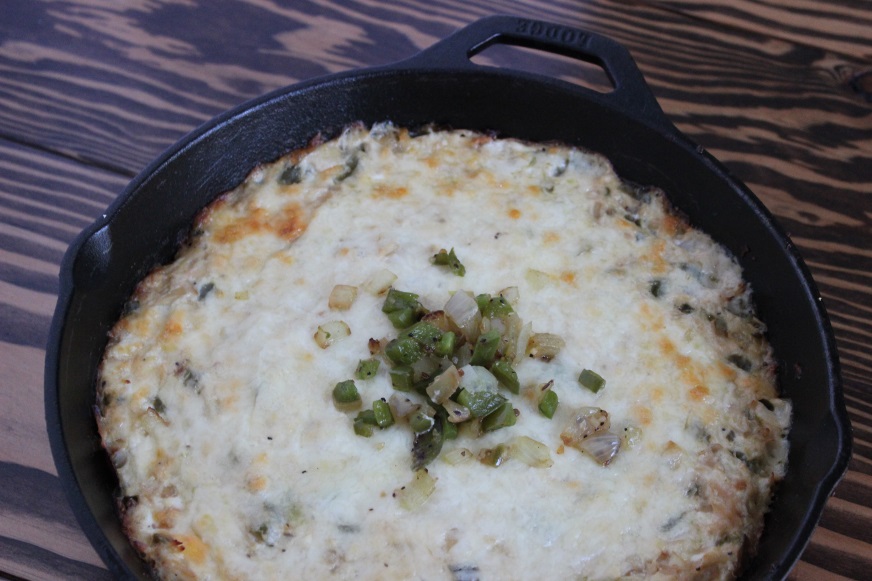 Andy took his first bite of this and did his quiet chuckle, followed by "wow."  If you're someone that loves food, I'm sure you can relate when you know something is probably going to be good, but then is actually much better than you even expected.  Close your eyes….now imagine the scent of baked chickenny, peppery, onionny, cheesy goodness wafting through the air.  Now…dip a piece of soft, yet crunchy, baguette into said goodness, then taste……. I know, right?!?
One thing you should know about me is that I generally don't do much in the way of dippy-type appetizers.  Usually, I'll just put out blocks of gouda and brie with some crackers and apple slices and call it a day.  If not cheese, I'll do little one-bite type things, but almost never a dip.  I just don't prefer making something so heavy when dinner is the star.  The Super Bowl is an exception to that.  If there was ever a day meant for purely snacking – this is it.  Meatballs, chicken wings, pigs in blankets and dips….all the dips.  I'm not gonna lie.  I'll even go for the processed cheese block dip.  It's fine for just one day, right?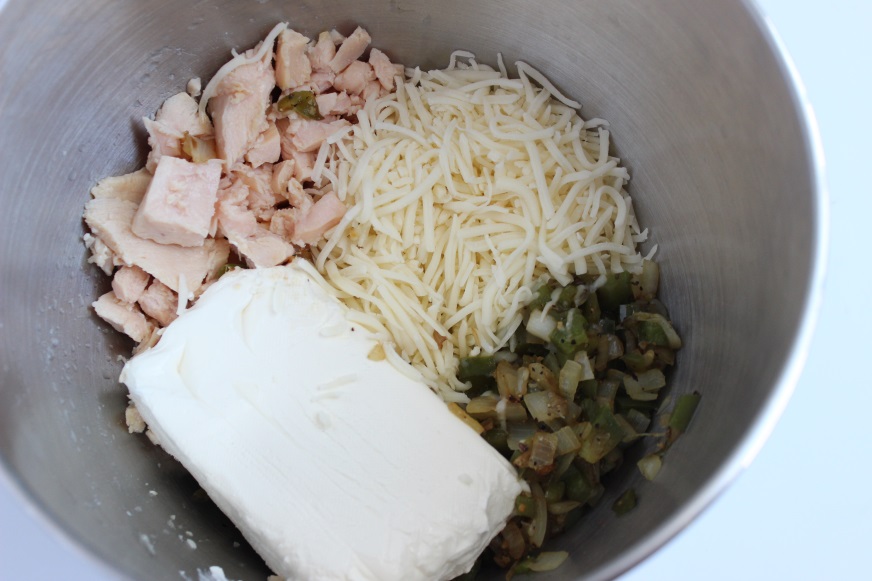 This year I'm taking my dip making game up a notch, which (let's be honest) is like from zero to one.  I love this dip because it allows me to use two of my favorite kitchen things: my cast iron skillet and my stand mixer.  You'll see the iron skillet come across this blog quite a bit, but the stand mixer not so much because I don't bake very often.  But you guys (((YOU GUYS!!))) my stand mixer is seriously the most beautiful thing in my kitchen.  It's the Martha Stewart Blue that was only available at Macy's a few years ago, and it was a gift from my now mother-in-law while Andy and I were still dating.  I'm pretty sure she knew I'd stick around, but figured it would seal the deal.  She was right!  Just kidding, I'm not that vain, but it really did mean a lot because she knows how much I love the color.  The picture makes it look similar to the Ice Blue color that's still available, but it's really much closer to a Tiffany blue.  It has a permanent place in the corner of my kitchen (not as pictured), so we can see each other anytime we want.  (Insert all the googly heart eyes.)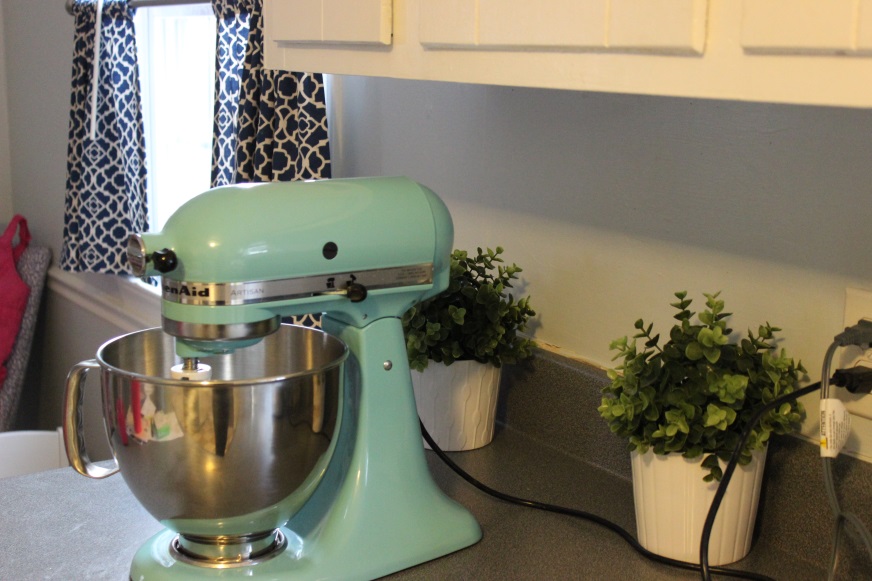 If you don't have a stand mixer, no problem – just mix this by hand.  You could try a hand mixer, but I just don't think it would work as well.  One other thing you'll learn about me from this post……………………… I sometimes use canned chicken……… *Buries face in pillow.*   Actually, no.  I'm gonna own this.  Y'all, in a pinch, canned chicken works well for stir-fries, casseroles and dips (and many other things, I'm sure).  I actually prefer it for dips like this because why in the WORLD would I take time to boil or bake my own chicken just to smother it in cheese?  And… (listen closely because you will never hear me say this again) –> I wouldn't even substitute rotisserie chicken here.  Just make this as is, and take it to your Super Bowl party with some fresh sliced baguette.  And for all you people without kids that go to bed at 7:30, have fun at your parties!  We'll be at home watching with AR because she is totally obsessed with football and an early bedtime.  If you happen to make this dip, can you just come over to our house and watch??  You bring the dip, and I'll have plenty of gouda and wings!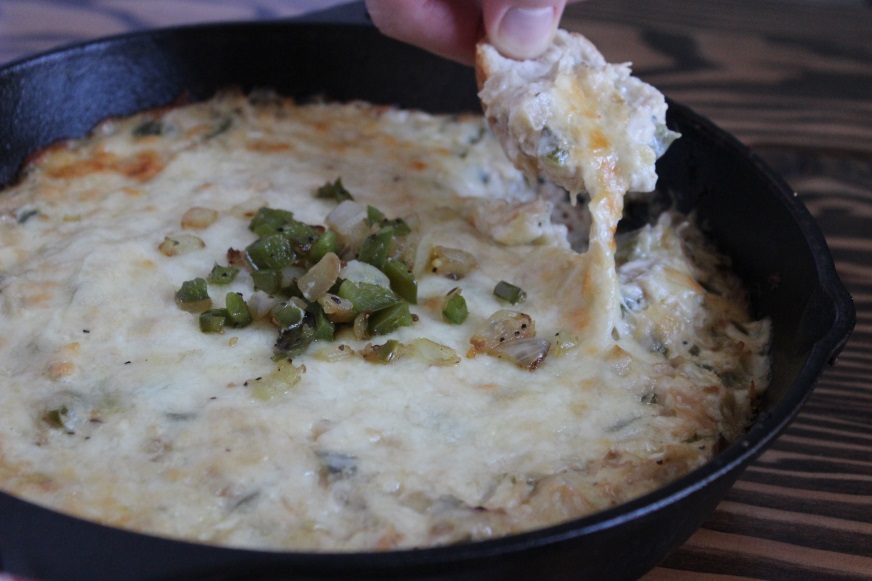 Ingredients:
1 tbsp olive oil
1 large onion – diced*
1 green bell pepper – diced*
1 tbsp Montreal steak seasoning
8 oz block cream cheese – room temp
1 cup shredded mozzarella cheese (plus more for topping)
2 (10 oz) cans chicken breast
Garnish: chopped jalapenos from a jar (if desired)
Directions:
Preheat oven to 350 degrees.
Heat the oil over medium-high in an iron skillet (or other frying pan if using a different baking dish). Add the onion and bell pepper, and cook until softened, about 5-7 minutes.  Stir in steak seasoning.
In the bowl of a stand mixer, combine cream cheese, mozzarella, chicken, onions and peppers using the paddle attachment. (You don't have to use a stand mixer for this, but it does make it much easier – I would not recommend using a hand mixer – just use your arm muscles 😉 )
Spread mixture back into iron skillet (or other baking dish), and top with additional shredded mozzarella and chopped jalapenos if desired.
Bake for 30 minutes until hot and bubbly.  Serve hot with baguette slices and additional jalapenos.
*You could easily double the veggies in this.  I only had one of each on hand when I made it, but they cook down so much between the sauteing and baking that it would be fine.  If you do that, I would add an additional 1-2 tsp of the steak seasoning.